Behind China's Anti-Foreigner Fever
Much of the anger has been directed at CNN for its allegedly biased coverage of protests in Tibet and along the route of the Olympic flame
by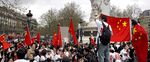 Ms. Huang, a 26-year-old from Beijing (who does not want her full name published), recently went shopping for some groceries in the Chinese capital at a store run by Carrefour (CARR.PA). While many Chinese have called for boycotts (BusinessWeek.com, 4/22/08) of the French retailer to protest France's perceived support for Tibetan protesters, Huang says she has no problem buying her eggs, meat, and vegetables at the store.
Instead of criticizing Carrefour, she says she is more angered by the coverage of China on CNN. "I think we should be opposing Western media," she says. "I am very patriotic and also rational. And I am strongly against anything that is unfair to China."
Even as Beijing and Paris make nice and the likelihood of widespread protests and boycotts against Carrefour, luxury goods maker LVMH Moët Hennessy Louis Vuitton (LVMH) and other French companies operating in China appears to lessen, a much stronger groundswell of anger, aimed squarely at the Western media and its perceived bias against China, is growing. That animosity appears much more deeply rooted than that recently directed at French companies and is getting stronger by the day.
No Broader Anti-American Movement
Much of the ire to date has been directed at Time Warner's (TWX) CNN, which the Chinese press and blogosphere have pilloried for purported bias in its reports on the recent protests in Tibet as well as those surrounding the Olympic torch relay. That anger reached new heights when on Apr. 9 CNN commentator Jack Cafferty referred to the Chinese government as "basically the same bunch of goons and thugs they've been in the past 50 years." (CNN and Cafferty's later explanation that the remarks were directed not at the Chinese people but instead just at the government didn't please Beijing much either.)
Fortunately for U.S. businesses operating in China, the backlash against CNN has not translated into broader anti-American demonstrations. Companies such as Wal-Mart (WMT), Motorola (MOT), and Coca-Cola (KO) have not had to endure the same sort of protests as Carrefour. In part, that's because the French were easy targets, following statements by politicians including French President Nicolas Sarkozy on boycotting the opening ceremony of the Olympics on Aug. 8. While Senator Hillary Clinton (D-N.Y.) has called for a boycott, too, President George W. Bush has said that he intends to travel to Beijing for the opening ceremony.
That's small consolation to CNN. Ironically, the channel has become so unpopular even though it is largely unavailable in China. Because of government restrictions on the channel, most Chinese never see it. Yet it has become such a popular target that an amateur song has become a hit on the Internet entitled, "Don't Be Too CNN." As the song's refrain puts it: "Don't believe that lies will become mottos if they are repeated a thousand times," continuing with "What's the purpose of racking your brains to turn fraud into truth. Don't be too CNN. I would rather believe you were silly and innocent." Less lighthearted has been the flood of e-mail and phone calls attacking the coverage and even making death threats against Western reporters.
China's Coming-Out Party
That the resentment against the Western media has reached such a pitch clearly comes from the Chinese perception that foreign reporters are deliberately attempting to damage China's ability to hold a successful Olympics. The disconnect between the glorification of the Games in the state-controlled Chinese press and the critical coverage abroad is only strengthening that aggrieved sense.
"CNN, the Beijing Olympics does not welcome you," wrote one blogger on popular Web site Sohu.com on Apr. 23.
The government has promoted the idea of the Olympics as a coming-out party where their fast growing country should take its rightful place on the world stage. "The Beijing Olympic Games meets the aspiration of the Chinese people for the past 100 years and is also the common expectation of people worldwide," said Chinese President Hu Jintao on Apr. 10. "The events of the 2008 Olympic torch relay and the Western media's biased coverage of China has forced us all to face a new test of patriotism," wrote the China Daily on Apr. 22 following the intervening protests in London and Paris. "The hysterical protests the anti-China agitators staged in order to obstruct the torch relay and the way Western media reviled China show the true colors of Tibetan separatists and their sponsors," the editorial continued.
There are signs that Beijing now intends to reel in the anger, much as it did in earlier protests against the U.S. and Japan. In 1999 when the U.S. bombed the Chinese embassy in Belgrade and again in 2001 when a U.S. spy plane made an emergency landing on Chinese soil, Beijing used its state-controlled media to order students to stop protesting outside the U.S. embassy. That happened again in 2005 when demonstrators targeted Japanese businesses to protest textbooks that whitewashed Japan's role in World War II. Already on Apr. 20 the official People's Daily ran a front-page editorial that called on Chinese to "cherish patriotism while expressing it in a rational way." It continued: "As citizens, we have the responsibility to express our patriotic enthusiasm calmly and rationally, and express patriotic aspiration in an orderly and legal manner," the commentary said.
Not Willing to Accept Foreign Criticism
But it is unlikely to be so easy to tamp down the resentment against the Western media this time around. That's in part because of the timing—following years of double-digit economic growth and a growing recognition of China's rise toward superpower ranks, Chinese simply aren't as willing to accept criticism from overseas. But it is also the result of the rapid growth of the Internet, whose mainland users have surged from 111 million three years ago to 210 million today.
That digital medium has served as the primary platform for the Chinese to disseminate criticism of the Western media and is much harder for Beijing to control than traditional media outlets. "The Western media always report problems that have occurred during the development of China and turns a blind eye to all the accomplishments China has reached," wrote one Chinese blogger called Yi Shuihan on Apr. 23 on Web site bokee.com. "Apart from their arrogance, selfishness, and stupidity, [the Western media] has nothing else."
Before it's here, it's on the Bloomberg Terminal.
LEARN MORE