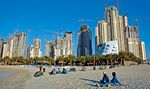 THE PERSIAN GULF - While the economic conversation in the U.S. is largely about the slowdown, the city-states of Dubai, Qatar, and Abu Dhabi, once obscure and exotic, are in the throes of a game-changing boom. They are attempting to diversify their economies away from oil and liquified natural gas and spread out their investments, even as crude prices hit $120 a barrel. Their sovereign wealth funds have become crucial to the big U.S. commercial banks and investment firms they have helped bail out—a fact underscored in April when Lehman Brothers (LEH) Barclays (BCS), and Morgan Stanley (MS) all announced they were stationing top executives in the Mideast to strengthen relationships there. All those bankers will be based in Dubai, which is racing to morph into a global financial hub. Unlike the tense mood on Wall Street, the attitude—especially in Dubai—is upbeat, and the energy is palpable.
Beginning on Apr. 12, I spent a week in Dubai, Abu Dhabi, and Qatar, where I attended the Doha Forum on Democracy, Development & Free Trade. And so, in a departure from my usual column, this week's FaceTime is a series of impressions and anecdotes from that trip. Included are snippets of interviews I conducted with some of the top players in this white-hot region, such as Sheikh Hamad Bin Jassim Bin Jabr al-Thani, the Prime Minister, Foreign Minister, and head of Qatar's investment authority; James Hogan, CEO of Abu Dhabi-based Etihad Airways; and David Jackson, CEO of Istithmar World Capital, one of four private investment arms of Dubai.
What's the most visible sign of the times in Qatar, Abu Dhabi, and Dubai? Cranes. Everywhere you look, dozens of tower cranes poke into the sky, steely evidence of the modern marvels rising from the sand. The locals in Dubai joke about not being able to give visitors accurate directions because the construction of new streets, office buildings, and neighborhoods is happening so fast that the topography changes overnight.
Listen to Jim Hogan of Abu Dhabi-based Ethihad Airways when I ask him what's driving all this growth.
"It's the opening of a new frontier. Geographically, the Gulf is at a natural crossroads of the world, and sectors from construction to tourism are taking advantage of it. Our catchment area is South Asia, the Middle East, and Africa—which has the combined population of China. It creates activity in its own right. This is Asia 10 to 15 years ago.
"Aviation is booming in the Gulf. We are four years old and are now the fastest-growing airline in the history of aviation. We hope to have more than 50 aircraft by 2011. Our business is different from the European carriers. For example, we have religious traffic from places like Malaysia and worker traffic from India and Bangladesh."
Here's another sign of the times: On a Saturday night at the elegant rooftop bar of La Cigale Hotel in Doha, businesspeople sip mojitos, snack on sushi, and puff away on fat cigars. Earlier, at the piano bar of the Four Seasons Hotel, a patron dressed in an abaya, the flowing white robe worn by Arab men, is asked to leave because it is considered unseemly for anyone in the traditional garb to be in a place where alcohol is served.
Two days later, at the ornate home of Sheikh Hamad, he tells me: "We are very proud of our religion and culture, but we are modernizing." The sheikh is just back from a trip to Cambodia and Vietnam, where he has been looking for investment opportunities. "We are working with these countries," he says. "We are working with India, Malaysia, Tunisia, and Singapore. I'm sure there will be a correction in the Asian market in the next one or two years because of what has happened in the U.S. and in Europe. You cannot isolate that. But in the long term, we think there is a lot of opportunity in Asia." Before I leave, the sheikh says his wife wants to ask me a question.
Of course, I say. She giggles and asks in flawless English: "Who does your highlights?"
A couple of hundred people are in attendance at the democracy and trade conference, hosted by Sheikh Hamad, and the guest list underscores how commerce is rapidly changing this part of the world: Israeli Vice-Prime Minister Tzipi Livni, Turkish Prime Minister Tayyip Erdogan, former French Prime Minister Dominique de Villepin, and former U.S. Defense Secretary William Cohen, to name a handful. Throughout my trip, I am struck by the fact that no mention is ever made of the wars in Iraq and Afghanistan or the Israeli-Palestinian conflict.
Walking through the Dubai International Financial Center on Tuesday, Apr. 15, I feel the hustle of a Wall Street bull market. A ticker on the outside of the building, the bustling Dubai exchange inside, huge flat-screen TVs broadcasting CNBC Arabia and Bloomberg.The place screams business.
The next day, I ask David Jackson of Istithmar World Capital if Dubai is in the middle of a bubble. "Office space is demand-driven," says Jackson. "There is a mentality here that goes `We don't put a spade in the ground unless someone wants to buy.'"
But where is all that demand coming from, I ask. "Transportation businesses have regional hubs here, and there are big service-related industries," Jackson says. "This part of the world is great to service the Middle East, parts of Africa, and Asia. Tourism is big, too. The U.S. is very much underrepresented due to the lack of understanding of the region. This is not Iraq or Palestine. When I am in the U.S. talking to businesspeople there about the region, they ask me, "Is it safe? Would we need a military escort?' But when you come here, people don't talk about war, they talk about economic expansion."
As these city-states keep expanding, however, it sometimes seems as though money is being spent with utter abandon. And that could be cause for alarm. At one point late in the trip, I am standing outside the lavish Emirates Palace Hotel in Abu Dhabi talking with the well-known former chief executive officer of an American lodging company. "This hotel is incredibly expensive to maintain," he says, adding that just the air conditioning alone must cost a small fortune. "So I asked the manager, "How do you do it?' And he says, "Well, we're estimating a $60 million loss for the year.' Can you believe that?"
Before it's here, it's on the Bloomberg Terminal.
LEARN MORE