Nokia Starts Listening
Tired of losing ground in the U.S., the handset maker is ready to customize phones for carriers
By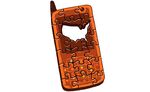 Nokia (NOK) is the dominant force in the global wireless market. But in the U.S., it's losing ground fast. Despite years of effort, the Finnish company's share of the North American market has slid to just 7%, from 20% two years ago, according to researcher Strategy Analytics. On Apr. 17, Nokia reported the number of phones it sold in North America in the first quarter plummeted 46%, to 2.6 million.
Nokia's biggest problem has been the unusual nature of the U.S. market. The U.S. uses a wireless technology known as CDMA that's the specialty of Korean phonemakers Samsung Group and LG Electronics. More than that, the major U.S. wireless carriers, AT&T (T) and Verizon Wireless, dominate the market to such an extent that phonemakers must work through them to succeed. Proud and innovative, Nokia has long been unwilling to yield as much control as its hungrier rivals. "It's been frustrating for Nokia, and they have paid the price for not adapting," says Ross Rubin, director of industry analytics at market researcher NPD Group.
Nokia vows to change. Mark Louison, the company's North America chief, acknowledges that its global approach of handing off phones without customizing them for each carrier hasn't worked in the U.S. The company is shifting its strategy to develop phones in partnership with U.S. carriers, in part by assigning 300 product developers each to AT&T and Verizon. Nokia also has moved salespeople from its main office in Dallas to the cities in which the carriers are headquartered. And it has increased research and development spending for U.S.-specific products. "We are literally repositioning our entire approach to the U.S.," says Louison.
Adapting to the local culture will present challenges, say brand experts. The very qualities that have made Nokia a success in other markets—the intense focus on innovation, design, and engineering—may get diluted if the company caters too much to the desires of executives at U.S. wireless carriers. "Some companies are good listeners, and others are very focused and principled about what they do," says Jez Frampton, global CEO of Interbrand, which ranks Nokia among the top 10 most valuable global brands. "Nokia has been more the latter."
Wireless customers have to hunt for Nokia mobile phones in the U.S. today. Verizon doesn't have a single model in stores now. AT&T has only a few, highlighting instead flashy products such as Apple's (AAPL) iPhone and the BlackBerry Curve from Research in Motion (RIMM). With little presence in carriers' showrooms, mighty Nokia trails Samsung, LG, and the struggling Motorola (MOT) in North American sales.
Nokia is keen to become more visible in U.S. stores. It jointly developed a phone with AT&T for the first time last year, a thin clamshell called the 6555 that's similar to Motorola's RAZR. AT&T got Nokia to move the push-to-talk button to the top of the phone, making it a bit more accessible. "They have made an effort, which they hadn't done as much of in the past," says AT&T spokesman Mark Siegel. Nokia has a number of customized U.S. phones debuting in the next few months, including two CDMA phones for Verizon.
While Nokia strives to be a better partner with wireless carriers, it's stepping up efforts to raise its profile in the U.S. The company is hosting the finale of American Idol at the Nokia Theatre in Los Angeles and will launch a music service to compete with Apple's iTunes. On Apr. 24, Nokia will host an event with director Spike Lee in New York to unveil a new social networking site. But for all the image-building, Nokia still has to persuade a lot more consumers to buy its phones over tough rivals'. "A serious recovery for Nokia in the U.S. is going to take at least a couple of years, if not longer," says analyst Neil Mawston of Strategy Analytics.
Before it's here, it's on the Bloomberg Terminal.
LEARN MORE