Building on the Games
China's impressive facilities are turning heads and laying the groundwork for global construction deals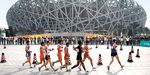 BEIJING - As he wraps up work on Beijing's Olympic stadium, Liu Longhua is looking ahead to his next challenge. The chairman of Beijing Urban Construction Group has spent nearly five years on 19 Olympics-related facilities. Now he's hoping the skills and reputation his company have gained will give him an edge in winning big contracts abroad. "After all these projects, are there any other jobs in the world that we don't dare to take? We say none!" Liu says.
Like the rest of the mainland, BUCG and other big Chinese builders see the Beijing Olympics as a coming-out party. The three-dozen-plus construction projects and work related to the Games, such as expanding Beijing's subway, have given Chinese contractors a forum to showcase the techniques they've learned from the cutting-edge designs of Western architects. "The [Olympic] projects have won worldwide recognition," says Diao Chunhe, chairman of China International Contractors Assn. "When people marvel at the results, they naturally ask who built them." Last year, Diao says, Chinese construction companies won international contracts worth $78 billion, up 17.6% from 2006.
The city-owned BUCG has gotten the most mileage from the Games. In addition to the main Olympic stadium, the company worked on the ellipsoid National Grand Theater (known as The Egg), the dragon-shaped Terminal No. 3 at Beijing's airport, and other high-profile jobs that helped it boost revenues last year to $4.2 billion. To win new contracts, Liu's company plans to highlight skills it learned on the main Olympic stadium, called the Bird's Nest. The 91,000-seat structure, designed by Switzerland's Herzog & de Meuron, features hundreds of steel branches and twigs. Precision was key: A joint that's even 1 mm out of place could compromise structural integrity, Liu says. On a visit to Europe, "contractors and architects gave us standing ovations when we told them we are the builder of the Bird's Nest," says Liu.
Other big players include Beijing Construction Engineering Group, which worked on the gymnastics and fencing venues, and Beijing Uni-Construction Group, which erected the field hockey stadium. The mainland's largest commercial builder, the $24 billion China State Construction & Engineering (CSCEC), built the National Aquatics Center. Known as the Water Cube, the building has a unique skin that looks like it's covered with luminous bubbles. Because the translucent stadium is the first structure of its kind in China, CSCEC's engineers had to work with designers to refine the technical details. "It brought our building techniques and on-site management skills up to a new level," says Zhou Yukun, chief of the CSCEC unit that built the center.
SLOWING DOMESTIC MARKET
It's unclear how long it will take the Chinese to really break into the global big leagues. Some experts see a continuing gap between Western needs and the ability of Chinese builders to deliver, in spite of everything they've learned working on Olympic projects. The Chinese "haven't integrated construction with design, procurement, and all the other disciplines as a one-stop shop," says Ashley M. Howlett, a construction law expert at Jones Day in Beijing. "That takes time." But sooner or later, he adds, they're likely to catch up. "In the next 10 years, we'll see three to four Chinese contractors among the world's top 10," Howlett says.
The Chinese are working hard to make that happen. Zhou's group has a $95 million deal to build Federation Tower, a 93-story office and residential complex in Moscow, and Zhou says he's in talks for projects in Russia and Southeast Asia that could add $50million-plus in foreign work this year.
In 2007, Beijing Construction Engineering signed on to build a $128 million residential complex in Abu Dhabi. Beijing Uni-Construction is working on a $27 million hospital in Congo. And Liu's BUCG says it's close to inking several deals in Eastern Europe and expects to bid on the main stadium for the 2012 Olympics in London.
Working overseas isn't new for Chinese contractors. They first ventured abroad in the 1970s, but those projects were typically aimed at advancing the political goals of China's ruling Communist Party. Now, after a 20-year domestic construction boom, builders face the challenge of sustaining high growth as the government tightens investment controls and the domestic market slows. Big Chinese builders are currently working on projects in 180 countries, including an $8billion-plus railway line in Nigeria, a $6.7billion highway in Algeria, a $1.2billion railway in Turkey, plus bridges, harbors, and power plants scattered throughout emerging markets.
The Chinese are traditionally more competitive in Africa and Asia, where they bring in their own labor and offer clients both experience and low construction costs. Some Chinese players, though, have tested the waters in the U.S. and Western Europe. CSCEC made headlines when its American unit signed several small contracts in 2004, including a $190 million office-and-retail complex in New York City and three schools in South Carolina totaling $37 million.
Before it's here, it's on the Bloomberg Terminal.
LEARN MORE