Boeing's McNerney: 'Digging Out of a Hole'
After a long silence, Boeing CEO James McNerney admits the company may have moved "a little too far, too fast" on the 787 Dreamliner
Judith Crown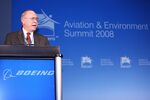 As Boeing (BA) has suffered repeated delays on its much-ballyhooed 787 Dreamliner commercial jet, some company insiders and Wall Street analysts have wondered why CEO James McNerney hasn't been more visible. In fact, this week McNerney took an unusual step, writing a heartfelt memo to employees on Monday, Apr. 21. In it, he acknowledged the company may have gone out a "little too far, too fast" on the advanced-technology jet, and talked up a visit he made last week to its assembly line in Everett, Wash.
The Boeing chief was known for working behind the scenes before he took the top Boeing job in 2005, and it won him high marks in previous positions as CEO of 3M (MMM) and before that as head of General Electric's (GE) aircraft-engine division.
Supply Chain Changes
But the critically important 787—a fuel-sipping plane for which Boeing has more than 900 orders—is proving to be an entirely different challenge, and McNerney may have to do a lot more to persuade investors and others that he has the program under control. A big test came on Apr. 23, when McNerney discussed Boeing's first-quarter results and how the 787 delays will hurt future earnings. Boeing reported a 38% gain in net income, to $1.2 billion or $1.62 a share, on 4% higher revenues, or $16 billion. The earnings beat Wall Street estimates, sending the stock up 5% to 82.50 in midday trading. Its backlog of commercial jet orders is at an all-time high. However, analysts say Boeing eventually could face from $2 billion to $4 billion in penalties to airline customers because of 787 delays, as well as reduced profit margins over the next decade.
Chief Financial Officer James Bell said in the conference call that the scope of penalties won't be determined until next year. He said the company won't book profits for the first 25 Dreamliners to be delivered next year, but added that the 787 will be profitable over the long haul. Boeing said it expects to earn between $6.80 and $7 per share next year, in line with the analyst consensus estimate of $6.87. The company also reiterated that it expects to earn $5.70 to $5.85 per share in 2008.
In his memo to employees, McNerney acknowledged Boeing is already changing the way it manages the 787's global supply chain, including the demands it is placing on partners. A series of shortages and breakdowns in that supply chain, which reaches Europe and Japan, led to the current 15-month postponement of first deliveries to airlines. The most recent delay (BusinessWeek.com, 4/9/08), announced Apr. 9, moves the first jet delivery to the third quarter of next year.
McNerney said in the call that Boeing learned it's necessary to have technology in place to get frequent, up-to-the-minute readings on inventory levels and work in progress for companies three or four steps down the supply chain, "so that there's a global understanding of how things are coming together." He said: "While we are deeply disappointed in our performance to date, and the impact our delays will have on our customers, the new plan reduces our schedule risk significantly. We will get through the start-up of this innovative program, and when we do we will be delivering a breakthrough new product, years ahead of its competition, and one that will offer substantial efficiences and value for our customers."
Absentee CEO?
McNerney has been barely visible amid the questions about the 787 delays. Some analysts said they were surprised that McNerney wasn't on an Apr. 9 conference call outlining the third postponement, which was left to Scott Carson, president of Boeing's commercial operation, and project manager Pat Shanahan. It was Carson who paid a visit on Apr. 10 in Tokyo to All Nippon Airways, or ANA, which is to receive the first 787s, according to an ANA spokesman.
The spokesman said that Tomohiro Hidema, ANA's executive vice-president in charge of purchasing, "expressed his regrets at the delays."
"I've neither met him nor heard from him," says Ray Goforth, executive director of the Society of Professional Engineering Employees in Aerospace, IFPTE Local 2001, which represents more than 20,000 engineers and other aerospace professionals at Boeing.
Meanwhile, Boeing also has been engaged in a spirited public relations battle (BusinessWeek.com, 4/2/08) with Northrop Grumman (NOC) over the unexpected award in February of a $35 billion U.S. Air Force contract to build a new generation of in-flight refueling tanker planes. Boeing lodged an appeal and has held several press conferences promoting its argument for overturning the award. But while Northrop CEO Ronald Sugar has been out on the hustings talking up his company's work, McNerney has been publicly silent, leaving the issue to be handled by tanker program manager Mark McGraw.
A Boeing spokesman declined to comment on McNerney's customer contacts but noted that McNerney has been meeting with suppliers and has visited the 787 facility three times since November. Boeing officials argue that just because McNerney isn't as visible as some CEOs doesn't mean he isn't on top of the situation. Indeed, his style has been to ride herd on top managers, giving them the tools they need to do their jobs and then holding them accountable if they don't deliver. "It's O.K. to confess if you're in trouble, we'll get you help," he said in a 2006 interview with Chicago magazine. "You're either meeting milestones or you're not."
The question is whether that style works as well when Wall Street is demanding constant assurance about make-or-break programs, and big competitors such as Northrop and Airbus, Boeing's commercial-jet rival, are looking to shape the debate. "If you're not out there leading, you are subject to other people's interpretations, and you hold yourself hostage to the stories that other people spin," says Adam Galinsky, a professor at the Kellogg School of Management at Northwestern University who specializes in ethics and management.
The Solution: "Deliver Planes"
McNerney inherited a 787 strategy that had been put in place by Alan Mulally, Boeing's longtime head of commercial operations, and program manager Michael Bair. But Mulally left in October, 2006, to take the top job at Ford Motor (F). In the following months, breakdowns began showing up in the supply chain. It wasn't until a year later, in October, 2007, that Bair was replaced by Shanahan, who had been vice-president for Boeing's Missile Defense Systems unit. "In hindsight, [McNerney] wishes he would have stepped in sooner," says Noel Tichy, a professor at the University of Michigan who worked with McNerney at GE and has written about his management style. "Otherwise, he wouldn't be digging out of a hole."
"I'm not happy and Scott Carson is not happy with the inability to get our arms around development costs," McNerney said in the Apr. 23 conference call.
By its very nature, the 787 is more complex than most aerospace programs. The plane uses composite fiber materials (BusinessWeek.com, 7/9/08) in place of aluminum, to save weight. McNerney said in the memo to employees that the 787 has a "bleeding edge" quality to it in that it goes beyond the "leading edge" into a realm where both the risk and potential returns are high. He noted that Boeing already has a five-year lead on rival Airbus, whose composite-based plane isn't due to hit the market until 2013. "Because of that gap, we have a little more time than we otherwise would to get it right." He noted that Boeing is wise to set more conservative targets: "Being wrong yet again would be more of a burden to our customers than taking a little more time to get it right."
Indeed if there is still another 787 delay, the spotlight will intensify on McNerney. "With three strikes already, it would be hard to retain confidence," says Richard Aboulafia, the Teal Group consultancy's vice-president for analysis. Says Tichy: "The only way to get himself out of this mess is to deliver planes."
Before it's here, it's on the Bloomberg Terminal.
LEARN MORE