The Scramble for Your Tax Rebate
Big-box chains are devising crafty ways to coax stimulus checks into their cash registers
Jane Porter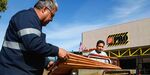 Beginning on May 2, more than 130 million Americans will open their mailboxes to find tax rebate checks, ranging from $600 to $1,200 per household. Retailers across the country desperately want a piece of that action in a U.S. economy flirting with recession, and the sales promotions tied to the government cash injection are already coming fast and furious. "We are going to start to see retailers raise the stakes in terms of types of promotions they are going to offer around rebate checks," says Scott Krugman, spokesperson for the National Retail Federation.
Big-box retailers Sears and Kmart, both of which are under earnings pressure, and national grocery chain Kroger (KR) will give customers gift cards in exchange for their entire stimulus check starting in May. To entice shoppers to hand over up to $1,200 in full, the retailers are adding 10% to the rebate total. "Every major retailer that has a gift card could execute this kind of initiative," says Ann Raider, head of retail partnerships for Affinity Solutions, a company that develops retail rewards programs.
Sears Holdings (SHLD), which owns mass retailer Kmart and casual clothier Lands' End, has introduced a stimulus-tied gift-card program that will allow consumers to make purchases across all three retailers. "One of the things we hope it will do is build this customer relationship with Sears," says Maureen A. McGuire, chief marketing officer.
Other retailers are trying to work the customer care angle as well. On Apr. 20, Staples (SPLS) announced an online "Economic Stimulus Center" targeting small business owners, who generate more than half of the company's $19.4 billion in annual sales and will be eligible for tax breaks under the government's stimulus efforts. The chain is offering cash savings on big purchases as well as free advice on how small enterprises can lower their tax bills.
Supermarket Sweep
Others are promoting the savings and discounts customers can get by spending their money on energy-efficient products. That's particularly true of home improvement retailers that have been hammered by the housing bust. Home Depot (HD) launched a campaign pegged to Earth Day on Apr. 22, providing suggestions to customers on eco-friendly ways to spend their checks. Restoration Hardware (RSTO) offers economic stimulus vouchers that give customers $100 back when they spend $750.
Many are skeptical that promotions will influence consumer decision-making when it comes to spending. "I don't think people are going to take those checks, run into Gap (GPS), and buy another pair of jeans," says Howard Davidowitz, chairman of Davidowitz & Associates, a retail consulting firm.
Supermarket chains such as Kroger, which sell necessities, will garner the most direct benefit. But retailers with more discretionary items are less likely to influence consumer spending, no matter how enticing their promotions. An estimated $42.9 billion is expected to be injected into the economy through stimulus checks. But with 25% more overdue credit-card bills this year than last and rising food and gas prices, less than half of consumers are expected to spend the extra cash in stores. "For the first time in 10 years, people will start to save out of income rather than [home and stock] appreciation," Davidowitz says. Let the promotional wars begin.
Before it's here, it's on the Bloomberg Terminal.
LEARN MORE