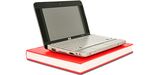 At the moment, there isn't a proven market for mini-notebook computers—shrunken versions of standard laptops, with 7- to 9-in. displays. But leading tech companies, including Intel (INTC), Hewlett-Packard (HPQ), and Taiwan's Asus, keep trying to convince us otherwise. The hardware is attractive, but the whole proposition isn't going to fly until someone designs a software package that makes sense.
The focus of today's minuscule business in minis is the education market. The One Laptop Per Child project got things going with its perky green XO mini. Intel countered with the Classmate which, like the XO, is pitched mainly to the developing world. Meanwhile, the Asus Eee PC has developed a cult following among hard-core techies.
HP's new Mini-Note 2133 is also aimed at schools. But unlike its less costly competitors, which make do with shrunken keyboards and limited amounts of solid-state storage, the Mini-Note is a fully fledged laptop with an 8.9-in. widescreen display, a 120-gigabyte hard drive, and a standard keyboard that's nearly full size.
There's really nothing all that unusual about a 2.7-lb. notebook—about what a Sony (SNE) VAIO TZ weighs and only a few ounces lighter than a MacBook Air or a Lenovo ThinkPad X300. What distinguishes the Mini-Note is its price. Small and light has always carried a hefty premium, with the Apple (AAPL), Lenovo, and Sony notebooks fetching from $1,800 to $3,000. The Mini-Note starts at $499, a price that makes it affordable both for the education market and for business use as a secondary notebook computer.
Will the low price work its magic? My conclusion, after using the Mini-Note for a few weeks, is that it could be a game changer—but only if smart people sit down and write software specifically for this class of product.
The Mini-Note is offered with a choice of Windows XP (MSFT), Vista Home Basic, or Linux. HP sent me the Vista version, which is probably the worst choice, since this stripped-down edition includes all of the overloaded complexity that makes Vista annoying without the visual grace notes that ease the pain. The Via C7-M processor made for slow, unhappy computing. The high-resolution display should be ideal for video, but the Mini-Note sputtered even when playing low-resolution YouTube (GOOG) clips. Intel's upcoming Atom chip, designed for just this sort of product, would probably boost performance.
I got a little happier when I installed the less power-hungry XP. But there's no getting around the fact that Windows, no matter what flavor, doesn't work well on displays smaller than 12 inches. Icons are too small, targets are too hard to hit with the cursor, and text is hard to read. Linux does best with both the low-powered processor and the small screen. That's fine if you want to use the Mini-Note mostly for Web browsing. For business users, the inability to run standard Windows programs is likely to be a big problem.
A small, light, inexpensive notebook could win over a lot of users. But Microsoft—or a rival, for whom this might be an opportunity—has to get beyond the lazy habit of merely scrunching software designed for much bigger systems. The iPhone is a great example of the right way to shrink programs to fit the device. Apple equipped the iPhone with a version of its OS X software, but completely—and brilliantly—rethought the user interface so that it works on the device's much smaller display.
The Mini-Note and other computers in its class present programmers with much less of a challenge because the difference in size and overall design is not nearly as great as with the iPhone. But it will require a Steve Jobsian act of imagination and some serious programming savvy to make the software as appealing as the hardware.
Business Exchange related topics:Hewlett-PackardMicrosoftMarketing Challenges
Before it's here, it's on the Bloomberg Terminal.
LEARN MORE