Suddenly, It's Cool to Take the Bus
Sky-high gas prices have more commuters switching to employer-subsidized transportationand loving it
Michelle Conlin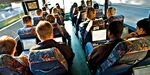 For years, in-house transportation gurus at companies across the country have been obsessing about how to cajole employees out of their cars. They've handed out mass-transit passes, ordered fleets of luxury coaches, reserved premium parking spots for van pools, and filled locker rooms with toiletries and towels for those who bike to work. They've educated workers about the evils of not only the SUV but the SOV (single-occupancy vehicle). And they've appealed to the corporate drudge's quest for happiness, brandishing research showing that those who travel to work alone in cars are the most miserable commuters of all.
Nothing, however, has done as much for their cause as today's record prices for petrol. Employees who once sneered at the "bus people" or "bike freaks" are clamoring to sign up for all manner of company-subsidized transportation programs. "Every time gas prices rise, I get more and more employees who are taking our car pools or van pools or shuttle buses," says Schering-Plough's (SGP) transportation chief Sheila Gist. This new golden age has Gist in overdrive, scheduling new routes for what has become Schering's own in-house transit system. In the past year alone, Gist says, ridership is up by as much as 40%. Companies are big on breaking the car addiction because doing so raises productivity, amps morale, and delivers much lusted-after green cred.
The surge in oil prices has accelerated the trend. So have new corporate tax deductions for employer-subsidized transportation. Consider what's happening at insurer Safeco (SAF). When the company moved to Seattle last year, it installed commuting concierges to help employees figure out how best to use the company's vouchers for mass transit, shuttles, car pools, and ferries. Free rentals from Zipcar await those who need to run errands during the day. Safeco also encourages its staff to skip the commute altogether by offering free phone and broadband service for their home offices, as well as a furniture stipend with which to decorate. Today, 90% of employees are out of their cars, up from 50% in 2006. The company is aiming for zero-car status. Says Safeco transportation analyst Brady Clark: "We're still working on that 10%."
A Permanent Shift?
Some companies can't meet the demand fast enough. After Microsoft (MSFT) rolled out a new shuttle-bus service last fall, employees immediately howled for more routes. The plush, Wi-Fi-equipped coaches have become so wildly popular—strategy chief Craig Mundie is a big fan—that when word leaked recently that Microsoft was adding to the service, a group of Microserfs hacked into the reservation system and filled up the new routes before they were even announced. Employee Bryan Keller used to commute alone in his 20-mpg Honda Pilot. "I've regained two hours of my day," he says. Using Microsoft's online "carbon calculator," Keller estimates he's saved $150 on gas and dropped 1,000 pounds of CO2 from his carbon footprint since he began using the service in October.
The executive in charge of the program, Chris Owens, has watched employee interest in alternatives rise and fall with the price of gas before. But he believes this time is different. "I think people are making lifestyle changes now, permanent changes like getting out of their cars or switching vehicles or just not driving to work anymore," says Owens. "People are starting to believe this is a longer-term situation."
Business Exchange related topics:Transportation IndustryOil and GasGreen Energy
Before it's here, it's on the Bloomberg Terminal.
LEARN MORE