More Delays for PlayStation Home
The 3-D online social networking service is now a year late as Sony tries to provide gamers with a Second Life-type experience
Kenji Hall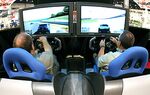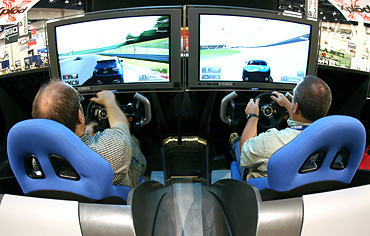 After keeping video-game diehards waiting for months, Sony (SNE) has decided to postpone the rollout of Home—the PlayStation 3 video game console's 3-D online social networking service—for several more months.
The Japanese electronics and entertainment giant said on Apr. 22 that it now expects a test version to be ready this summer for a limited number of users in Japan, the U.S., and Europe. After getting feedback and giving Home a few final tweaks, Sony will release a beta version for all PS3 owners to try out this fall. The project is now a year behind schedule.
The delays are a setback to Sony as it tries to provide PS3 users with something that rivals Microsoft Xbox 360 and Nintendo Wiidon't offer (BusinessWeek, 10/5/08): that is, a feature similar to Linden Labs' Second Life. Like Second Life, Sony's Home will let users meet, chat, or play online games with others through computer-generated avatars they will control in a real-time, 3-D world. It was supposed to be rolled out last fall. But at the Tokyo Game Show in October, Sony's games chief, Kazuo "Kaz" Hirai, announced that Home wouldn't go live until spring, 2008.
Sudden Resignation in February
Last month, Ryoji Akagawa, senior producer of the Home Project Steering Dept. in Japan, was still insisting that everything was on schedule. "Our target is still spring," he told BusinessWeek at a small game developers' conference in Tokyo. When pressed for details, he refused to comment.
Recently, there have been signs that something was amiss. In late February, Phil Harrison, London-based Sony Computer Entertainment Worldwide Studios' president and the executive in charge of Home, suddenly resigned after 16 years with the company. Sony gave no specific reason for his departure, but it's possible that Hirai was none too happy about another delay for Home and decided to give Harrison his marching orders. Hirai is taking over as head of the worldwide studios until he finds Harrison's replacement.
Now that Sony has admitted it won't meet that spring deadline, the company has only given a vague explanation of what's taking so long. "We have come to the conclusion that we need more time to refine the service to ensure a more focused gaming entertainment experience than what it is today," Hirai said in a statement. Adds Sony Computer Entertainment spokesman Satoshi Fukuoka: "You'll see what we've done when it's released."
Sony No. 3 Among Three Hardware Makers
Sony is counting on Home and the PlayStation Network—a video and music download service also slated for this year—to boost the PS3's appeal with users. It should also quiet some of the criticism of the PS3 as a pricey, souped-up piece of hardware that hasn't quite lived up to its billing. For now, though, the PS3 is still trailing the industry's best-selling console, Nintendo's Wii. According to market researcher NPD, Wii unit sales in the U.S. in March were more than double the PS3's—721,000 vs. 257,000—and Sony placed last among the three hardware makers for the month.
Leaving PS3 fans in the dark is hardly the best way to retain their loyalty. The delay also suggests that Sony's gaming division has again given in to the temptation of piling on more bells and whistles despite the looming deadline. That's known as "feature creep," and it's widely blamed for Sony's decision to put off the PS3's launch by several months back in 2006.
Still, some analysts don't think the latest setback will do any long-term damage. "It's about time Sony starts getting these things out the door on time, but I don't see it as a huge disaster," says KBC Securities analyst Hiroshi Kamide. "I never saw Home as a big console seller anyway."
Bloggers have seemed to take the news in stride as well. "We personally feel that although it is disappointing not to get our hands on Home earlier, we'd prefer to wait for something that will work," wrote one PlayStation diehard on PS3 News Blog.
Before it's here, it's on the Bloomberg Terminal.
LEARN MORE