business
Indie Music's Hipster Heaven
Already an Internet magnet, Pitchfork is starting a Web channel for music videos and interviews
Damian Joseph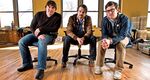 Up a flight of stairs from the cafés and shops that have turned Chicago's Wicker Park into the SoHo of the Midwest is an undecorated loft overlooking North Avenue. Fittingly, it is the headquarters of hipsterdom's musical tastemaker, Pitchfork Media. Its Web site is hit 250,000 times a day by indie music fans in their 20s and 30s checking out the latest music news and reviews. But that is not enough: In early April, the Pitchfork crew launched an Internet music channel, Pitchfork.tv. Think of it as this generation's answer to MTV (VIA).
One might expect an e-publication with an esoteric take like Pitchfork's to be run by a group of snarky, self-satisfied music geeks. But Pitchfork is, in fact, a company that means business. Its leadership is three-pronged (pun intended): Ryan Schreiber, 32, is the founder, publisher, and editor-in-chief. Christopher Kaskie, 28, is co-publisher. Scott Plagenhoef, 34, is associate editor-in-chief. They describe their roles as "the fan, the businessman, and the journalist." They say Schreiber is the optimistic, ambitious idea man who is tempered by pragmatists Kaskie and Plagenhoef.
A full-time staff of 15 employees type and click away in the loft-turned-office, which is so quiet, you can hear your bootsteps echo off the bare walls. More than 40 paid freelancers from around the globe provide album reviews.
Schreiber started Pitchfork in 1995 as a logical next step after the music-themed "zines" he and friends had been producing in hometown Minneapolis. The name was meant to convey "an angry mob mentality," he says, toward the corporate music industry. In 1999, he moved to Chicago with a few thousand dollars he had earned selling vinyl records on eBay (EBAY). Success didn't come early. When the lease ran out on Pitchfork's first office, Schreiber still owed three months' rent. He returned to his parents' place for six months and focused on what interested him the least: selling ad space on the site's pages. To this day, it's the company's only source of revenue.
Scathing Reviews
In 2004, back in Chicago, he hired Kaskie away from The Onion's sales team to handle business operations, and he recruited Plagenhoef, a local music and sports writer, to head up its editorial staff. The site gained credibility by focusing on independent music ignored by traditional media outlets—bands such as Arcade Fire and Spoon—as well as its take-no-prisoners reviews.
While the company is still rooted in Chicago, Schreiber moved to New York last spring. He also decided to do something, finally, about an idea he'd been kicking around for years—creating a music channel to fill the void left when MTV essentially abandoned its original music-based format in the early 1990s. Kaskie and Plagenhoef were skeptical. Neither had experience working with video, and they worried whether Pitchfork could afford the startup costs and increased overhead. "But you know, I had no experience when I started Pitchfork, either," Schreiber says.
He and the others at Pitchfork also had no experience putting on concerts when they assembled the first Pitchfork Music Festival in 2006. But they pulled it off. Last summer's fest drew 60,000 fans over three days in Union Park on the Near West Side. The event is a labor of love, however. What little profit it generates is plowed into the upcoming year's festival.
Pitchfork.tv, like the Web site, is intended to make money. These days, advertisers aplenty drool over Pitchfork's 18-to-34-year-old demographic. Although many Pitchfork users have a hipster's disdain for the mainstream and for big corporations, the company has no qualms about selling space to the likes of Toyota Motor (TM) and American Apparel (APP). Its only rule is that ads cannot distract readers with pop-ups, sound, or interactivity. Net ad consultants estimate the site pulls in at least $5 million a year. Kaskie says only that revenue has grown by an explosive 70% each of the past four years.
On Pitchfork's 1-to-10 scale, that performance would merit a 9.5.
Before it's here, it's on the Bloomberg Terminal.
LEARN MORE