To Boost Sales, Saturn Rethinks Itself—Again
In its new marketing campaign, GM's Saturn brand hopes a more sophisticated approach will attract women buyers
by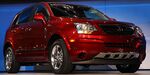 It wasn't an easy conclusion to reach for Eric Hirshberg, the chief creative officer of ad agency Deutsch, Los Angeles, which has been the guardian of Saturn advertising for the past 15 months. But he realized last fall that the sometimes schmaltzy small-town, almost Hallmark card personality that launched Saturn in the late 1980s finally had to go the way of Bob Dole's White House aspirations. Hirshberg says that extensive research the agency conducted in the last six months showed the "heartfelt" approach doesn't work to sell the products Saturn is selling today. "We found out that we need to take a deep breath and move on."
Last year, Deutsch launched a new ad theme for the General Motors (GM) brand, "Rethink." One ad typical of the effort used a rock music background, Higher by Soundcage, and tried to establish the new theme, for example, by contrasting an image of a steroid-filled bodybuilder against cancer survivor and bike-racing champ Lance Armstrong. The idea? "Rethink Strength." Another image, contrasting a V12 Biturbo engine with a hybrid car, put forth the notion "Rethink Status."
But the ads last year were perhaps too subtle, and didn't do enough to show Saturn's new vehicles. Saturn sales last year were up just 6.1% despite two new models highly praised in the motor press, the Aura sedan and Outlook SUV. The brand, which GM launched with so much promise and hope nearly two decades ago with the theme "A Different Kind of Company. A Different Kind of Car," has been adrift for most of the last eight years, selling just 240,000 vehicles last year. That's far below the 286,000 it sold in 1994 when it just had one car to offer buyers.
A Different Tone
Saturn and Deutsch's new TV and print ads, which break this week, retain the "Rethink" theme, but have a much different tone and message. And, there is a lot more rich photography of the vehicles. In the first of a series of ads that will air heading into June, the Vue subcompact SUV emerges from its garage. As it traverses the streets, the vehicle transforms itself and its surroundings. As it narrowly avoids a crash, it is suddenly surrounded in armor. As it drives, the power lines transform into trees. The driver, as he looks at the navigation map, suddenly sees huge arrows in the road showing him where to go. The ad's music is Lil' King Kong by Irish band Simple Kid, a much "sweeter and positive-sounding soundtrack than we used last year," says Hirshberg.
In print ads, there is an image of the Sky roadster and Astra approaching a Hot Wheels-like track loop, with the headline "Rethink Adrenaline," an image that will be reprised in a TV ad. There is also an image of the Outlook SUV sprouting a sail on its roof and a graphic that shows 27 mpg on highway for the seven-seater. "Rethink Big" is the headline. The ads run in such magazines as Marie Claire, Entertainment Weekly, and Fast Company, with high readership among women between ages 20 and 40.
So what are these changes in creative direction supposed to accomplish, and why is Saturn no longer looking back to the small-town sweetness of the 1990s that included an ad showing a Saturn reunion of owners at the Spring Hill (Tenn.) assembly plant? GM and Deutsch have been conflicted about whether to go back to the small-town feeling of the original Hal Riney ads. The agency and GM unit did more consumer research from last year to this year than is typical. The critical finding: Car buyers who like Saturn's new vehicles but weren't buying them say the small-town "Main Street America" feeling of the brand and heavy emphasis on customer service in Saturn's ads make for a brand they didn't want to "wear." The sentimental tone of the old campaign signaled economy cars and poor quality, consumers told Deutsch researchers.
There was a woman in a focus group, recalls Hirshberg, who after seeing the new ads seemed to articulate the larger findings that came through on surveys, consumer interviews, and dozens of focus groups. She said: "I wouldn't tell someone at a party that I had bought a Saturn, but I might tell them I bought 'the new Saturn.'"
Chasing Women and Changing Lanes
Women, in fact, are key to Saturn's plans to grow sales. Saturn marketing director Dan Keller says about 50% of Saturn buyers, the people who actually sign the papers, are women. But because the heart of the brand's lineup is family cars—a four-door sedan, a full-sized SUV, and a compact SUV—close to 80% of Saturn's purchases are bought or directly influenced by women. To better focus the ads, says Keller, the target customer was refocused from the broad 18-to-49-year-old male and female to the Generation X and Y woman. The key, he says, has been to find the images and voice that will engage women, but without alienating men. The TV media plan reflects the new focus: Gossip Girl, Smallville, Brothers & Sisters, the Today show, Good Morning America, and The Oprah Winfrey Show.
To do that, says Deutsch's Hirshberg, the creative team started looking at Saturn like a well-known brand, or person, who transforms his image through good works. Hirshberg says the idea to position Saturn's safety bona fides, hybrids, and styling in a "cool," positive, and magnetic light points to figures including Bill Gates, Bono, and Bill Clinton, who are arguably better known and liked for their philanthropy than their original fame as Microsoft chairman, rock star, and President, respectively. The idea is to transform Saturn to "an automotive force of positivity," says Hirshberg.
Changing the definition of a brand is not easy. But at bottom, especially in the automotive arena, the products have to be good. Mostly, Saturn can make the claim. The Aura was named North American Car of the Year for 2006. The Outlook SUV has been widely praised for design, packaging, and build quality. The Sky Roadster has also been hailed in the press. The Vue compact SUV is in the middle of the fastest growing and most competitive category in the industry, but has held its own.
One of the issues dogging Saturn, though, is awareness of those products. No wonder. To look at Saturn's monthly sales tally shows a brand that has thrown a lot of new models and model names at consumers. Of eight models listed in Autodata's monthly sales rank for Saturn, comparing this year's sales to last year's, three have been discontinued: the Relay minivan, Ion subcompact, and LS sedan. The Aura name is just 18 months old. The Astra subcompact was just launched. The Outlook is just a year old. "People just aren't aware of the new models," concedes Keller.
No More Back to the Future
At the same time, Saturn is no longer the cheaper car that school teachers and secretaries were introduced to in the 1990s. The average-price Saturn jumped by $7,000 from 2006 to 2008 models. It's also not the same company sentimental ads launched during the first Bush Administration. It no longer has its own factory apart from GM's other facilities. The plastic dent-proof panels are gone. It resorts to rebates just like other brands.
There is a tendency to want brands that set cultural standards to go back to what made them great. That's the way it's been with Saturn. I can still see the face of the young woman with the girl-next-door perfect face in a Riney ad accepting the keys to her first car. But this rarely works. In the 1970s, Volkswagen (VOWG) actually reprised for the Rabbit the same ads, down to the headlines, that it created in the 1960s for the Beetle. It didn't work, and was a bad idea. Deutsch is trying to turn the page and give people modern reasons to buy Saturns.
Saturn has been trying to stir word of mouth, rather than rely on mass media. Last year, Saturn built an online chat room staffed 24/7 by product geeks. Saturn dealers ran ads inviting Aura shoppers to test-drive Toyota Camrys and Honda Accords at the dealerships as well. This year, the brand is sponsoring Bon Jovi's concert tour and major running events such as the Boston Marathon. Mall displays don't just have static cars on display, but a product expert to talk them up almost like perfume pushers in department stores. There is a microsite that will be launched later this year, rethinksaturn.com, where the theme will be explored in other ways.
Driving Awareness
Saturn has been important to General Motors because it has long been the brand that drew would-be Toyota (TM) and Honda (HMC) buyers to at least look at a GM model. But that strength waned in the late 1990s and early 2000s when the automaker let the Saturn showroom stagnate. Today, Chevrolet, GMC, and Cadillac are drawing increasing numbers of import buyers and shoppers on the strength of improved product designs and quality.
Saturn, in fact, has had trouble making its case to consumers who check the Internet for quality rankings. The brand, long known for high customer service, has been below average in J.D. Power's Initial Quality Study, behind GM's Chevy and Buick, and well behind Ford (F). It lags the industry average even further in Power's long-term dependability ranking. Even the one Power ranking where it is among the leaders, in sales satisfaction (how well customers are treated at the dealership), Saturn's own research shows consumers can take such leadership to mean there are flaws in the products that need to be compensated for.
For GM, which has invested a lot of money in Saturn's new lineup, the time is now for the brand to show real sales progress, which will be tough in a falling car market and recession. But a fresh communication push will have to drive more awareness of some of GM's best new models. If not, the automaker, with seven other brands to feed, may start to really "Rethink Saturn."
Before it's here, it's on the Bloomberg Terminal.
LEARN MORE