FCC Wireless Auction Faulted
Critics charge that the auction helped AT&T and Verizon Wireless solidify their industry dominance. Some call for tighter regulation
by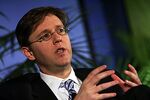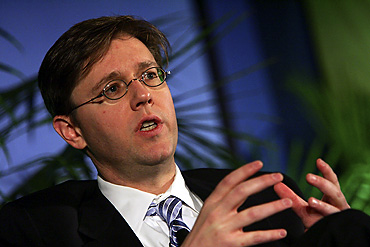 As far as Kevin Martin is concerned, the government's recent auction of wireless airwaves that fetched a record $19.12 billion was a resounding "success." A chorus of critics begs to differ with the chairman of the Federal Communications Commission.
Sure, the FCC-led auction fetched almost twice the $10.2 billion Congress expected, and as much as all U.S. government wireless auctions of the past 15 years combined. The FCC also succeeded in imposing rules on one winning bidder that in Martin's view will result in increased competition and innovation in wireless technology.
But a wave of revisionist thinking is beginning to wash over that sanguine view. Members of Congress, industry analysts, and smaller wireless carriers are crying foul over the auction, faulting the FCC for failing to sell a section of airwaves set aside for emergency responders and alleging that the auction left too great a concentration of assets in the hands of the two biggest mobile-phone carriers, AT&T (T) and Verizon Wireless, which is owned by Verizon Communications (VZ) and Vodafone (VOD). Some lawmakers insist tighter regulation is needed to undo what they consider the auction's damage.
In a recent congressional hearing, Representative Edward Markey (D-Mass.) evoked Charles Dickens to describe the auction. It was "the best of auctions and the worst of auctions," he said. Martin rejects that view and on Apr. 15 appeared before the House Subcommittee on Telecommunications & the Internet to debunk what he calls "myths" about the auction, including the notion that it wasn't a success. Thanks to the requirement that winners of part of the spectrum open their network to competing handsets and features, "consumers will be able to use the wireless device of their choice and download whatever legal software or applications they choose," Martin said.
Duopoly Redux?
Open-network stipulations indeed represent a victory for new players such as Google (GOOG), which lobbied hard for the requirement (BusinessWeek.com, 2/14/08) and aims to develop a wide range of features and tools it hopes end up on mobile phones. But at what price? The open-access conditions may have deterred some bidders and deprived taxpayers of an extra $5 billion in funds, according to an estimate by Coleman Bazelon, a former congressional budget office analyst who is a principal at consultancy Brattle Group.
More vexing still for critics is that the auction's biggest winners were carriers that already dominate the industry. AT&T and Verizon Wireless already control 75% of the country's total wireless service revenues and nearly 53% of U.S. wireless subscribers. "AT&T and Verizon have solidified their lead," says Blair Levin, an analyst with Stifel Nicolaus and a former FCC chief of staff. "[The auction] reinforced the existing dynamics of the top two getting stronger."
The two carriers spent more than $16 billion, or 85% of all money raised in the sale of airwaves in the 700Mhz band. "Chairman Martin has taken the industry and helped bring duopoly [that existed in most markets in the 1990s] back into the marketplace," says Bazelon.
AT&T and Verizon Wireless appear to have accumulated more than 95Mhz of spectrum in more than a dozen markets, analysts say. The concentration has renewed debate over whether the government should impose caps on how much spectrum a single carrier can own in a given market.
The FCC lifted spectrum caps in 2003, but by the same token won't approve mergers in cases where the resulting carrier would own more than 95Mhz of spectrum per market. At the Apr. 15 hearing, Martin said he will look at whether the FCC should request winning bidders to dispose of some of that excess spectrum.
Reconsidering Spectrum Caps
Markey says Martin ought to go further. Calling spectrum cap removal "ill-conceived," he asked Martin to examine whether it's time to reinstitute the caps. "This is too cozy and not nearly competitive enough," he said. "The FCC must revisit these policy decisions."
FCC officials may get the chance to wrestle with the question of limits sooner rather than later. Having failed to auction off the chunk of airwaves set aside for public safety use, the FCC may instead have to sell it to commercial bidders. Analysts say it would be difficult and expensive for a smaller, newer carrier to develop the so-called D block. So the most likely bidders would be the larger providers, says Peter Cramton, economics professor at the University of Maryland, who helped the FCC design its wireless auctions in the 1990s.
Cyren Call Communications, a consultant on public safety issues, is pulling together a consortium of companies to bid for the D block in the event the FCC opts to re-auction it for use by first responders. "Because of the cost of creating this network, it may very well be the case that entrants not large enough may not be able to do it alone," says Cyren Call spokesperson Tim O'Regan. During the congressional hearing, Martin said he'd consider prohibiting incumbent wireless carriers from participating in future auctions, even though the move would likely result in lawsuits.
The 700Mhz auction has also brought into sharper focus some of the other challenges facing smaller carriers, including the increasing difficulty of negotiating so-called roaming agreements, which let one carrier's customers make calls while in a rival's territory. Some smaller providers want the government's help. In August the FCC enacted what are known as automatic roaming rules, which require the giants to offer smaller rivals reasonably priced roaming on certain services, such as voice calls and text messages. But the rule doesn't apply to roaming for Web access, picture messaging, or other data services, which are becoming increasingly popular with consumers.
Consumer Choice Quarrel
The automatic roaming rule also has an exception. Carriers don't have to strike roaming deals in markets where rivals own spectrum. That's a problem particularly in areas where smaller providers such as MetroPCS (PCS) and Leap Wireless (LEAP) have purchased swaths of wireless airwaves but have yet to build networks. "We believe the rule in its current form compromises coverage, safety, rates, and broadband availability to those consumers who choose not to subscribe to the service of one of the two largest wireless carriers and instead receive service from one of the hundreds of regional, local, and rural wireless carriers operating in this country," says Laurie Itkin, director of government affairs at Leap Wireless.
In his testimony on Apr. 15, Martin reminded congressional leaders that various parties—including Congress—had had ample time last year to help the FCC shape the auction's rules. He also pointed out that small and rural providers won 500 licenses covering almost 60% of the spectrum available outside the top 15 markets, in certain chunks of the airwaves that were available for sale at the auction. A total of 99 bidders other than Verizon and AT&T won 754 licenses—representing almost 70% of the licenses sold. And a bidder other than Verizon or AT&T won a license in every market.
AT&T and Verizon Wireless, meanwhile, claim that they are viewed to be at fault simply because they've shown more business savvy than their peers. "Ninety-eight percent of Americans have a choice of three or more wireless carriers and 94% have a choice of four or more carriers," AT&T said in a statement.
And once the dust settles from the 700Mhz auction, two of those carriers will be that much stronger.
Before it's here, it's on the Bloomberg Terminal.
LEARN MORE