The Wal-Mart Sisterhood
Why lower-middle-class white women could be key to the Democratic nominationand victory in the fall
Jane Sasseen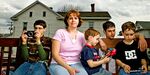 It's a sunny morning in early April, and as she does every week, Lisa Lobb has driven 15 miles to load up on groceries at the Wal-Mart Supercenter outside of Bethlehem, Pa. Sure, there are plenty of stores closer to home, but with rising gas and food costs gobbling up ever more of her budget, the 36-year-old mother of four makes the drive for Wal-Mart (WMT) Stores' low prices.
As she piles bags into the trunk of her Chevy Impala, Lobb pulls out an envelope to show off her system for squeezing the most out of every buck. On the back, she jots down the full week's menus; on the front, she lists all the ingredients; and stuffed inside are coupons to save a few cents more. "Things have gotten really hard," she says. "You start to wonder sometimes how you can keep going."
As Lobb contemplates whom she'll vote for in Pennsylvania's Apr. 22 primary, that strain of just getting by weighs heavily on her mind. Like much of the state, the area around the old steel town has been hammered by the steady loss of manufacturing jobs. Lobb brings in extra cash by making custom birthday cakes. While she voted twice for George W. Bush, she's abandoning the GOP and leaning toward Senator Hillary Clinton, although she thinks either Democrat will do better on the economy. "The way things are being run now, it's just not working," Lobb says.
CRUCIAL DEMOGRAPHIC
Move over, Soccer Moms, there's a new gal in town. Lobb may not know it, but she's part of what looks to be an increasingly crucial demographic in the Presidential election: Wal-Mart Women. These lower-middle-class white women who shop frequently at the discounter are stretched thin and feel increasingly vulnerable. "This is a critical group, and they're up for grabs," says pollster John Zogby.
No one knows that better than Bill McInturff, the longtime pollster for presumptive Republican nominee John McCain who coined the term Wal-Mart Women. "Republicans have to be able to compete for these women," he says. "We can't win without them." To drive that point home, Senator McCain's campaign manager, Rick Davis, in early April urged a group of state party officials to get to know these voters and better understand their lives.
The Democrats recognize their importance, too. Clinton and Senator Barack Obama are waging a fierce war to win them over in Pennsylvania. The fact is, women hauling smiley-face Wal-Mart bags make up a big chunk of the country: Nearly 20% of American women shop at Wal-Mart once a week or more. And the white women who constitute the majority of that group are classic swing voters, unlike their husbands, who McInturff says are more reliably Republican. Many chose Bill Clinton, but they backed Bush by a 14-point margin in 2004. Like Lobb, a fair number are leaning toward the Democrats, particularly Senator Clinton. In a recent poll, Clinton beat McCain 50% to 44% among Wal-Mart Women. But in a McCain-Obama contest, McCain won 51% to 41%.
Just who are Wal-Mart Women? They're not as well-off as average Americans: Some 41% of frequent Wal-Mart shoppers have incomes below $35,000, vs. 25% of the population at large. They're less educated than their neighbors: 31% of U.S. voters have a high school education or less, vs. 39% for Wal-Mart Women. Those characteristics set them apart from the firmly middle-class Soccer Moms so closely tracked in past elections.
WORRIED ABOUT JOBS
Wal-Mart Women also tend to be more suburban or rural and are likely to live in the South. Many are culturally conservative and religious—key reasons a majority backed Bush. This year, however, economic concerns, rather than social issues or Iraq, are more important to them. "They are traditional voters, but they are extremely sensitive economically," says Hank Sheinkopf, a Democratic strategist. So as Clinton and Obama crisscross the scarred industrial towns of Pennsylvania, Clinton has redoubled her emphasis on lunch-bucket issues, offering proposals for a stimulus package, help for homeowners, and big hikes in infrastructure spending to create jobs. And she seems to be connecting.
Lisa Mensinger, 40, a mother of two, worked for years as an aide in day-care centers around Bethlehem. Lately it has gotten harder to find work, and she babysits just a few days a week. After a long layoff from his old job at a paving company, her husband, Larry, took a pay cut in exchange for steady work as a machinist. "There are just no jobs around," Lisa says. She voted for Democrat John Kerry in 2004 and now favors Clinton. Mensinger hopes Hillary can restore the good times of the 1990s. "We had money then. I was middle-class," she says. "Now it seems like there is just rich and poor."
And if Obama ends up as the Democratic nominee? At the moment, Mensinger is not sold and might pick McCain instead. Such skepticism is not surprising. Even before his controversial comments about "bitter" voters in towns left behind, the senator with the electrifying rhetoric struggled to reach the white working-class families pushing those Wal-Mart carts.
HEALTH INSURANCE WOES
In the face of criticism that he offers few specifics on how he would address the economy's woes, Obama is getting down to the nitty-gritty. The rock-star arena speeches have given way to smaller meetings. On Apr. 9 he turned up at Harry S Truman High School in blue-collar Levittown, northeast of Philadelphia, to talk to a crowd of 800 about everything from the price of milk to his planned $4,000 tuition tax credit.
Arlene Riccio, a 60-year-old on disability since she was injured at the chemical plant where she used to work, took two buses to get to the Levittown rally. Having battled cancer and watched two of her four children struggle for adequate health-care coverage, she is concerned mainly with access to affordable insurance. She's heard all the specifics she needs and is backing Obama. "Hillary is so closely linked to Washington," she says, "that I don't think there will be any change."
Valerie Johnson, a 51-year-old paralegal for a real estate title company who lives outside of Allentown, is far less impressed. She has seen her income drop 15% with the collapse of the housing market. She and her boyfriend "rarely go out these days," says Johnson. The tough times have her considering McCain or Clinton. "They have been around, but we just don't know enough about [Obama]," she says.
Still, his remarks about down-on-their-luck voters clinging to guns and religion don't appear to have set him back in Pennsylvania. Before that media firestorm, he had whittled Clinton's roughly 17-point lead from a month ago to around 7 points, according to an average of polls tallied by RealClearPolitics.com. And polls taken after his comments show little difference from those taken just before. But while Obama has made gains among white lower-middle-class women, it hasn't been enough to overcome Clinton's lead among them. "It will be very tough for him to win Pennsylvania without the Wal-Mart voters," says Zogby.
Meantime, McCain has begun to craft a message that, as McInturff says, offers "a believable, credible way of dealing with high prices for gas, health care, and everyday goods and services." On Apr. 10 he threw his support behind plans to help homeowners unable to afford their mortgage payments get cheaper, government-guaranteed loans. Five days later, in a broad-ranging speech, McCain called for a moratorium on federal gasoline taxes between Memorial Day and Labor Day, proposed doubling the tax exemption for dependent children, and urged the government to step in if the credit crisis keeps students from getting college loans this fall.
McCain's challenge, of course, is to hold on to as many of the Wal-Mart Women who voted for Bush as possible. That may be easier in the South, home to the most conservative members of the sisterhood. As she finished shopping at a Wal-Mart on the outskirts of Charlotte, N.C., with two of her four daughters in tow, Jennifer Brouillet, a 36-year-old teacher's aide who voted twice for Bush, says she won't consider either Democrat. She's put off by their plans for universal health care. "I'm afraid we're going to turn into Canada. I don't want to end up in a line, waiting six months to get a procedure," Brouillet says. Besides, she asks: "How are they going to pay for it?"
Before it's here, it's on the Bloomberg Terminal.
LEARN MORE