Samsung Under Siege
Allegations of governance abuses help shed light on how the founding family maintains its grip on the conglomerate
Moon Ihlwan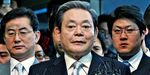 In Samsung Group corporate lore, it was the dawn of a new era. After reading a harsh report by a Japanese adviser on the rigid and outdated management practices at South Korea's biggest conglomerate, Chairman Lee Kun Hee summoned 100 top executives to a June 7, 1993, meeting at the baroque Kempinski Gravenbruch Hotel, a former hunting lodge near Frankfurt. The reclusive billionaire angrily lectured his brass on the urgency of developing world-class, trend-setting products—and made them watch a 30-minute video documenting shoddy production of Samsung washing machines. "Change everything," Lee ordered, "except for your wife and children."
Nobody disputes the magnitude of the management transformation that followed. In 15 years, flagship unit Samsung Electronics has gone from a mass producer of me-too goods to one of the world's premier brands of cell phones, digital TVs, refrigerators, and memory chips, overtaking Sony (SNE) as the world's top electronics company. Samsung Heavy Industries is now the world's No. 2 shipbuilder, and the group's construction, insurance, brokerage, and trading units are tops in Korea. The $160 billion Samsung Group is by far Korea's biggest chaebol, or conglomerate. While most other chaebol split up or sharply narrowed their focus after Korea's 1997 financial crisis, Samsung today accounts for 18% of Korea's gross domestic product and 21% of exports.
Few at the time, however, appreciated how serious Lee was about the second half of his famous dictum, the part about family loyalty. Lee's wife and children, in fact, seem to have become even more entrenched within the group. The 66-year-old chairman and his family own just a sliver of shares of the chaebol's 59 affiliates, yet they assert astounding control. For example, while they have only 3% of mighty Samsung Electronics, the Lees have final say over strategic decisions and major appointments. The family has retained this grip despite years of assault by reformers that brought down the powerful chiefs of the Daewoo, Hyundai, and Ssangyong groups. A Samsung spokesman says other shareholders support Lee family control.
Now fortress Samsung is under siege. On Apr. 17, an independent counsel appointed by Korea's Parliament indicted Lee and 9 of his senior executives on charges ranging from tax evasion to breach of fiduciary trust after nearly four months of a sweeping probe. The investigation has opened a window into the Byzantine ways that the Lees have been able to assert so much control over the far-flung group. Special prosecutor Cho Joon Woong said that Lee Kun Hee owned $4.6 billions of dollars worth of stock in insurer Samsung Life and other companies, cash and bonds that were hidden in some 1,200 brokerage and bank accounts in the names of former and current executives. Lee's holdings, prosecutors suspect, were kept secret so that he could avoid paying hefty capital gains taxes on trades.
RADICAL SHAKEUP?
The Lees allegedly had other methods of fending off the chaebol busters. The prosecutors accused the group of helping Lee's son and heir apparent, Lee Jae Yong, effectively gain control of large stakes in key Samsung units by arranging transactions that helped him acquire shares in a holding company at below-market prices. That vehicle is Samsung Everland, a theme park 20 miles south of Seoul with roller coasters, river rides, and attractions sporting names such as European Adventure, Safari World, and Aesop's Village. What's more, the group's own former chief counsel, Kim Yong Chul, has publicly claimed that the group stashed hundreds of millions of dollars in bogus accounts used to pay off prosecutors, politicians, and even journalists, but the prosecutors said they could not find supporting evidence.
Immediately after the prosecution announcement, Samsung apologized for "causing concern." Previously, it had consistently denied the allegations, some of which have circulated for more than a decade.
While any indictments may do little to ease the Lees' hold, charges could spark sweeping management changes. The company vows to fix governance problems if evidence of wrongdoing surfaces. "I'll take all responsibility, legally or morally," Chairman Lee told reporters on Apr. 11. "I will seriously consider a radical shakeup of the management team, including myself." On Apr. 17, his spokesman said: "Taking this special prosecution investigation as a new starting point, Samsung is preparing reform plans." Details of the plan are due to be released next week.
So far, the impact on Samsung Electronics has been small. The allegations of sweetheart share deals for Lee's son involve transactions that occurred more than a decade ago. The company today is one of the most widely held emerging-market stocks, and despite the recent controversy has gotten high marks for financial transparency from Crédit Lyonnais, Institutional Shareholder Services, and Euromoney. Although Lee Kun Hee is chairman, management of Samsung Electronics has been firmly in the hands of respected Chief Executive Yun Jong Yong, who took the helm in 1997, and his team of talented executives who have guided the unit's global ascent.
But the scandal highlights investor worries about the unit's leadership. Yun is 64 and nearing retirement. Insiders say Chairman Lee's son, Lee Jae Yong, 39, who earned an MBA at Japan's Keio University and studied at Harvard Business School, is being groomed as Samsung Electronics' future chief. But he is rarely seen in public, and so far his most visible role in the company has been chief customer officer, a job that has entitled him to meet such tech titans as Apple's (AAPL) Steve Jobs, Intel's (INTC) Paul Otellini, and Microsoft's (MSFT) Bill Gates. While the younger Lee isn't likely to take over the unit soon, nobody else has emerged as a clear successor. A Samsung Group spokesman says the younger Lee "will become Samsung's leader" only after winning approval of shareholders.
How has the Lee family held its grip despite years of efforts to reform the chaebol? Samsung Electronics' phenomenal growth, a source of great national pride, has provided some protective cover for the group. "Success has made Samsung seriously powerful in Korea," says Kang Shin Woo, chief investment officer of Korea Investment Trust Management, whose mutual funds own nearly $1 billion in Samsung Electronics stock. And reforms so far have tackled governance in listed companies but have done little to limit founders' control via tangled cross-shareholdings of affiliates.
No Korean family has managed to cling to a vast corporate empire as artfully as the Lees. Lee Byung Chull founded Samsung as a small rice trading outfit in 1938, when Korea was under Japanese occupation. After the Korean War, Lee moved into textile manufacturing, retail, and other businesses. Like other chaebol, Samsung grew into a many tentacled giant in the '60s and '70s under late President Park Chung Hee, who rewarded successful exporters with cheap credit and exclusive licenses to make goods protected from imports. Samsung expanded into electronics, chemicals, hotels, shipbuilding, construction, insurance, and dozens of other areas.
Lee Kun Hee took over in 1987 after the death of his father, who had been living in seclusion at a traditional, wooden mansion, where he devoted himself to Korean architecture, gardening, and poetry. With fluent Japanese and conversational English, Lee Kun Hee earned an economics degree from Tokyo's Waseda University and took MBA courses at George Washington University in Washington, D.C. He plowed billions into ill-fated car and construction equipment ventures that he had to sell after the Asia crisis. But he succeeded in ushering in modern management systems, and his bold electronics investments paid off big.
Chairman Lee rarely visits Samsung's corporate offices.
Instead, he summons top executives to weekly briefings at his posh residential compound in Hannamdong, a Seoul district popular among diplomats and foreign bankers. When Lee engages, former group executives say, he can be intense and incredibly focused, sometimes conducting all-night meetings.
Lee is especially involved with the nitty-gritty details of Samsung's gadgets. He presides over annual quality meetings comparing Samsung phones, TVs, and washing machines to those of key rivals. And in 1991 he bought a Japanese videocassette recorder in Los Angeles and disassembled it himself in his hotel room. He calculated that parts used in a similar Samsung VCR cost 20% more. He ordered staff to slash the number of parts to lower costs, which they did. "Chairman Lee certainly deserves credit for making Samsung a global brand," says a former manager.
SECRETIVE CIRCLE
But Lee seems to have been equally obsessed with family control. The linchpin of the Samsung group is the Strategic Planning Office, a secretive unit that is headed by Lee Hak Soo (no relation to the chairman), the second-ranking executive in the conglomerate. The SPO, which the chairman once described as Samsung's "control tower," occupies two floors right below Lee's penthouse suite at Seoul headquarters. All 99 SPO staff are technically employees of Samsung affiliates, which pays their salaries, but in Korea they're known as the Lees' gashin, or butlers. "Putting on the chairman's coat of armor, they monopolize power as far as finance, personnel, and auditing are concerned," says a retired executive who spoke on condition of anonymity. A spokesman for the SPO declined interview requests, but in written answers to questions denied that the office promotes family interests. "The SPO's role is to boost Samsung companies' competitiveness and synergies," the official said.
The traditional purpose of the SPO, which has counterparts in other chaebol, is to provide strategic vision, administrative support, and financial muscle for affiliates. Such a structure made sense in the early days of industrialization, "when Korea lacked sophisticated markets for capital and talent," says Korean National Open University economist Kim Ki Won, who has studied the chaebol for two decades. "But with those markets in place now, its negative side effects far outweigh its contributions." What's more, contends Hansung University economist Kim Sang Jo, head of the Solidarity for Economic Reform shareholder rights group, the SPO isn't accountable to investors because it isn't even a legal entity. "There's no legal way to hold it responsible even if it makes serious blunders," he says.
WINDFALL PROFITS?
One of the most controversial moves was a 1996 deal allegedly arranged by the SPO that gave the Lee family an outsize stake in Everland. Lee Jae Yong and his three sisters paid $9.9 million to exercise warrants converting bonds they held into shares of the unlisted amusement park and real estate company. After doing so, the children ended up with 64% of Everland. Korean prosecutors asserted that the Lees paid roughly $8 apiece for shares that were worth more than 11 times that. Then, in a private placement, Everland allegedly was able to buy 18.4% of shares in unlisted Samsung Life that had once belonged to the founder but had been transferred into accounts controlled by Samsung executives. Samsung Life, in turn, owns 7.3% of Samsung Electronics. So by controlling Everland, Lee Jae Yong now controls the biggest block of shares in the electronics giant. In a parliamentary hearing, Korean lawmakers estimated the Lees acquired the Samsung Life shares for less than 2% of their fair market value.
In 2005, a Seoul court found two Samsung Everland executives guilty of betraying their fiduciary responsibilities for allowing the bond deal to go through. They were given suspended sentences of three years. But the court did not unwind the stock and bond transactions on the grounds that it had no authority to do so. No shareholder lawsuits were filed. Everland's other investors were either companies controlled by Lee relatives or Samsung affiliates. The SPO declined comment on the share transactions.
Lee Jae Yong is accused of making windfall profits from other deals as well. A Korean civic group, People's Solidarity for Participatory Democracy, cites tax records showing that the younger Lee in 1995 paid $4.6 million for stock in unlisted Samsung Group companies, such as factory builder Samsung Engineering and security specialist S1. Over the next two years, according to securities filings, he sold those shares for a $62 million profit when those companies floated their shares on the stock market. People's Solidarity contends the SPO must have known the companies were about to go public and that Lee Jae Yong underpaid. Samsung declined to comment.
In a nation accustomed to sensational scandals involving the chaebol, few believe the current Samsung case will do much to improve corporate governance in Korea. In the past, charges against tycoons have been dropped after they made large charitable donations. In 2005, Lee Kun Hee left the country for five months for what Samsung described as health reasons while he was under investigation for allegedly making big illegal donations in 1997 to presidential candidates. The probe was dropped, but when Lee arrived back in Korea he publicly apologized—and donated $825 million to charity.
Given the conglomerate's overwhelming dominance of the nation's business scene today, the Samsung case is viewed as a pivotal test of Korea's ability to establish a more solid rule of law. Until Seoul manages to clear up the murky structures of the chaebol, it will be hard for listed companies they control to shake worries about the companies' independence. "Samsung simply doesn't have a system where the controlling shareholder's management can be checked and monitored," says Korea University corporate governance expert Park Kyung Suh. "Such a system can't be sustainable."
Before it's here, it's on the Bloomberg Terminal.
LEARN MORE