Pure Digital Flips the Script
How the Flipa bare-bones digital camcordergrew from a simple idea to a contender among giants like Sony
Reena Jana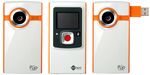 It's hard to imagine that Pure Digital Technologies, the company behind the popular Flip Video camcorder, wanted to design a "shy" product. But that's how Jonathan Kaplan, chief executive and founder of the San Francisco-based startup, describes the playful, inviting look of the device.
With nearly 1 million Flips sold since the digital camcorder's May, 2007, debut, and with enthusiastic fans like Oprah and Rosie O'Donnell, Kaplan and his design team seemed to have struck a chord with consumers. In a cutthroat market dominated by global consumer electronics giants such as Sony (SNE), little-known Pure Digital and its 80 employees have changed the game by making a bare-bones, affordable camcorder (starting price: $120 vs. the average $314). To put the number of Flips sold in perspective: About 6 million camcorders were shipped to U.S. retailers in 2007, according to the Arlington (Va.)-based Consumer Electronics Assn. Getting close to the 1 million mark in less than a year is impressive for a new product in this category, says CEA economist Shawn Dubravac. "Before, companies flaunted technical features for nerds and geeks, but consumers are responding to the Flip's convenience and price."
For years, the behemoths have been racing toward designing ever-more-complex video cameras. Then along came the Flip, daring to compromise video quality to offer a cheaper, simpler device. Its images lack the crisp resolution offered by big-name cameras. So should the likes of Sony and Panasonic be worried? Maybe: During the tough 2007 Christmas shopping season, Flip camcorders dominated the top five spots on Amazon.com' (AMZN)s list of most-popular digital video cameras. Kaplan says revenues have jumped 300% in the last year, though privately-held Pure Digital doesn't disclose sales figures. So how did this obscure upstart with no name recognition charm so many fans with a low-tech camcorder with subpar images?
Pure Digital began in 2001 as a maker of throwaway digital cameras for both still pictures and video. The cameras were sold in drugstores and required users to have their images processed on the premises or at a designated digital-photo lab. Buyers started offering unsolicited feedback. "They wanted a more permanent, shoot-and-share video camera that was fun and easy to use," Kaplan says. He paid attention, and created a product for them—without hiring focus groups.
SOAP-BAR SIMPLE
Timed to tap the craze of homegrown videos posted on blogs and YouTube (GOOG), the Flip made it easier for users to become amateur filmmakers. It's a no-frills camera the size of a bar of soap—without cumbersome cables that connect to PCs ("A Sweet and Simple Camcorder", BusinessWeek, 6/04/07).
Kaplan gave his designers a broad goal: strip away all control buttons and features from a typical camcorder and add back only the essentials. They began by eliminating the slot found on many digital cameras for extra memory cards needed to store lots of images. Instead, the Flip offers internal storage from a half hour to an hour, depending on the model. They replaced multiple controls with a simple series of buttons. The hardest part was replacing the unwieldy USB cables and chargers that come with most digital camcorders. First the team tried retracting power cables. But that didn't eliminate cords, which can tangle or get lost. Instead, they chose cheap AA batteries to power the Flip—so there's no need for a clunky plug or AC adapter.
Pure Digital's solution to the messy cables often needed to attach a camcorder to a PC to upload files is a design breakthrough: the flip-out USB key. And it became the Flip's brand symbol. Kaplan's inspiration came not from Silicon Valley but from Detroit—from the key to his Audi.
The car key is concealed in a plastic case until the driver presses a button, causing it to shoot out like a switchblade.
Similarly, the camcorder's USB key is hidden on the side until a button is pushed and it flies out. Users plug it into the USB port of a PC or laptop to quickly transfer their video to a hard drive, and then post clips online. To begin editing or storing video, users don't need CDs to install software on their hard drives when they buy the camera. Its built-in software (compatible with Macs, too) loads instantly each time the device is plugged into any computer.
LIMITED EDITING
Pure Digital pushes new products to market quickly. In September, 2007, four months after its first release, it began selling the smaller Flip Video Ultra in 20,000 stores, including Wal-Mart (WMT), Costco (CSCO), and Best Buy (BBY). Prices are modest: $150 for the 30-minute version of the Ultra, in basic stark white or black, and $180 for the 60-minute one, also available in orange and pink. And to drive consumers to certain stores to buy a particular color, almost like collector's items, some camera colors are exclusive to their retail outlet.
Still, the Flip has flaws. And Kaplan is quick to agree: "O.K., so we don't have the highest-quality components or expensive paints." But those compromises helped Pure Digital keep its own manufacturing and consumer prices down—a helpful lesson for companies looking to save money for themselves and their clientele in a recession.
Critics point to the cameras' simple software, which doesn't offer such features as the ability to add fancy, Hollywood-style titles and scene transitions. To this, Kaplan says, hey—it's a camera and software bought together for less than $200.
"We hear the challenges, but we don't want the software to become more complex," he says. "We want to have software that helps users feel smarter."
Kaplan's position is counterintuitive, just as the Flip's success is. He says Pure Digital is looking for new niches, working on even tinier models—and possibly other devices that feature some of the Flip's user-friendly elements. The small startup that shrank the camcorder is now challenging the big players—in a way that's anything but shy.
Return to Inside Innovation Table of Contents
Business Exchange related topics:SonyDigital MediaTech Gadgets
Before it's here, it's on the Bloomberg Terminal.
LEARN MORE