Jeff Immelt on the Nasty Surprise at GE
General Electric's CEO talks about disappointing investors, bridging the 'credibility gap,' and investing in the Beijing Olympics
By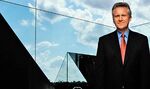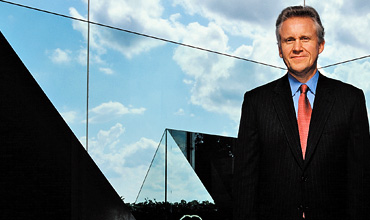 It's not easy grilling your boss—especially when he's in the hot seat, as Jeff Immelt has been since Apr. 11 when GE (GE) reported disappointing first-quarter earnings that took the Street by surprise. CEO Immelt, who only weeks before had been sounding bullish, apologized for the unexpected news that earnings would grow at most 5% for the year. But that didn't deter observers, including former GE CEO Jack Welch, from taking him to task. Welch told CNBC (which employs me and is part of NBC Universal, a unit of GE): "Here's the screw-up. You made a promise that you'd deliver this, and you miss three weeks later. Jeff has a credibility issue. He's getting his ass kicked." I was on my way to the Mideast, but I called Immelt, and to his credit, he agreed to an interview and never sidestepped the tough questions.
MARIA BARTIROMO
GE had a miss last week that shocked the market and investors. What happened?
JEFFREY R. IMMELT
I am not going to make excuses. We had every intention of making the quarter. The fact is that the end of March—particularly in financial services—proved to be much more difficult than any of the forecasts. The vast majority of the miss was in commercial finance, which has been one of our most reliable businesses over the last 20 years. If you talk to other people in financial services—Lehman Brothers (LEH), people like that—everybody had a very tough March. It was very hard to predict.
You have been out there talking about the strength of the international markets and how that could offset potential weakness elsewhere. How is it that the prospects of a global giant like GE could change so much in the space of a few weeks and you didn't have the international strength to offset that weakness?
The international businesses did great. Our sales outside the U.S. in the first quarter grew by 22%, and industrial earnings were up 12%, even with the impact of the U.S. market. The essence of financial services is that sometimes things happen fast, sometimes they happen big. These were all fundamentally timing issues. The global story for us is very much intact, and I would say global operations in the first quarter were very strong.
How do you recapture the belief in GE as an above-average performer?
First, I would say, this is one quarter. If you look at the last five years, our average annual revenue growth was 13%, our average annual earnings growth was 14%; we returned close to $80 billion to investors by way of dividends and buybacks. We had a bad first quarter. But we're going to re-earn people's trust by execution and by continuing to drive a dynamic global strategy that is still very much intact.
Let me ask you about that trust and what some people call a credibility gap. In retrospect, could you have better managed expectations for the quarter?
We went through all of our normal checkpoints during the quarter. As I said, this was timing. If any other [company showed] strength in financial services during earnings season, I'd feel worse, and I already feel awful. But put it in perspective, and we still earned well over $2 billion.
Is GE too big?
I never want to be stubborn about the company. I always want to be listening to what investors say. We use our size very well. In other words, if you like emerging markets, if you like globalization, if you like infrastructure technology, if you like environmental investing, if you like the big themes of this era that we have focused on, they're only going to happen with big companies. I really don't believe the company's too big to manage.
If the Summer Olympics in Beijing are conducted under protests from multiple groups, how damaging could that be for NBC, and by extension, GE?
We still believe that the Olympics are going to be a positive for China and for GE—that ultimately, cooler heads will prevail. China, with or without the Olympics, is going to be one of the great strategic places for the next decades, and we believe that our investment in the Olympics and China are going to position GE for long-term growth there.
Should GE pressure Beijing to change its behavior?
That's not our role, and we don't believe the Olympics should be politicized. We have reached out to the NGOs active in these campaigns to communicate our position. We've been very generous in places like the Sudan. But we're not a political institution.
For years you, and Jack Welch before you, resisted selling NBC Universal when it wasn't performing well. Now one analyst figures Universal and the network are worth $44 billion—$15 billion more than GE's stock price implies. Is it time to put NBC on the block?
We believe over time NBC Universal is going to continue to add value to the company. Content in a digital world is extraordinarily valuable. Some 60% of NBC's earnings come from cable, and CNBC, MSNBC, USA, Bravo, and Oxygen are all having record years. My belief is that it's not accretive to investors to sell a business with high margins and great global growth opportunities that is well-positioned competitively. And we're not going to do it.
Going forward, will you do anything differently as CEO?
I think I'm a learner, right? I never pretend to know all the answers, and I want to continue to be fast on my feet. But if you look at the portfolio from 2001 until today, it's dramatically different. It was 35% outside the U.S.; now it's more than half outside the U.S. We haven't been sitting still. I'm not for the status quo. This is a great company, and we're going to prove it over time.
But you can't take 10 years to prove it, right?
If you told me five or six years ago that the stock price when we earn $23 billion would be the same as the stock price when we earn $10 billion, I would have said: "You're crazy." There's nothing I wouldn't do to help the company and investors, but it's got to be things I believe are right.
Before it's here, it's on the Bloomberg Terminal.
LEARN MORE