Hide the Doritos! Here Comes HR
With an eye on soaring health-care costs, companies are getting pushy about employees' eating habits
Michelle Conlin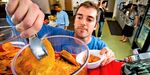 The lawyers at the boutique law firm Littler Mendelson have always liked their carbs. For years the firm's sumptuous San Francisco headquarters overflowed with endless trays of Krispy Kremes, gooey sweet rolls, and gigantic muffins. Then one day the attorneys showed up for a firm breakfast and found...hard-boiled eggs, yogurt, mini quiches, cottage cheese, and fresh fruit. "Where's the donuts?" ranted the associates.
Littler Mendelson's human resources chief, Suzanne Perez, feared mass sugar withdrawal, but she yanked the junk anyway. And while she's not too popular at the office right now, she's in good company. Google (GOOG), Yamaha Corp. of America, Caterpillar (CAT), and others are putting health food in corporate break rooms, cafeterias, and vending machines; dumping donuts in favor of organic fresh fruit deliveries; and slapping "calorie taxes" on fatty foods.
For several years the company wellness police—the folks obsessed with bringing down exploding health insurance costs—have confined themselves to targeting chunky cube dwellers with subsidized cholesterol drugs, free gym memberships, and New Age-spouting health coaches. But what good is all that if the office vending machine is filled with candy, cola, and chips—or cookies and cake are served at every meeting? "I didn't think we were being aggressive enough," says Carol Baker, the HR boss at Yamaha. But getting junkies to detox isn't easy. "People aren't ready to give up everything," she says.
DON'T LET THEM EAT CAKE
Google, the company famously committed to doing no evil, is a case in point. Yes, the Googleplex swarms with svelte twentysomethings in snug tops and low-slung denim. But even these workers aren't immune to the so-called Google 15—the number of pounds Googlers say they typically gain after joining the company and partaking in its famous gratis grub. As one blogger put it, "I fully expect a Google Infarct Room to be opened within two years."
Google's "microkitchens"—the snack stations within 200 feet of every worker's desk—were like mini 7-Elevens. "We kept adding things and adding things and adding things," says Google's food services chief, John Dickman (who is leaving the company at the end of April). Like 20 kinds of sugared cereal. Or, in the cafeteria, the Luther Burger, a bacon-cheese number with Krispy Kreme (KKD) donuts as bun. And it wasn't long before some Googlers were pondering the philosophical implications on the company's in-house message boards. Wretched excess with stock options was one thing. But wasn't free junk food kind of, ahem, evil?
Yet when Dickman ditched the M&M's, employees argued that the measure was about costs, not calories. (A hard case to make given Google's valet parking, free massages, and bidet-equipped restrooms.) "There were certain things they couldn't live without," Dickman says. So the M&M's returned. But the junk-healthy ratio is now 50-50, with agave-sweetened beverages, roasted nuts, sulfate-free dried fruit, and platters of organic crudités.
At Yamaha, Baker has done away with the "zillions" of pies in favor of regular shipments of organic fruit from San Francisco's Fruit Guys, whose business in providing workplaces across the U.S. with pesticide-free, locally grown fruit is exploding. (Turns out fruit is cheaper than the pies.) Lunchtime is another battle. Yamaha's Buena Park (Calif.) headquarters is situated near a thoroughfare chockablock with fast-food joints. So Baker brought in a catering company offering healthy salads and sandwiches. "We're trying to change people's behaviors," she says.
"CALORIE TAX"
She soon found out that employees are not the only resisters. "The vending machine people were not very supportive," says Baker. At first, she says, they grudgingly tossed in some trail mix and stuck a little heart sticker next to those fluorescent orange crackers with peanut butter.
But within weeks, Baker says, the potato chips and candy bars were back. Junk moves.
That's why some companies are getting to employees' stomachs through their wallets. After Caterpillar offered garden burgers in its cafeteria for a buck last year, sales soared fivefold, to 2,500 a month. At mortgage giant Freddie Mac (FRE), workers who order six healthy meals in the cafeteria get the seventh free. Florida Power & Light, Dow Corning, and Sprint Nextel (S) all charge more for unhealthy food (the so-called calorie tax) and less for healthier fare. At Pitney Bowes (PBI), they moved the desserts away from the cash register to curb impulse buys.
Some companies feel like a re-education camp. Microsoft's (MSFT) food honcho, Mark Freeman, created a color-coded system of icons to help make the healthy stuff as recognizable as a Snickers bar. In each of Microsoft's 31 cafeterias, there are icons for vegan, gluten-free, organic, sustainable, sugar-free, carb control, and nondairy. Freeman has also made the company's metropolis-like headquarters a trans-fat-free zone. At first, "everybody was yelling and screaming about the healthy food," says Freeman. But the Microserfs are coming around.
For those who don't, there is always tough love. HR types swarmed the New York Marriott Marquis hotel in February to learn how to implement lean-worker campaigns, biggest-loser contests, and strategic-eating seminars. During breaks over yogurt and fruit, the attendees swapped war stories about how overweight workers eat up health-care dollars. As one executive from a major software company quipped: "We're waging a war on fat people." Junk food lovers, beware. These people are serious.
Before it's here, it's on the Bloomberg Terminal.
LEARN MORE