Buying Dinner by the Case
As food prices spike, shoppers are flocking to discount stores. So why aren't those chains' profits benefiting?
Pallavi Gogoi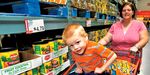 Until two years ago, Natalie Stone paid twice-a-month visits to her local BJ's Wholesale Club (BJ) in Greenville, S.C., to buy paper towels and toilet paper for her home, meat for the dinner table, and diapers for her son. Often, during the week, she would also swing by her local supermarket for items she'd forgotten. But rising gas prices and other budgetary constraints have killed off such side trips. "Now I go to BJ's just once a month," says the 29-year-old homemaker, who is married to a Honda car salesman. "I double-check my shopping list to make sure I haven't forgotten anything and plan my meal menu at least two weeks in advance so there's no running to the store."
The confluence of high food and gas prices, slumping real estate, and the credit crunch has left the Stones and millions of other middle-class families feeling pinched. That has major implications for the nation's retailers. As consumers get more anxious and more organized about where and when they shop, they're drawn to Wal-Mart Stores (WMT), Costco Wholesale (COST), and the like. "We're seeing some clear changes in consumer behavior," says A.G. Lafley, CEO of Procter & Gamble (PG), the world's largest consumer-products maker. "People are driving shorter distances. Shopping trips are down, and baskets are bigger."
Yet while the big chains are enjoying sales growth, they may not reap much more in profits. In March, Costco and BJ's saw monthly sales at stores open more than a year rise 7% and 6%, respectively, even as overall retail sales fell 0.7%. But much of that growth came from bulk purchases of food items, which are typically the lowest-margin products on the shelves.
"PEOPLE ARE EXTREMELY WORRIED"
Family Dollar Stores (FDO) is in this predicament. After noticing that food had become the biggest driver of sales in recent quarters, the chain, based in Matthews, N.C., strengthened its assortment of quick-prep and ready-to-serve products, introduced family sizes, and boosted space for food in 2,700 of its 6,500 stores in 44 states. But "these are lower-margin items," says Jim Kelly, COO of the discounter, whose profit margins have contracted in recent months.
The change in shopping habits is no surprise given the nation's growing economic malaise. The latest Reuters/University of Michigan survey shows that consumer confidence fell in April to its lowest level since March, 1982. "People are extremely worried about the future," says Richard T. Curtin, associate professor and director of the consumer survey at the University of Michigan. Monthly data reports fuel the anxiety. In March the Labor Dept. said the price of vegetables jumped 15.4%. And the American Farm Bureau noted that nearly every staple at the supermarket has seen a double-digit price jump: eggs up 38%, to $2.16 a dozen; white bread up 19%, to $1.78.
One bright spot: Almost any product with an eco-friendly label. "We got an overwhelming response from BJ's shoppers when we introduced the Simple Green line of surface and glass cleaners," says BJ's CEO Herbert J. Zarkin. Whether they're worried about the environment or their own pocketbooks, "more people are reusing, recycling, and buying and consuming less," says Patricia Pao, founder of retail consultant The Pao Principle.
Join a debate about warehouse clubs.
Before it's here, it's on the Bloomberg Terminal.
LEARN MORE