Make Less of a Mess
Businesses produce 40% of the garbage in the U.S. Here's how to clean up your act
Amy S. Choi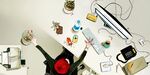 PAPER, GLASS, PLASTIC, ALUMINUM
It starts with the paper cups that hold your morning caffeine fix. Then come the stacks of junk mail, which get added to the old business cards, notebooks, and page after page of outdated sales reports. Each employee typically uses 1.5 pounds of paper every day, only half of which is recycled. If your municipality doesn't have a curbside recycling program in place, check Earth911 for a list of local private recyclers.
After all that junk's been recycled, start buying post-consumer. For a list of vendors of recyled products, go to epa.gov/epaoswer/non-hw/procure/database.htm. For recyled paper in bulk, try conservatree.com. More green office supplies, as well those custom-printed with your logo, can be found at the greenoffice.com and sustainablegroup.net.
PRINTERS
Like cats, ink cartridges have many lives -- they can be refilled up to four times. Still, roughly 167 million ink cartridges are dumped in landfills annually. Most manufacturers, including Hewlett-Packard, Lexmark, and Xerox, offer free shipping for the return of cartridges. Remanufacturers, which often partner with recyclers, will take newer equipment for refilling and resale. Search Earth911 or the Basel Action Network for local ink and toner cartridge recyclers. Next time, make sure to buy printers and copiers with a long-lasting print drum that requires only toner refills.
FOOD OR OTHER ORGANIC WASTE
Stale croissants from your sales meeting, half-eaten lunches, and science experiments in the staff fridge can create toxic greenhouse gases if added to landfills. Sleek, odorless composters eat up food and even paper scraps, creating a nutrient-rich mix for your office plants. The NatureMill Automatic Indoor Composter, at $299, comes in several colors and is perfect for a small staff. A variety of composters can be found on GreenCulture's Web site, composters.com. For more info, try the U.S. Composting Council, compostingcouncil.org. Elsewhere in the kitchen, use eco-friendly supplies like utensils and plates made from biodegradable bamboo or bioplastics from retailers such as Green Home, dgs.greenhome.com.
COMPUTERS
Time to get rid of that battered laptop? Do it now. The longer it sits, the harder it will be to refurbish and resell it. Otherwise, it will add to the 1.5 billion pounds of electronic waste produced in the U.S. every year. If you have just a few computers, bring them to Staples, which partners with recycler Amandi Services and charges $10 per machine. If you've got dozens to dispose of, the Basel Action Network can help you find a responsible recyler. Fees are based on shipping charges and the amount of toxins present in the device. And consider buying new machines from manufacturers with take-back policies and recycling businesses, such as Dell and Apple.
MOBILE PHONES
There are more than 750 million retired mobile phones in the U.S., shelved or tossed in favor of a newer model. Some 155 million go out of service each year. Phones that find their way into the trash can leach toxins from arsenic and antimony to cadmium and lead. CollectiveGood, at collectivegood.com, will take your mobile phones, pagers, PDAs, chargers, and batteries. Through its GreenPhone program, it may even pay you up to $125 for your phone, depending on make and model. CollectiveGood reuses about 60% of the phones it receives; the rest are recycled to create 20 different usable metals. Just remember to erase your SIM card before sending in your phone.
BATTERIES
Although most single-use batteries now have low or no levels of mercury and are technically safe to throw away according to federal standards, it's best not to just toss them in the trash. Whole Foods and Staples both accept single-use and alkaline batteries. Another option is to find your local hazardous waste facility through Earth911 and bring your single-use and alkaline batteries there.
Rechargeable batteries, like those in laptops, digital cameras, power tools, and cordless phones, can be more easily recycled. Find local drop-off sites at the Rechargeable Battery Recycling Corp.'s Web site, rbcr.org, or call 1-800-8-BATTERY.
RESOURCES
The Environmental Protection Agency's Business Guide for Reducing Solid Waste and its WasteWise program have tips on how to set up waste-reduction and recycling plans. (epa.gov/epaoswer/non-hw/muncpl/pubs/bus-guid.htm and epa.gov/wastewise/)
Earth 911 has a search engine that lets you search by Zip Code or by the item you're trying to recycle to find local vendors and programs. It has a tool that helps small businesses map their carbon footprint and audit their waste. (earth911.org)
The Electronics TakeBack Coalition has information on nonprofits that promote responsible recycling and lobby for a greener electronics industry. Its site lists manufacturers that take back old products and helps find free local recyclers. (computertakeback.com)
The Basel Action Network is creating a third-party audited certification program ensuring that recyclers adhere to ethical recycling standards—not dumping toxins into the local waste stream or shipping them to developing nations. Its e-steward database lists responsible recyclers and which products they accept. (ban.org/pledge/locations.html)
Techsoup.org offers tips on how to prepare your machines to be donated to a refurbisher or recycler.
CarbonFund.org offers free carbon calculators for businesses. It also sells packages to small businesses looking to eliminate their carbon footprint by buying carbon offsets.
Greenpeace publishes a Guide to Greener Electronics, which ranks 18 of the biggest computer, phone, and television manufacturers on their environmental performance, measuring takeback programs, recycling, and use of toxic chemicals in their devices. (greenpeace.org)
Back to BW SmallBiz April/May 2008 Table of Contents
Before it's here, it's on the Bloomberg Terminal.
LEARN MORE