An Upbeat Street After Intel Report
Intel's first-quarter earnings gives investors hope that the chipmakerand the tech sectorare weathering the economic downturn
by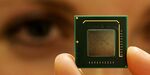 Having come clean with the bad news about its memory chip business a month ago, Intel (INTC) turned in a surprisingly upbeat first-quarter report despite a double-digit drop in profits, heartening anxious investors with news of "healthy demand" for its mainline chips for computers and servers.
The report, which initially sent Intel's shares soaring in after-hours trading, bodes well for PC and server makers at a time when investors have grown fearful that the relatively resilient technology sector is succumbing to the economic downturn. Indeed, shares of IBM (IBM) and Hewlett-Packard (HPQ) both rose about 1% following Intel's update, which came after the market's close on Apr. 15. Dell (DELL) and Apple (AAPL), key Intel customers, also rallied in the initial ebullience, but pulled back as Intel surrendered its after-hours gains.
Mobility Group Sluggish
Intel's jolt of encouragement was not limited to the quarter past, either. The company said it expects its second-quarter revenue to total between $9 billion and $9.6 billion, suggesting that analysts may need to tweak their forecasts upward. Before the report, the average forecast was $9.23 billion, according to Thomson One Analytics. Intel also said its gross profit margin, a key measure of operational health, would be about 56% plus or minus a couple of points. For all of 2008, gross margins are expected to be 57%. Intel didn't forecast its revenue for the full fiscal year.
The world's largest semiconductor company said its profits for the first three months of 2008 fell by 12%, vs. the first quarter of 2007, hitting $1.4 billion, or 25¢ a share. The results, in line with Wall Street expectations, included $275 million in restructuring charges pertaining to the spin-off of Intel's NOR flash memory business into Numonyx, a joint venture with European chipmaker STMicroelectronics (STM).
First-quarter sales totaled $9.7 billion, an improvement of 9% over the year-ago quarter. Intel said revenue for server chips set a single-quarter record, while the PC chip business held its own. Sales at Intel's Digital Enterprise group, which includes desktop and server microprocessors, improved 12%, to $5.3 billion. The unit's operating profit surged by nearly 85%, to $1.7 billion. "The business is obviously being led by servers, and the problems in the U.S. and Europe that everyone expected simply didn't happen," says Leslie Fiering, an industry analyst for Gartner (IT). However, pressure remained strong on Intel's Mobility Group, which makes chips for laptops. The unit, which accounts for nearly 38% of sales, saw its sales grow only 11%, while its operating profit fell by 14%.
During a conference call with analysts, Chief Executive Officer Paul Otellini said demand was within seasonal norms, even in the U.S. and Europe, where economic concerns have caused investors to drive stock prices down. "We've got 75% of our revenue coming from outside the U.S. right now," Otellini said. "We had a very strong fourth quarter in Europe and a strong first quarter in the U.S., and those are our two most mature markets." David Wu, an industry analyst for Global Crown Capital, called Intel's results and outlook a good sign for the tech sector: "We know there's a recession and hopefully it will be brief. We know it's broad, but we know it's not deep, because if it were deep, we would have seen it in Intel's results, and we didn't."
Temporary Flash Effect
But as forewarned on Mar. 3, Intel's quarter was hampered by its exposure to the NAND flash memory business (BusinessWeek.com, 3/05/08), where it has a joint venture with Micron Technologies (MU). Plummeting prices caused an overabundant supply of these flash chips, used in everything from music players and digital cameras to a growing number of laptop hard drives. As a result, Intel's first-quarter gross margin came in at 53.8%. Before the warning, Intel had forecast a first-quarter gross profit margin of about 56%. Yet despite this drag, gross margins were actually up 4% from the year-ago quarter (BusinessWeek.com, 4/18/07), as was operating income, which rose 23%.
Otellini reiterated his promise to shareholders that the NAND flash business would not become a long-term drag on Intel's overall results. "I want to assure our shareholders that we got into this business to make money," he said. Since Intel and Micron joined forces (BusinessWeek.com, 11/22/05) to enter the NAND market in 2005, industry manufacturing capacity has expanded rapidly, leading to oversupply and falling prices.
Chief Financial Officer Stacy Smith said Intel and Micron have jointly decided to delay the opening of a NAND factory under construction in Singapore. Smith said Intel expects the current market environment to continue into the second quarter. "What we've baked into our second-quarter forecasts is for the market to be oversupplied, but for our costs to get better quarter on quarter," he said.
If the NAND business doesn't improve, Smith and Otellini both hinted at "other options," suggesting that Intel might be willing to spin off the business entirely, though both declined to say that outright. Wu notes that Intel was making similar, noncommittal noises about its NOR flash business more than a year ago, only to spin it off into Numonyx. "Intel may just sell its share to Micron," Wu says.
Before it's here, it's on the Bloomberg Terminal.
LEARN MORE