business
Speedo: Innovation in the Aqua Lab
Swimwear companies have invested millions designing high-performance suits for the upcoming Beijing Olympics. Can design help swimmers finish faster?
Ernest Beck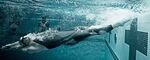 Following the 2004 Athens Olympics, officials at swimwear giant Speedo had good reason to celebrate: Athletes clad in their latest suits at the time, called Fastskin FSII, won 46 medals in the pool. Yet when the company's in-house design team, Aqualab, gathered soon after the games at company headquarters in Nottingham, Britain, they were already focused on how to innovate the next generation.
"We looked at all the suits and the competition and what was good and bad," recalls Jason Rance, worldwide head of Aqualab. Four years later, after a multimillion-dollar research and development effort, Speedo in February unveiled the LZR (pronounced laser) Racer, made from a featherweight fabric and equipped with compressor panels that hug a swimmer's body.
Staying ahead of the pack in high-performance swimwear is crucial for companies like Speedo, owned by the Pentland Group and licensed in the U.S. by apparel company Warnaco (WRNC). While the global swimsuit market targeted to elite athletes is worth an estimated $15 million annually, there's a much broader "training" market figured at $500 million globally and made up of amateur, collegiate, club, and recreational swimmers. They seek to emulate swimming world stars by buying the same expensive gear. The overall U.S. swimwear market is $4.3 billion wholesale, according to market researcher the NPD Group. If you want the LZR, get ready to pay between $290 and $550 per suit when it becomes available to the general public in late June.
Making Up for a Big Behind
A look at how Speedo's Aqualab team—which includes garment engineers, materials experts, and product developers—created LZR reflects not only how swimsuit design has advanced along with technology but also the cutthroat competition that propels companies to innovate continually. Aqualab started with dozens of hypotheses about how to make a faster suit, including one idea to replicate colors on the body and arms of the suit, to improve hand-eye coordination. This was dropped because swimmers don't see their arms that much in the water.
Designers decided to focus on reducing skin friction or hydrodynamic drag—water passing over the body as it moves through the pool. A second area was form-drag: the bumps and curves and muscle oscillations on a swimmer's own body that also hinder progress in the water. That second factor is critical, Rance explains, because "If you have a big chest or a big behind sticking out, you are less hydrodynamic. It's like diving in the water in a big woolly jumper."
To reduce hydrodynamic drag, Aqualab began testing some 60 fabrics, with the help of a NASA wind tunnel, before coming up with a model made of extremely fine yarn that is densely woven together. This was slathered with nanomolecular plasma and on top of that, a Teflon-like coating, to make the surface as smooth as possible as well as water-repellent and fast-drying. At the same time, Speedo conducted 3D body scans on 400 elite swimmers to understand shapes and sizing to help pattern makers create a suit.
Passing the Water Park Test
Meanwhile, designers addressed the question of form-drag, or how to streamline or change the shape of a swimmer's body. The solution, similar to a tactic used by many performance-enhancing apparel makers, was compression. In this case, designers inserted panels made of laminated polyurethane within the bodysuit at specific points—such as the chest and buttocks—to smooth the body's silhouette like a corset. "This allows a swimmer to hold their body position when they get fatigued over distance," Rance says.
To fine-tune the suit, designers decided to bond, rather than sew, the seams using ultrasonic welding to melt the fabric together, further reducing drag, Speedo says. Tests were also conducted on a high-speed flume at New Zealand's University of Otago.
Over the years, racing swimsuits have gone through considerable changes, from wool to nylon and then to tighter, lower-slung models aimed at reducing drag. Speedo's Fastskin, introduced in 2000, replicated a shark's skin.
Olympic Hopefuls
Several manufacturers are chasing one another to introduce engineered pool gear for the Beijing games. Arena's new suit is called the R-Evolution, while Adidas unveiled the TechFit Powerweb, as well as a suit designed specifically for breaststroke swimmers. Meanwhile, Huntington Beach (Calif.)-based TYR, a unit of Swimwear Anywhere, launched the Tracer Light and Tracer Rise as their Olympic hopefuls.
At TYR, the development of new suits centered on creating a lighter-weight fabric that doesn't leak or take on water, using a woven rather than a knitted fabric, after TYR's researchers found that knitted fabrics drop moisture between fibers. A polyurethane coating was added to create a smoother surface, and compression panels reduce muscle undulation.
One difference with Speedo's LZR is that TYR's new model—which will retail for between $80 and $350—has stayed with stitched seams. The advantage of stitching, argues Jeremy Tongish, TYR's merchandising director, is that it holds the fabric around the compression panels more effectively, which means a firmer grip on the muscles and therefore greater energy return. "If [athletes] squeeze themselves into a tighter suit with bonded seams, it exerts a lot of force on the fabric," he says, implying that sewn suits will be longer-lasting and tighter-fitting.
Fastest Suit in the Pool
So far, both types of design ingenuity appear to be paying off. Dozens of records already have been broken by swimmers wearing the new Speedo and TYR suits in competition, leading to some complaints that such models give wearers an unfair advantage or do not comply with guidelines set by FINA, the swimming world governing body, which has already approved both suits. However, at a meeting held over the weekend at the World Championships in Manchester, Britain, to consider the criticisms, FINA confirmed, "All swimsuits approved so far are complying with specifications."
Still, Speedo's Rance maintains it takes more than a suit to win a race. "LZR is the fastest suit out there, and the suit helps," he claims. But, he adds, "it is the cumulative effect of the suit and the swimmer" that wins the race, not merely the suit itself.
Before it's here, it's on the Bloomberg Terminal.
LEARN MORE