Delta and Northwest Agree to Merge
Executives emphasize the benefits of their plan to create the world's largest airline, but they offer few details about the supposed economic advantages
by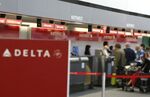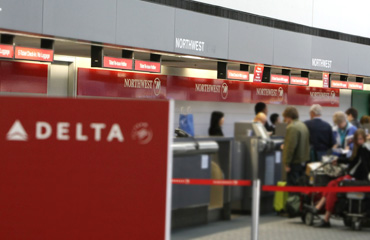 The combination of Delta Air Lines (DAL) and Northwest Airlines (NWA) creates the world's largest airline and will quickly test the theory that a bigger carrier can effectively confront record fuel prices. Employees will own a nearly 8% stake in the new carrier. But most jarring for current investors will be the matter of costs: The airlines do not plan to close any of their current seven domestic hubs, or to lay off any "frontline" people on an "involuntary" basis, according to a memo sent Apr. 14 to employees by Delta CEO Richard Anderson and Delta President Ed Bastian.
In short, the combination strategy is focused on squeezing enough operating efficiencies out of a huge global network—and likely from culling weak-performing domestic flights—to make a mammoth enterprise strong enough to survive the current fuel crunch. The airlines say they will gain $1 billion in new revenues and cost savings. But Wall Street was initially skeptical. Shares of both companies fell in morning trading Apr. 15. Delta's stock price was down 92¢, or 9%, to 9.56 as of 10:15 a.m., while Northwest shares fell 27¢, or 2.5%, to 10.95.
Emphasizing Efficiency
The new airline will retain the Delta name and be based in Atlanta, with Anderson as chief executive. It will also operate executive offices in Minneapolis, Northwest's current home, and in New York, Amsterdam, Paris, and Tokyo. Delta Chairman Daniel Carp will become chairman of the new airline's board of directors. Northwest Chairman Roy Bostock will become vice-chairman. The board will comprise seven members from Delta's current board and five from Northwest's, including CEO Doug Steenland. Pilots will get one seat. Executives of the two airlines will hold a news conference Apr. 15 in New York to discuss the deal.
The companies say they will cap integration costs at $1 billion and hope to gain regulatory approvals later this year. The stock deal values Northwest at a 16% premium over that airline's Apr. 14 closing price of $11.22. Northwest shareholders will receive 1.25 shares of Delta stock, currently valued at $10.48 per share. "Combining our companies creates an airline with the size, scale, and global presence to weather economic downturns and compete long-term in the global marketplace," Anderson and Bastian wrote.
"The new carrier…will be better able to overcome the industry's boom-and-bust cycles," Steenland said in a joint airline statement. "The airline will also be better able to match the right planes with the right routes, making transportation more efficient across our entire network." The deal is expected to add urgency to other airline combinations, including a merger of United (UAUA) and Continental (CAL).
Negotiations Needed
As part of the long talks aimed at securing a deal, Delta negotiated a new four-year contract with the Air Line Pilots Assn., which represents its 7,000 pilots. That contract gives the pilots a 3.5% equity stake in the new airline. Other employees will own 4% of the new Delta. The companies said they will protect existing pension programs for their 75,000 workers. "It is the goal of Delta to harmonize the pay and benefits of all of the working groups over time," Anderson and Bastian said in their memo, alluding to the need to coordinate pay between Northwest's largely unionized workforce and Delta employees, most of whom are not covered by collective bargaining agreements.
As for Northwest's 4,400 pilots, Delta said it "is committed to use its best efforts" to strike a deal with that labor group, including integrating their seniority with that of the Delta pilots, before the transaction closes. But the Northwest pilots' union declared it will oppose the merger. Northwest pilot chairman Dave Stevens wrote in a memo late on Apr. 14 that the union concluded it was an arrangement to "try to disadvantage the Northwest pilots economically and with respect to our seniority," according to the Associated Press.
While the airlines' public communications were quick to highlight the public and employee benefits of the deal, there is ample reason to believe Wall Street will not be nearly so pleased. Amid the critical need to sell the deal to a skeptical public and Congress, neither airline laid out a clear picture of where it sees economic benefits. Integration will be messy, at best, and if Northwest's pilots feel abandoned by the deal, they could cause enormous headaches for executives in the ranks of both airlines. In the end, without all the pilots on board and some large costs shed from the system, a bigger airline could prove to be merely a much bigger management nightmare.
Before it's here, it's on the Bloomberg Terminal.
LEARN MORE