GE Highlights Economic Woes
The company's surprisingly weak earnings across all of its sectors could signal the U.S. economic downturn is picking up speed
by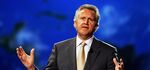 The U.S. economy is slowing to a standstill as financial turmoil puts the brakes on economic activity. Meanwhile, the rest of the world coasts along mostly unfazed.
That's the economic picture painted by General Electric's (GE) surprisingly weak profits report on Apr. 11. GE's downbeat profit news chilled Wall Street to the bone, leading to big declines in the major U.S. stock indexes on Apr. 11.
A $330 billion giant, GE's international businesses span finance, real estate, media, industrial products, transportation, appliances, and health care. That diversity makes GE's financial results a good report card on world economic activity.
Judging by its first-quarter report, GE gives the economy a failing grade. "Right now the U.S. economy is at a dead stop," said David Kotok, chairman and chief investment officer of Cumberland Advisors. "GE has just confirmed it in the details of its earnings announcement."
GE reported earnings of 44¢ per share last quarter, vs. the 51¢ analysts were expecting.
Capital Markets Chaos
"Demand for our global infrastructure business remained strong," Chairman and Chief Executive Jeff Immelt said in a statement, "but our financial-services businesses were challenged by a slowing U.S. economy and difficult capital markets." Immelt blamed 5¢ per share of the shortfall on "extraordinary disruption in the capital markets in March."
But several analysts noted that GE's weak results weren't just because of problems in the company's financial businesses.
"Slowing U.S. growth and difficult capital markets pressured results across the portfolio, with profit growth below our expectations at all segments," said Credit Suisse (CS) analyst Nicole Parent. For example, GE's health-care division—which makes high-tech medical equipment—was expected to post 5% increases in both revenue and profits. Instead, sales fell 0.2%, and profits plunged 17.1%. Its industrial division saw profits drop 16.2%, while the company had expected growth of 5% to 10%.
GE's commercial-finance business suffered when the company found it difficult to sell real estate properties—circumstances executives blamed on the financial-market turmoil and a general pullback from commercial activity in March. Commercial finance's profits fell 19.6%.
On the bright side, GE still has a pristine balance sheet, with AAA credit rating. Even GE's financial businesses are still profitable—"a world of difference from other major financial players," said Oppenheimer (OPY) analyst Christopher Glynn.
Signs of Pessimism
But despite this strength, GE is being undermined by an especially weak U.S. economy. On Apr. 11 the company drastically lowered its profit estimates for the rest of the year. Many economists and investors are expecting the U.S. economy to bounce back by midyear. But GE executives made clear that they were not assuming any improvement later in 2008.
Disturbing to many: The company did not seem to see its problems coming. On Mar. 13, Immelt expressed strong confidence in the firm's financial targets. Either Immelt was doing a poor job of keeping on top of his sprawling conglomerate or conditions got a lot worse in March, when financial markets were rocked by the collapse of investment bank Bear Stearns (BSC).
Immelt's recent upbeat talk "implies that the back half of March deteriorated significantly, which is especially unnerving," Goldman Sachs (GS) analyst Deane Dray wrote.
Products from GE's infrastructure businesses are still in strong demand as the rest of the world, particularly emerging economies, build out their infrastructure. "Our focus on globalization has helped sustain the company during the U.S. slowdown," Immelt said, noting that overall global revenues grew 22%, with sales to developing countries up 38%.
"Nothing but Strength"?
Some worry that a U.S. recession will push the entire world into an economic slowdown. But Immelt told analysts he sees "nothing but strength" in the infrastructure business, with the global boom expected to continue for another couple of years at least.
That bodes well for other U.S. companies more narrowly focused on the worldwide infrastructure build-out. For example, immediately after GE's announcement, shares of Caterpillar CAT were performing better than the broader market, remaining flat while the Standard & Poor's 500-stock index was off more than 1%.
However, even in the international area, GE disappointed some. JPMorgan Chase (JPM) analyst C. Stephen Tusa Jr. noted that the infrastructure division's order growth, 12%, represented a slowdown from last quarter's growth of about 35%.
As bad as GE's earnings looked to investors, they could get far worse. Most already expected the weak U.S. economy and tumultuous financial markets this year. But any signs that the slowdown is spreading to the rest of the world could send investors running for the hills.
Before it's here, it's on the Bloomberg Terminal.
LEARN MORE