Why's the MD-80 Still Flying?
Sure it's a gas-guzzler, but the old plane has plenty in its favor despite the recent groundings to inspect wire bundles
By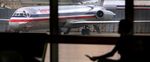 The jet at the center of American Airlines' flight travails gulps gas and rumbles about in a far noisier fashion than newer models. It first took flight nearly 30 years ago and today is greeted by some passengers as a technology-deprived torture chamber. Yet despite its age and costs, the MD-80 remains a valued and dependable workhorse in airline fleets worldwide—which points to the many nuances in assessing flight safety at a time of heightened concern about aircraft maintenance.