One Newspaper That's in the Pink
The Financial Times has staged a stellar turnaround. But here comes Murdoch's Journal
Jon Fine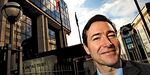 This could go down as the year the newspaper broke—the year that the melting icebergs finally fragmented; the year that the old ways were definitively unmasked as unsustainable amid steepening revenue declines and a steady procession of buyouts and layoffs.
The story is substantially different for Pearson's London-based Financial Times. Like other major British upmarket newspapers, it winced its way through staggering losses earlier this decade, losing $60 million-plus in 2003 and more than $17 million in 2004. Unlike others, it has staged a remarkable turnaround. Analysts reckon that in 2007 the salmon-hued paper turned a profit of about $60million on revenues approaching $600 million. (This turnaround did not come without staff reductions, although a higher head count on the digital operations means overall staff numbers haven't much changed.)
Usman Ghazi, an analyst with Dresdner Kleinwort, reports that, for the past three years, FT ad revenues increased at least 9% annually. (Single-digit declines would beat what some major papers have chalked up lately.) Online revenues rose 40% in '07, says FT CEO John Ridding. This is a meaningless stat without the percentage of total revenues the FT garners from online, which Pearson does not break out. Still, this increase roughly doubles what the Newspaper Association of America reported for U.S. papers' digital growth. Unlike essentially every other major paper in Britain and the U.S., the FT's machinery—which includes U.S., British, Asian, and Continental European print editions, plus a Chinese-language Web site—hums along enviably. That today's complicated economic times make matching last year's 10% ad growth unlikely hardly detracts from the achievement.
This would all be kind of perfect were The Wall Street Journal not owned by Rupert Murdoch, whose News Corp. just began same-day distribution of the Journal's flagship U.S. edition in London. Murdoch's public comments have consistently targeted The New York Times, and thus far the Journal is distributing only about 3,500 copies in London. But many suspect that if Job One for a Murdoch-owned Wall Street Journal is suffocating The New York Times, then Job Two is crushing the FT. Pearson, don't forget, was sufficiently spooked by the notion of a Murdoch-owned Journal to explore joining an abortive bid for then-owner Dow Jones after Murdoch's made his offer.
"We are not going to be mesmerized by The Wall Street Journal," says FT editor Lionel Barber. "I am not sure it's a huge advantage right now, in various parts of the world, to be an American newspaper." (That it's an American newspaper owned by an Australian company that has hired Brits such as Les Hinton and Robert Thomson to help oversee it somewhat complicates Barber's calculus. Journal executives declined to comment.)
The FT and the Journal are wholly different beasts. The Journal's print circulation in the U.S. alone (1.7 million) dwarfs the worldwide circulation of the FT (just under 450,000). Ridding and Barber pound hard on talking points that position the FT as uniquely "global"—three-quarters of its ads appear in more than one edition, reports Ridding, a ex-journalist who could pass as Hugh Grant's older, businessman brother. But they're not wrong. The FT is a niche player, one with no claims to a mass market, and a well-balanced global circulation (roughly 150,000 in the U.S., 140,000 in Britain, and 160,000 throughout Europe, the Mideast, Asia, and Africa) that makes it uniquely suited for a class of advertiser targeting a class of reader—finance-obsessed types who spend lots of time in first-class airport lounges, say. A smallish sphere, but small is the new big, at least if your audience is rich. Somewhat similar: the competition between The Economist, which is 50% owned by Pearson, and Time and Newsweek. The Economist has all the buzz and positive indicators, but Time and Newsweek each outsell it in the U.S. by a factor of 4.
The FT's focus shows in its head count. Its total newsroom staff of around 500 was, until recently, half that of the Los Angeles Times. The FT's successes of the past few years are not the only thing that make it an anomaly. Its targeted business model does, too—to the regret, no doubt, of those who'd like to steal pages from its playbook.
Before it's here, it's on the Bloomberg Terminal.
LEARN MORE