My Kingdom for a Tire
The commodities frenzy has led to a shortage of giant tiresand boom times for a niche business
Brian Hindo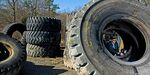 On the plant floor at RDH Tire & Retread in Cleveland, N.C., about 60 workers do nothing all day but retread giant tires that have come off of mining equipment—giant meaning 12 feet tall, 40 feet around, and 13,000 pounds. A tire retreading shop is fairly quiet as factory settings go. You'll hear lots of dull thuds as hammers whack away at the vulcanized rubber that makes up most of the tire. There's an occasional whoosh of an air hose sweeping away debris and dust. Now and then, high-pitched whines pierce the air as workers grind broken bits of metal that make up the tire's interior radial belt.
What's more remarkable are the smells. Before a new tread is put on a tire, the old, worn-down one has to be buffed off. As that happens, each tire gives off its own olfactory signature, depending largely on the job it used to do. On a recent winter day at RDH, a 10-foot-tall tire, caked in white limestone after half a year in a Florida quarry, rotated on the spindle of a giant buffing machine like a fat LP on a turntable. As bits of rubber from the shaved tread flew, the smell was sweet, almost like ginger. Then it turned pungent. "What you're smelling is burning rubber," says Wilhelm Brau, general manager at RDH.
Normally, retreading these giant tires is the slenderest of niche businesses. It's an industry made up of a handful of small shops that earn a living by performing a service the big tire manufacturers disdain. But as the demand for raw materials exploded over the past five years and the pace of mining production picked up dramatically, miners began to wear through tires faster than new ones could be made. By 2005 the world was looking at an acute shortage.
FRANTIC SEARCH
In one of the more unusual ripple effects of high prices for commodities such as copper, gold, iron, and, of course, oil, used tires that can be retreaded or repaired have become a sort of precious raw material in their own right. Over the past three years, a varied set of players, from multinational mining powerhouses to freelancing ex-tire salesmen, have been scouring the globe in a frenzied search for used tires. At the height of the shortage, in the summer of 2005, "off the road," or OTR, tires—as they're called in the industry—were being offered for upwards of $180,000 on online exchanges.
With the OTR tire shortage projected to persist through at least 2011, much of the mining industry—from global materials powerhouses such as BHP Billiton (BHP) to cement maker Lafarge (LFRGY) on down to regional strip miners—have relied on retreaders to pick up the slack. The tire supply is so tight that Rio Tinto (RTP), one of the biggest miners in the world, opened its own retreading facility in Perth, Australia, in February, 2007. It handles about 1,000 tires a year.
Rio Tinto has little choice if it wants to keep its mines humming. There are few sorrier sights to a miner than a $6 million, 400-ton hauler sitting idle on blocks simply because there aren't any tires to put on it. A single hauler can carry millions of dollars of raw material out of a mine over the course of a year, says RDH's Brau, who saw several such sidelined machines on a visit last spring to the Canadian tar sands (he declines to name the client). This January, Harvey Brodsky, who runs an industry group called the Tire Retread Information Bureau in Pacific Grove, Calif., got a frantic call from a miner in Nigeria who couldn't ferry diamonds for lack of truck tires. "I'll pay anything," he pleaded.
Few companies have the capability to retread giant tires. The ones that do can rehab a spent tire shell, called a casing, in two weeks' time, giving the tire a second or third life. Prices have risen, but retreads still cost about half the price of a new tire and last about 80% as long. As the commodities boom reverberated through obscure corners of the economy, retreaders saw their business explode.
RDH's output has ballooned from 3,000 retreaded tires a year in 2004 to 7,000 last year. At Purcell Tire & Rubber in Potosi, Mo., the country's biggest retreader, sales have nearly doubled over the past three years, to $265 million in 2007.
EXHUMED
The world's biggest tires lead short, brutal lives. Purchased new, they can cost up to $50,000 apiece. They roll underneath mammoth two-story trucks, ferrying million-pound payloads from the gaping mouths of mountaintop mines, bounding up and down unpaved trails at up to 40 miles an hour. Their treads wear out after about 5,000 hours. It used to be that, rather than paying to have those tires shipped to a landfill, mining companies would find an out-of-the-way place to bury them. Recently some miners have gone so far as to unearth such used tires at old job sites and send them in for retreading.
As demand for the giant tires soared, manufacturers weren't able to churn out enough of them. For the tiremakers, the retreading business is a sideline, albeit a profitable one. Michelin, for instance, says its profit margins are 18% on OTR tires—very healthy compared with its overall margins of 5%—but the market accounted for less than 15% of Michelin's $25 billion in revenue last year. In August, 2007, Michelin announced a $110 million expansion at its earthmover tire plant in Lexington, S.C. And in late February, Michelin dedicated a $200 million OTR tire plant in Brazil. Still, the big tiremakers have struggled over the past several years to stay in the black, owing to the vagaries of the auto business and rising costs for raw materials. Rubber, for instance, has tripled in price since 2003. Loath to get stuck with too much plant capacity when the mining sector cools, Michelin, Goodyear (GT), and Bridgestone are rationing supplies to their biggest customers in the form of a yearly tire allotment.
TIRE JOCKEYS
Amid such scarcity, spent tires have become a hot commodity. That has led to the emergence of so-called casing hustlers who, according to the retreaders, are usually former tire salesman or mineworkers. Casing hustlers know where to find a cache of abandoned or buried tires. At the height of the shortage, Brad Courtnage, president of WWF, an OTR tire dealer in Ft. Lupton, Colo., recalls one "tire jockey" offering a single big haulage tire for $150,000 that would have sold for about $25,000 new. "So many opportunists have entered the business," sniffs Courtnage.
Companies now are looking beyond the U.S. for anything in good enough shape to be repaired. RDH's Brau has fielded calls from Colombia, Morocco, and Suriname, with offers of access to stores of used mining tires. Last summer he traveled to Monterrey, Mexico, to meet a tire jockey. They drove three hours into the desert, crested a ridge, and looked out over a sea of burned rubber baking in the sun. But a closer look was disappointing. "Most everything that I saw was basically no good," he says, too damaged to lug back to North Carolina for repair. On the way back to Monterrey, Brau stopped at a shop that had 100 or so spent casings. Some looked promising, but the shop owner said the good ones had already been claimed by an Arizona mine.
Big scores are rare these days. Bradley Ragan, whose grandfather co-founded RDH, says the plant can use only one or two of every 10 tires a hustler tries to sell them. "You're not going to find anything good," says Ragan, who helps manage the facility with his brother, Scott. "It's all been picked through." Courtnage, the tire dealer, says the business of finding used tires has become so competitive that he deals almost exclusively overseas. Where? "I don't want to disclose my sources," he says.
RDH relies to a greater degree on big mining clients for a steady stream of tires that flows into its North Carolina facility and a smaller one in Glasgow, Ky. It's a chore just to get them to the plant. Every one of RDH's 20 or so truck drivers has to ponder the basic question of how to pack them up. If you stack the tires vertically, the load will be too high to traverse many roads. Piling them on their sides creates a wide load. Once a driver gets them on the truck, there's the matter of winding down rural roads "made for Model Ts," says Scott Ragan.
Retreading is surprisingly labor-intensive. Once the tires arrive at the Cleveland plant, Bradley and Scott inspect each one, looking it over for damage and marking trouble spots with chalk. Then the tires are forklifted inside to the buffing machine, which leaves a smooth surface on which a new tread can be applied.
There's little about this process that can be automated. After the tread is buffed, workers cut out the remaining imperfections in the tire by hand, a process called "skiving." They bang out stuck-in rocks or nails, smooth torn rubber, and shave down exposed steel wire. Once it's skived, the tire gets an application of cement gum, and any holes are filled in with globs of warm rubber. Then the tire is mounted on another spindle, this time to receive a layer of newly applied rubber. To seal everything together, the freshly retreaded tires are cooked in enormous kettles. Finally, new treads are cut out by machine, and the grooves are hand-smoothed.
Retreaders are aware that their fate is to be whipped around by the commodity boom's tail. In the past year, as the outrageous demand for tires slackened from its peak, RDH has laid off about 20 workers. Fuel costs are going up, too. "We can't afford to run our [trucks]," says Bradley Ragan. "But we can't afford to have them not running."
Before it's here, it's on the Bloomberg Terminal.
LEARN MORE