In Hot Pursuit of a Video-Game Deal
Electronic Arts' hostile bid for Grand Theft Auto's creator comes with attitude: EA wants to hear "yes" by Apr. 18
Matt Vella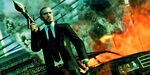 Rockstar Games' posh New York headquarters is buzzing with round-the-clock activity. Just weeks before the release of the company's much-anticipated Grand Theft Auto IV video game, employees are scrambling to deliver finishing touches. "It takes a lot of work to make a crap game," says Dan Houser, Rockstar's co-founder, as he dips into a bowl of jelly beans, "and just a little more to make a great one."
Houser has good reason to make the distinction. The new Grand Theft Auto will make its debut on Apr. 29 to sky-high expectations. Game analysts are forecasting the fourth installment of the go-anywhere, commit-any-crime series will be the biggest seller of the year, worth up to $450 million in revenues by the end of the company's fiscal year in October. The previous versions of GTA have been huge hits, selling a combined 32 million units and pulling in $1.24billion in the U.S., according to market researcher NPD Group.
But more than money is at stake. The game is coming out as Rockstar's parent company, Take-Two Interactive, is under siege. Last month games giant Electronic Arts made a hostile takeover bid for Take-Two, offering $2billion. Take-Two Executive Chairman Strauss Zelnick rejected the offer, calling it "inappropriate, unfortunate, and opportunistic." Take-Two wants to delay any negotiations until after GTA's debut, when strong sales of the game could force EA to increase its bid.
But EA doesn't want to wait. The company wants to strike a deal before the game's release, in part so it can count GTA revenues as its own. EA also wants to stop Take-Two from plowing the profits from the game back into titles that compete with its own products. The battle could come to a head over the next week. EA set a deadline of Apr. 18 for Take-Two shareholders to decide on its bid. "If we can't close the deal in time to market their titles in the '08 holiday, the value diminishes for EA," says Owen Mahoney, EA's senior vice-president for corporate development.
The boardroom drama isn't likely to match that of the latest GTA. The story is about Eastern European immigrants chasing gangster glory in a seamy, pre-Giuliani New York. The game's city is gritty, detailed, and realistic. In Midtown, grumpy fashionistas crowd the sidewalks and a digital Times Square pulses with satirical billboards. One advertises "Sprunk" in the lime-green colors of Sprite. An online social network, dubbed the Rockstar Social Club, will tie into the game, creating a continually updated map of GTA players' virtual high crimes and misdemeanors. Players will also be able to download songs heard on the in-game radio through the real-world Amazon.com (AMZN).
At Rockstar's headquarters, the adrenaline-pumping action that has pulled in millions of gamers is on clear display. In a cushy demo room with plum-colored walls and outfitted with leather couches, a massive flat-screen TV shows a squad of police cars in hot pursuit of GTA's main character, Niko. After Niko knocks out his car's window, he sprays the vehicles behind him with bullets. Multicolored fireworks fill the screen, and explosions boom from the speakers. Houser bounces on a couch, confident his company will be able to satisfy fans. For Rockstar, this kind of mayhem is "one thing that will never change," he says.
Before it's here, it's on the Bloomberg Terminal.
LEARN MORE