How the Beach Ball Burst
The ecstasy and the agony of South Florida's fast-flying real estate game
By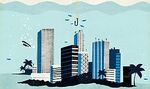 Herewith, dear readers, an account of the epic South Florida real estate boom and bust of the 2000s, as witnessed by this longtime Miamian. Please note that certain names have been changed to protect the profligate. Screenplay proposals are welcome.
March, 2001. Fishing at my Uncle Gil's house overlooking Biscayne Bay. The snapper and croakers are biting, as are our fresh wounds from doubling down on tech stocks. "The market is a fool's game," he says, tying a hook. "I'm telling you, man, the only real money is made in real estate." He points across the water to a gorgeous, glassy skyline. "Miami's at the tipping point. Get your head out of stocks, market boy." I feel like Dustin Hoffman in The Graduate.
December, 2001. My parents' neighbor quits his brokerage job and joins a subprime mortgage startup staffed by fellow Nasdaq refugees. "September 11 changed everything," he tells me, pinning palm-leaf mistletoe to his freshly painted door. "Interest rates are going down, and houses will only cost more. We're hiring, you know? Nice commissions." He hands me a 2002 calendar magnet—complete with his airbrushed mug—for my fridge. He has affixed an even larger one to the door of his half-totaled clunker.
April, 2002. My dentist's office in South Beach. An avowed value investor, the good doc threw in the towel thanks to the bear market. "I've never seen it so bad—not in '87. Open...more, more...that's good. So this patient of mine is buying old homes, gutting them, marking them up. Easy flip. I'm getting into that. You flossing?" When the hygienist comes in to take X-rays, she tucks a stack of business cards into my shirt pocket: "Cecilia Mendez. Independent real estate agent. Specializing in the Beaches and Downtown." She places the lead shield on my chest. "I'm starting my own business. Give a few to your mom, and, you know, any peeps in New York who are tired of the cold."
October, 2002. My old Bar Mitzvah teacher, having seen me on CNBC, drops me a line after Googling my e-mail address. After some small talk about how she misses the brunch vittles in Manhattan, she cuts to the chase: "You seem like the guy to ask, Mr. Television Expert: Why not just go for the interest-only mortgage and keep taking out cash? You can't lose. I mean, you used to have to put so much down."
November, 2002. North Miami agrees to let a developer turn much of a 291-acre coastal swath into a city-within-a-city with 100,000 square feet of office and retail space, up to 5,000 apartments, and a hotel. Biscayne Landing, as it will be called, is to be built atop an illegal former landfill whose 6 million cubic yards of content were so noxious that the EPA added the site to its Superfund list. Neighbors were sickened by a fire on the premises in 1990. "Oh," I thought to myself, "so that's why it smells like Michelob and limburger whenever it rains."
March, 2003. I'm down from New York to do my taxes. My CPA takes one look at my capital-loss carryover and nudges me to consider real estate. Cruising down I-95, listening to Journey's Greatest Hits, I count no fewer than 16 construction cranes on the downtown Miami skyline.
Thanksgiving, 2003. I start to notice newfangled neighborhood monikers like "Upper East Side" and "Midtown" invading the conversational lexicon. Ditto mortgage-speak like 2/28, collateral-lite HELOC, and "Countrywide (CFC), baby—yeah!"
July, 2004. My 10th high school reunion. Three guys nursing mojitos ask me to join their already profitable venture: a flipping syndicate. For their latest project, they've put down a $50,000 preconstruction deposit on an ocean-view condo, intending to sell the rights at a premium to a snowbird or Latin American. On the eve of grand openings, the three amigos will even camp out on the beach, cashier's check in hand, to get first dibs.
January, 2005. My Ivy League-educated cousin, fresh from his stint on a reality show that bombed, decides to ditch his embryonic acting career to study for a real estate license.
October, 2005. Hurricane Wilma tears across Florida. Property insurance becomes prohibitively expensive for adjustable-rate newbies. The neighbor's subprime startup "winds down" operations.
2006-2007. A deafening silence descends, save for all the billboards announcing "Office Condos," the next great thing. "Why rent when you can own?" A high school pal calls to ask whether he should liquidate his 401(k) to pay off an underwater home equity loan. The local mantras: "It will come back" and "I'm not worried, the Europeans will come in."
January, 2008. Area home prices fall 19% from a year ago. Meanwhile, back in Dump City, the mayor and developer spar over the project's future amid plunging condo demand and a glut of new supply. Much of the site remains a yawning excavation.
March, 2008. Fishing again at my uncle's place. I can see at least 50 idle construction cranes on the downtown and Miami Beach skylines. The front page of The Miami Herald features a brilliant yellow sticker advertising "200 Bank-Owned South Florida Homes Will Be Sold At Auction on April 12" and a profile of a prosperous foreclosure agent. My uncle is pacing, cell phone glued to his ear. "You get a week to come up with the rent," he says. "Then you get three days to pack up and move out. I'm sorry."
He hangs up and turns to me: "How about you and I rent a warehouse and buy up barrels of oil?"
Before it's here, it's on the Bloomberg Terminal.
LEARN MORE