Flying in for a Tune-Up Overseas
Washington and unions are raising flags about the surge in the offshoring of airplane maintenance
Geri Smith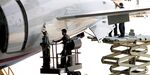 Hangar No. 1 at San Salvador's airport is hopping. Technicians employed by jet maintenance contractor Aeroman swarm over Airbus planes belonging to JetBlue (JBLU), US Airways (LCC), and Ukraine's Donbassaero, checking electrical systems, replacing carpets, and examining engines and flaps for corrosion or defects. Outside, jets from US Airways and Air Tanzania wait their turn. Why the rush to this tiny Central American country? Starting pay at Aeroman in El Salvador is around $4,500 a year, while veterans take home perhaps $15,000. In the U.S., airplane mechanics earn an average of $52,000 annually.
These days, Aeroman and companies like it have plenty of customers. As airlines scramble to cut costs, outsourced repair shops—both in the U.S. and abroad—now handle two-thirds of all maintenance for American carriers, the U.S. Transportation Dept. says, up from 30% in 1997. Airline maintenance has become a $42billion-a-year business, with countries such as Singapore, China, Korea, and Dubai making enormous investments to attract such work. While there's some concern about the 4,181 maintenance operations in the U.S., the bigger worry is over the 700-plus foreign shops overseen by the Federal Aviation Administration.
Unions, business-travel groups, and some members of Congress maintain that quality and regulatory oversight suffer when maintenance is sent offshore. Airlines are entrusting vital work, critics say, to companies abroad that the FAA doesn't have the resources to monitor effectively. Even those overseas shops that the agency visits don't have to conduct the criminal-background checks and random drug and alcohol tests on aircraft mechanics that are required at domestic facilities. And it's difficult for the FAA to stage surprise inspections, as it does in the U.S. Overseas outsourcing has gotten "truly out of control.... We've been very, very lucky that we haven't lost any airplanes," says Steve MacFarlane, head of the union representing mechanics at Alaska Airlines, Southwest (LUV), and US Airways.
PRESSURE RISING
The contractors' trade group, the Aeronautical Repair Station Assn., contends that its members' work is safe and points to recent aviation safety as evidence. Moreover, tighter restrictions on overseas maintenance would harm relations with other countries, says Sarah MacLeod, ARSA's executive director. "There's going to be a backlash," MacLeod predicts, along with higher airfares and the demise of some smaller repair shops.
Now, the issue is coming under scrutiny in Washington. After Southwest Airlines was hit on Mar. 6 by a record $10.2 million fine for safety violations, the FAA stepped up audits of airline maintenance records, spurring American Airlines (AMR), Delta Air Lines (DAL), Alaska Airlines (ALK), and United (UAUA) to ground thousands of flights as they reinspected planes. While those issues aren't directly tied to overseas maintenance, members of Congress and industry watchdogs have stepped up calls for greater FAA inspections of repair shops abroad so they meet U.S. standards.
The House of Representatives has approved a bill requiring drug and alcohol testing for overseas maintenance workers, as well as twice-annual FAA inspections. The Senate has yet to move on the issue, but Senator Claire McCaskill (D-Mo.), whose state has a large American Airlines maintenance operation, says the government is subsidizing the outsourcing and wants airlines to pay the cost of FAA certification abroad. "You can't put a gun to a corporation's head and say, You're not going to outsource jobs,'" McCaskill says. "But you can make sure the taxpayer isn't paying to send jobs overseas."
In this environment, some airlines are reconsidering their maintenance operations. On Apr. 3, Southwest said it would keep all of its repairs in the U.S. rather than ship some of them, as planned, to Aeroman. Construction workers there had been racing to complete a new $15 million hangar that was to service part of Southwest's Boeing (BA) 737 fleet. Today the hammers are still swinging, but Aeroman is scouting for other airlines to occupy the facility.
No one is suggesting that Aeroman does shoddy work. Southwest and JetBlue both say they have confidence in the company, which is owned by Montreal-based ACE Aviation Holdings, the parent of Air Canada, and two U.S. private equity firms. And after a March visit, Representative Jerry F. Costello (D-Ill.), chairman of the House Aviation Subcommittee, said: "I was impressed by some of the things I saw there." A walk around the tidy shop floor indicates that Aeroman takes its job seriously. Documents carry the name and signature of every employee involved in any repair. Removed parts that are to be returned to the aircraft are stored in cellophane-wrapped racks and labeled with blue tags and part numbers. Damaged life jackets, window frames, and floor panels are marked with red tags indicating they should be destroyed. "We are very confident," says Aeroman Chief Executive Ernesto Ruíz, "that anyone who comes here won't find anything amiss."
Before it's here, it's on the Bloomberg Terminal.
LEARN MORE