Breggo Cellars: California Gold
Breggo Cellars: California Gold
Robert Parker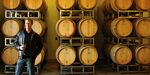 The new frontier for California, at least north of Napa and Sonoma, is the Anderson Valley. One of the best discoveries I have made recently is Breggo Cellars, where winemaker and co-proprietor Doug Stewart is producing some excellent whites as well as gorgeous pinot noirs.
90 POINTS
2006 Chardonnay Savoy Vineyard. Made as if it were a French chablis, this cuvée offers notes of lemon blossoms as well as white peaches and other stone fruits. No wood is evident in this medium- to full-bodied effort that has crisp acidity and a refreshing, pure style. Drink from now to 2011. $40
91 POINTS
2006 Gewürztraminer. Breggo's 2006 gewürztraminer is the real deal. A huge nose of intoxicatingly peppery, spicy aromas mixed with lychee nuts and apricots soars from a glass of this beauty. With terrific fruit, medium to full body, and a dry, long finish, it is best drunk over the next several years. $25
92 POINTS
2006 Pinot Noir Savoy Vineyard. Exhibits sweet notes of raspberries, spring flowers, cherries, and strawberries. This subtly smoky/forest-floor-flavored pinot noir is made in a medium-bodied, feminine, elegant style. Enjoy over the next four to five years. $55
93 POINTS
2006 Pinot Gris Wiley Vineyard. The finest pinot gris I have ever tasted from the New World. It offers a lovely perfume of apple skins, poached pears, nectarines, and lemon blossoms. Rich, zesty, and pure. Enjoy over the next to two years. $25
93 POINTS
2006 Sauvignon Blanc Ferrington Vineyard. This wine offers aromas of honeyed melons, lemon oil, and other citrus. Dry and medium-bodied, with superb fruit, depth, and richness, this is a provocative expression of dry sauvignon to drink over the next two to three years. $25
Wines rated from 96-100 are extraordinary; 90-95, excellent; 80-89, above average to very good.
Before it's here, it's on the Bloomberg Terminal.
LEARN MORE