A Spinmaster in Need of Spin
Mark Penn, no longer a big gun in the Clinton campaign, is shoring up relations with Burson-Marsteller clients and colleagues
Burt Helm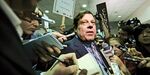 From the start, some of Mark J. Penn's colleagues had qualms about his dual roles as CEO of Burson-Marsteller, the public-relations giant, and chief strategist for the Presidential campaign of New York Senator Hillary Clinton. "It invites a lot more scrutiny when you're the big cheese in both places," says a former Burson executive. But after discussing the situation, he added, "the bosses just decided to let it go."
Maybe they shouldn't have. On Apr. 6, Penn gave up his role as strategic chief with the campaign, though he continues to advise the candidate. The move followed revelations, first reported in The Wall Street Journal, that Penn met in late March with officials of the Colombian government, which had hired Burson to help pass a proposed free-trade pact with the U.S. that Clinton happens to oppose.
Bad PR for All Involved
L'Affaire Penn was yet another blow to the Clinton campaign. But it was also embarrassing for Burson, which is supposed to get good headlines for its clients, not bad ones for itself. As BusinessWeek went to press, Penn's job seemed secure, and none of the firm's clients, which include BP (BP), Accenture (ACN), SAP (SAP), and Intel (INTC), had yanked their business (apart from the Colombian government, which fired the firm). "It doesn't affect our relationship with Burson," says a spokesman for SAP.
Still, Penn & Co. are in full damage control mode. Penn plans to visit regional offices in the coming days and confer with his executives. "I'll be talking one-on-one," Penn told BusinessWeek, "and making sure that this is resolved, behind us, and the company moves on."
Penn began working with Burson-Marsteller in 2001, when its parent, WPP (WPPGY), bought his Penn, Schoen & Berland polling firm. Penn's outfit had worked for the Clintons since 1995. In 2006, Burson, keen to tap Penn's strategic and rainmaking talents, named him CEO. It was decided that he would advise the Clinton campaign and work with corporate clients. Penn, Schoen "had its prior relationship with Senator Clinton, and we had no reason to end that relationship," says Howard Paster, who runs WPP's public-relations division and is volunteering for the Clinton campaign. As of Mar. 31, Penn Schoen had billed the campaign $13 million.
An Atypical Client
As far back as 2006, Burson executives say, senior management had expressed concerns about Penn's relationship with the Clintons. Traditionally, say two former Burson executives, the firm didn't take on political candidates. And Paster says Burson staffers asked him if clients with views that conflicted with the Clinton campaign might wonder if their interests were being compromised. He says he told them no.
Burson, adds Paster, underestimated the length of the campaign and the amount of time Penn would put in working for Clinton. "Being chief strategist on a campaign is a full-time commitment," says Tad Devine of media consultancy Shrum, Devine & Donilon, who worked on Al Gore's and John Kerry's Presidential bids. "It's hard to find time for your family, let alone a firm." Indeed, as the campaign heated up, Burson hired Richard C. Powell Jr., who worked at the firm during the 1990s, as chief operating officer, and gave two former speechwriters for Bill Clinton, Donald A. Baer and Josh Gottheimer, operational roles.
In the end, Penn's juggling act imploded. Penn says he will look for lessons but is confident Burson will suffer no long-lasting damage. "I have had a 30-year record of dealing with some of the big elections and best-known PR crises—from Bill Gates and Microsoft (MSFT) to Tony Blair and both the Clintons," he says. For his part, Paster insists that Penn's dual role "worked fine. And it would have continued working if he hadn't gone to that silly meeting."
Before it's here, it's on the Bloomberg Terminal.
LEARN MORE