Aramark Preps for Olympic Feeding Frenzy
Despite all the controversy, the U.S. caterer plans to use its contract at the Beijing Games to expand its presence in China's enormous market
by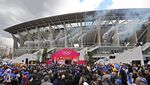 With four months to go, the Beijing Olympics have already become a magnet for anti-China protests (BusinessWeek.com, 3/27/08). Activists protested at the launch of the Olympic torch relay in Olympia, Greece, in late March and disrupted the flame's procession in London on Apr. 6 and in Paris on Apr. 7. Pro-Tibet groups are gearing up to demonstrate when the Olympic torch is carried in San Francisco on Apr. 9. Politicians in Europe and the U.S. are calling for boycotts of the opening ceremony to protest not only China's Tibet policies, but also Beijing's support for the governments of Sudan and Burma.
But in China the preparations are proceeding as normal. Despite calls to withdraw support for the Olympics, no corporate sponsor has yet changed its marketing strategy for the Beijing Games. And companies are still counting on big crowds of local and foreign tourists attending the events. For instance, restaurants and caterers in China hope to get a $2.85 billion lift this year from the Games.
In a push to serve more authentic Chinese food than at any other Olympics, Beijing has selected 300 "special" regional restaurants that will offer English- and Chinese-language menus, accept debit cards, and feature nonsmoking areas. McDonald's (MCD), which will operate four fast-food outlets in the Olympic Village, has planned an Olympics marketing campaign (BusinessWeek.com, 3/13/08) throughout Asia.
Raising Aramark's Profile
One company expecting to win big despite the controversy surrounding the Beijing Games is Aramark. When the athletes, media, and team officials staying in Beijing's Olympic Village get hungry, they will have two options. They can grab a Big Mac, Coke, and fries from McDonald's. Or if they want healthier food, they can go to the 24-hour dining area, where choices from bagels to pasta to steamed fish will be prepared and served by Philadelphia-based Aramark.
With $12.6 billion in sales last year, the privately held company is the largest food caterer in the U.S. Aramark entered China in 2004 and provides food and housekeeping services to such clients as Lenovo and the U.S. Embassy in Beijing. By catering the Olympics, Aramark hopes to raise its profile and revenues in China, which were just $71 million last year. "This really upgrades our company's brand awareness and reputation," says T.S. Hong, president of Aramark Service Industries (China). "Think how important this Olympics is to China."
Aramark faces a monumental task: It will serve more than 3.5 million meals over a two-month period (which includes not only the Olympics but also the Paralympic Games) in the Olympic Village. At the peak, the company will have to prepare 100,000 meals a day. About 30% of the food will be Asian cuisine—for the many Japanese and Korean tourists expected in Beijing for the Olympics. Roughly a third of that will be authentic Chinese dishes, while most of the rest will be Japanese, Korean, or Indian. Official sponsors, such as Uni-President's Instant Noodles and Yili Dairy, plus 36 other designated Chinese companies, will supply ingredients. Only hard-to-get items, such as pasta sauce, will come from abroad.
A big challenge will be finding enough skilled workers to do all the cooking. Aramark is now hunting for 6,000 chefs and other kitchen staff. Aramark's partner, Beijing Tourism Group, will transfer 400 of its finest chefs from local hotels to lend a hand. "We are under a lot of pressure," says Xie Zongwu, deputy general manager of Beijing Tourism Group. He keeps a diagram of the athletes' dining area, with its Mediterranean, Asian, and Western food sections, in his office.
Room to Grow in $170 Billion Market
Why did the Beijing Olympic Organizing Committee choose a U.S. company for the job? "The key is they have experience catering athletes' villages for 13 Olympics," says Kang Yi, food and beverage chief for the Games. Aramark's first Olympics was Mexico City in 1968. The company was founded in 1936 by Los Angeles entrepreneur Davre Davidson, who started selling snacks to office workers from his Dodge sedan.
Aramark sees catering the Beijing Games as a huge opportunity to expand in Asia, first in China, and then in markets such as Thailand and Vietnam. The company's operations on the mainland have been growing at a brisk 20% annual rate since it took over Bright China Service Industries in 2004 as part of its acquisition of ServiceMaster, a Memphis company with facilities in Beijing. Aramark then bought Golden Collar, a Beijing food service company, in 2006. In the past four years the company has doubled its client base, to 220 multinationals, Chinese corporations, and hospitals in more than 30 cities. Aramark expects revenues of $86 million this fiscal year.
That's tiny compared with China's $170 billion catering market, so Aramark figures there's plenty of room to grow. The company next hopes to target schools, which have yet to outsource their catering. China is the "main growth engine for our global business," says Catherine Toolan, executive director of Aramark's Olympic Catering Services. Aramark also aims to double its client base to 450 and its staff to 20,000 in three years. "We can attract more high-talent people through this Olympics," says Hong. "It is a great opportunity for us to develop."
Before it's here, it's on the Bloomberg Terminal.
LEARN MORE