business
Carphone Warehouse: Coming to the U.S.
The retail phenomenon is making a jump across the Atlantic, thanks to a partnership with Best Buy
Mark Scott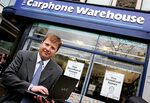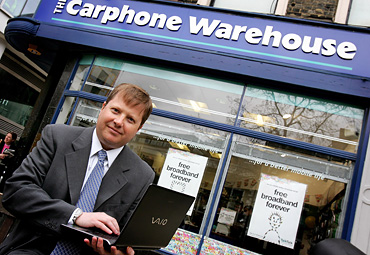 Unless you live in Britain, you may never have heard of the retailing phenomenon known as Carphone Warehouse (CPW.L). From its modest launch less than 20 years ago the seller of mobile handsets and services has grown into an industry giant, with 2,300 stores across Europe offering the widest range of products—and often the best prices.
Now, the London company is poised to leap across the Atlantic, thanks to a joint venture with electronics chain Best Buy (BBY). Starting this year, Carphone Warehouse will roll out nearly 1,000 outlets in the U.S., some of them boutiques inside existing Best Buy stores and others standalone storefronts. Best Buy also owns a 3% stake in Carphone Warehouse.
American mobile operators should pay close attention. Carphone Warehouse revolutionized the industry in Britain by being the first seller of phones and mobile services not affiliated with any carrier or handset maker. That allowed consumers to compare prices and service plans from many providers—and ratcheted up market competition among the players. The novel business model made Carphone, as it's popularly known, a hit with buyers confused by the bewildering variety of mobile service plans and prices.
Giving Customers What They Want
Since then the company has pioneered one retailing innovation after another. It has launched its own name-brand telecom services—including fixed-line, mobile, and broadband access—and rolled out training programs that help consumers get up to speed quickly on new gadgets.
"Carphone has been a big innovator in the telecom market," says Richard Perk, director of retail research at London research firm Mintel. "It does what no other major [tech] retailer can do, offering independent advice and additional services that customers really want."
Perhaps the most crucial realization by Carphone founder and Chief Executive Charles Dunstone was that selling a phone or other gadget was merely the first step in an ongoing customer relationship. While other electronics retailers focused on moving merchandise out the door—a commodity business with pencil-thin margins—Dunstone adopted a "razors and razor blades" approach, focusing on the more profitable annuity of after-sale services.
Best Buy Could Increase Its Stake
Now, thanks to his deal with Best Buy, Dunstone will bring his double whammy of customer service and independent mobile advice to the U.S. Currently the U.S. is dominated by retail outlets affiliated with carriers such as Sprint (S), T-Mobile (DT), and AT&T (T). What's in it for Best Buy? For all its success, the Richfield (Minn.) retailer thinks it has something to learn from Carphone. Best Buy spokeswoman Kelly Groehler says Carphone's focus on customer satisfaction will help improve the chain's mobile sales.
Analysts agree that Carphone's approach could be a hit with U.S. consumers. "It's still early stages, but there's definitely potential [in the Best Buy deal]," says Sam Hart, analyst at brokerage Charles Stanley (CAY.L) in London. "Mobile-phone penetration is reaching its limit, so the extras that Carphone has to offer could make a difference to sales."
That could be a crucial boost at a time when consumer spending is expected to slow because of the economic downturn in the U.S. And if the joint venture flies, investors say that Best Buy might be interested in raising its stake in Carphone Warehouse to a controlling interest.
Both companies decline to comment on the possibility of a takeover, but any such deal would help Best Buy diversify from the U.S. with an instant presence across Europe.
Broad Array of High-Margin Services
It's a big potential opportunity for a company started in 1989 by the then-25-year-old Dunstone with $12,000 of his own savings. Now valued at $5.2 billion, Carphone is expected to post 2007 revenues of $9.2 billion, up 16%, when it reports its annual results on Apr. 15. Earnings are expected to be up 23%, to $249 million.
By comparison, on Apr. 2, Best Buy reported revenues of $40 billion for the fiscal year ended Mar. 1, up 11.4%, and earnings up just 2.2%, to $1.4 billion.
One explanation for Carphone's faster profit growth is its rich offering of services, which generate 13.6% profit margins, vs. 9.2% for retail distribution. The company's initial model was similar to that of mobile operators who operate their own stores: It sold often heavily subsidized handsets to entice customers to sign up for mobile contracts, from which Carphone took a sales commission.
Rumors that Carphone Might Buy Tiscali
It was only in recent years that the company got into direct competition with carriers by rolling out its own services. First, taking advantage of telecom deregulation, it began offering conventional fixed-line voice plans to rival those of British Telecom (BT). Then it launched a branded mobile service. And in one of Dunstone's most decisive moves, the company paid $737 million in December, 2006, to buy AOL's (TWX) British network operations. It now counts 2.6 million subscribers, or just under a fifth of Britain's broadband market.
Another move could be around the corner. On Apr. 4, Carphone's shares climbed 2.05% on rumors that it might buy Italian telecom firm Tiscali (TIS.MI), one of the leading broadband providers in Britain, for almost $1.3 billion. A company spokesperson declined to comment.
Competing head-on with telecom providers has earned Carphone some resentment from industry incumbents. In 2006, for instance, British mobile giant Vodafone (VOD) yanked its products from the company's stores because it wanted more control over its brand. Carphone continues to distribute mobile services for other major British providers, including France Telecom's Orange (FTE) and 02, a subsidiary of Spain's Telefonica (TEF), which also sell products through their own stores.
Trying to Boost Broadband Biz
According to Jo Hewson, director at British consultancy FSP Retail Services, mobile companies are in a tough position. While they would rather control their own destinies, they are dependent on sales through Carphone, which has more than double the number of sales outlets of any of the network operators. Underscoring Carphone's clout, it was the only independent mobile retailer to win the right to sell the coveted Apple (AAPL) iPhone, which is otherwise available only directly from Apple or though 02, the phone's exclusive carrier in Britain.
Now, Dunstone is using his tried-and-true model to boost Carphone's broadband business. His most recent innovation: Giving customers a free Hewlett-Packard (HPQ) laptop if they sign up for a premium broadband package. With gimmicks like that, analysts say, Carphone has driven broadband services to 50% of its total sales, and climbing.
At first, the Best Buy joint venture in the U.S. will focus solely on selling handsets and service contracts with existing mobile operators. But don't be surprised if the partners start moving into branded service offerings that could give the incumbents a run for their money. It could be the perfect antidote to sagging consumer spending for Best Buy—and yet another breakthrough for a scrappy British retailer that has thrived by thinking ahead of the curve.
Before it's here, it's on the Bloomberg Terminal.
LEARN MORE