Sinosteel Presses Takeover in Australia
The hostile bid for iron ore producer Midwest Corp. underscores Chinese steelmakers' appetite for acquisitions in Australia's west
Brad Howarth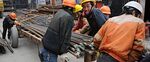 China's resource players are digging deeper Down Under. The latest? Beijing-based Sinosteel, which in late March reiterated its intention to take over one of Australia's two largest miners, Midwest Corp.
The latest bid is just one of many. On Feb. 1, Aluminum Corp. of China (Chinalco) (ACH) teamed up with Pittsburgh-based Alcoa (AA) to spend $14 billion for a 9% stake in Anglo-Australian iron ore producer Rio Tinto (RTP), making the largest ever overseas purchase by a Chinese company. Meanwhile, China Petroleum & Chemical (Sinopec) (SNP) will buy 60% of Australian oil producer AED Oil's Puffin and Talbot fields for $557 million.
Lured by the rich iron ore deposits of Western Australia's Mid West region, Sinosteel is offering $5.14 per share, which gives Midwest Corp. a value of about $1.1 billion. "Sinosteel is very familiar with the prospects and projects being developed by Midwest and believes now is the right time to make an acquisition," says the general manager of Sinosteel Australia Mining, Tony Cheng.
Midwest Corp. management, however, has rejected all overtures. In a statement to its investors on Feb. 20, the company argued that Sinosteel's price undervalues Midwest. Cheng counters that the offer is a fair one, saying that Sinosteel's bid values the stock at a trading price higher than Midwest has ever reached. Midwest declined to comment when contacted by BusinessWeek.
Partnership Turns Testy
The investment has heightened concerns among some Australian politicians about foreign investment in Australian mining assets. The level of Chinese investment in Australia has risen sharply in recent years, jumping from $2.07 billion in 2005 to $3.13 billion in 2006. Meanwhile, Australian mining giants Rio Tinto and BHP Billiton (BHP) have expressed interest in partnering with Chinese companies for future exploration and investment.
Relations between Sinosteel and Midwest Corp. were not always so testy. The two companies actually have been working together for three years, having entered into a joint-venture exploration contract in 2005 to investigate iron ore deposits in the Mid West's Weld Range region and additional ore deposits at Koolanooka. Midwest Corp. currently produces 1 million tons of iron ore annually from Koolanooka, but its Weld Range project is not expected to begin producing ore until 2012.
Sinosteel launched its bid to take control of Midwest after a rival bid from neighboring miner Murchison Metals lapsed in February after failing to win the support of Midwest's board or shareholders. Sinosteel initially opted to negotiate with the Midwest board, but declined to enter further negotiations and continued buying Midwest Corp. shares on the market. Sinosteel currently holds just under 20% of Midwest.
Midwest shares are currently trading at 5.46, nearly double the price of 3.06 reported on Oct. 9 before the Murchison takeover attempt, and are outperforming the Australian Stock Exchange All Ordinaries index by more than 100% over the same period. The Sinosteel offer is "fairly reasonable," says Mark Savich, a resource analyst with the Perth-based stock brokerage Patersons Securities. "The Mid West region is shaping up to be the next big iron ore province."
Region's Ore Attracts China's Steelmakers
Chinese interest in Western Australia is high, as Chinese steelmakers seek alternate sources of supply to Australia's two largest producers, BHP Billiton and Rio Tinto. Both companies are locked in negotiation with Chinese steel traders over proposed price increases for iron ore, having rejected as too low a 60% increase obtained by Brazilian iron ore producer Vale (RIO).
The Chinese steel company China Metallurgical Group Corp. (MCC) is currently deliberating a $366 million purchase of Cape Lambert Iron Ore, located in the ore-rich Pilbara region of Western Australia. Also, Gindalbie Metals has entered into a $488 million joint-venture agreement with one of China's largest still producers, Anshan Iron & Steel, for the development of the Karara Iron Ore Project in the Mid West region.
But outside of Midwest Corp. and Murchison, other acquisition targets are considered to have far less potential, due to either smaller resource bases or their isolation from transport infrastructure. Savich expects that Sinosteel may also launch a takeover bid for Murchison to establish control of Mid West region assets, and potentially to streamline the funding of required new railway infrastructure and deepwater port facilities, estimated to cost $2.75 billion.
Whether the deal goes through will depend on the willingness of Midwest Corp.'s shareholders to believe that the Sinosteel price is as good as they can get. That still is undetermined.
Before it's here, it's on the Bloomberg Terminal.
LEARN MORE