business
China: Tops in Tourism, Too?
Thanks to a surge of foreign and domestic travelers, mainland tourism is booming as the Olympics near. Ritz-Carlton and Wyndham are riding the wave
By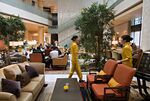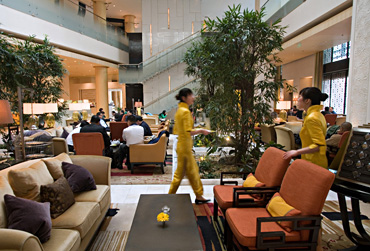 As a world travel destination, China is already in the big leagues. Drawn by the Great Wall and the Terra-Cotta Soldiers in Xian, overseas tourists are flooding into the country. And despite the current unrest in Tibet, the draw of the mainland is unlikely to weaken any time soon. Last year's 132 million visitors spent $42 billion, making China the fourth most popular destination country, behind France, Spain, and the U.S. By 2015, the World Tourism Organization estimates, it will be No. 1.
With China gearing up to host the Olympics in August, these should be especially heady days for the tourism business. This year, China expects to welcome 150 million foreign tourists, up by 14% over 2007. And as the Chinese increase their travel domestically, too, tourism revenues will grow by some 18%, to reach $183 billion. Just for the period of the Olympics in August, 820,000 people are expected to visit from overseas—that compares to just over 400,000 visitors to Australia during their Olympics in September, 2000.
That torrid growth continues a long-running streak. Since Beijing won its bid in 2001 to host the Olympics, tourism growth "has been in double digits every year," says Zhao Xin, director of the Olympic program office at China International Travel Service in Beijing. The boom is lifting nearly all players in the industry, from hotels to travel agencies. "The Olympics is a great driving force," says Jane Jie Sun, chief financial officer of Shanghai's Ctrip.com (CTRP), China's largest online travel agency. New York-listed Ctrip's revenues grew by 54% last year, to $181 million, while profits rose 66%, to $55 million.
Have Cash, Will Travel
Even more important is domestic tourism, which makes up three-fourths of total revenues. Propelled by double-digit gross domestic product growth and rising urban incomes—up more than 12% last year—increasingly well-off Chinese are opting to travel within China for fun and relaxation. And while that drives growth for the thousands of four- and five-star hotels filling China's cities, it has seeded a much larger boom in economy lodging, which has seen phenomenal annual growth in revenues—some 80% in recent years—to more than $1 billion, in the estimates of industry players.
That's good news for Wyndham Worldwide's (WYN) Super 8 franchise (Wyndham also has Howard Johnson and Days Inn properties on the mainland). Since opening its first hotel in Beijing in 2004, the chain has grown to 67 properties in cities across the mainland. By yearend, Super 8 plans to double its locations in China. "When economies experience this kind of growth, one of the first things that happens is people want to travel," says Mitchell Presnick, Super 8 China's chief executive.
Super 8 is hoping to use the Olympics to leverage its already strong brand. In January, it became a member of the Olympic Village Accommodation Service Management Team, the only economy hotel to win that honor. Super 8 is contributing a couple hundred employees to manage 14 apartment buildings and resident service centers in the Olympic Village where athletes, coaches, and the media can check e-mail and make restaurant reservations.
Hotels' Economic Boost
Luxury accommodations are also booming. By summer, more than 11,000 high-end and boutique hotel rooms will be available for visitors. That explains why Chevy Chase (Md.)-based Ritz-Carlton Hotel has chosen the mainland for expansion. The company opened its first hotel in Shanghai in 1998 and now has two in the capital and one in Guangzhou. Plans for this year call for a location in Shenzhen, plus one in the island resort town of Sanya.
So how important will the Olympics be for Ritz-Carlton? The company will not reveal how much it expects to earn in revenues, but its Beijing hotels are already fully booked for the 17 days of the Olympic Games. Media reports in China estimate hotels will be charging from 3 to 10 times their normal rates in August. Most customers are corporations planning to entertain key clients, says Simon Cooper, president and chief operating officer of Ritz-Carlton.
But even more important than Olympic-related revenues will be the anticipated long-term boost to the Chinese economy. "China is going to be a very meaningful slice of our growth," says Cooper.
Before it's here, it's on the Bloomberg Terminal.
LEARN MORE