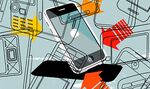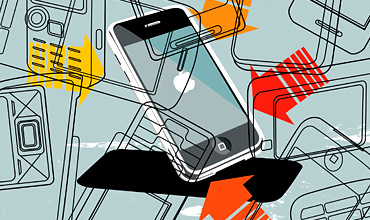 Since the iPhone hit the market in mid-2007, competing phonemakers and wireless-service providers that don't have a deal to sell the Apple (AAPL) device have tried their best to betray no envy. They rolled out a few devices mimicking the iPhone's touch screen, but they mostly hoped the phone, offered exclusively by AT&T (T), wouldn't become a hit. Too bad. By the fourth quarter of last year, Apple had grabbed more than a quarter of the U.S. market for what are known as smartphones, the mobile phones that handle computer-like tasks such as e-mail and Web browsing.
A new crop of would-be iPhone slayers is about to hit the market. To help them compete with AT&T, Verizon Wireless and Sprint Nextel (S) are working with some of the biggest names in the industry, including Nokia (NOK) and Samsung Electronics, to develop new handhelds. On Apr. 1, Sprint unveiled an iPhone lookalike from Samsung called Instinct that will debut later this year. "[Apple] is not going to own the space themselves," says Danny Bowman, Sprint's vice-president. "They're going to have a lot of competition."
Smartphone users are coveted by carriers. They tend to spend liberally on wireless services each month as they surf the Web and check their e-mail. Until last year the market's unrivaled leader was Research In Motion, (RIMM) whose BlackBerry phones are sold by all the major wireless carriers in the U.S. RIM is still the largest smartphone maker, with 41% U.S. market share in the fourth quarter, according to research firm Canalys. But Apple has become a contender in less than a year—and has given AT&T a competitive advantage, since people who want the device have only one place to go.
The fight to take on Apple may prove a boon for consumers. The new phones will offer more than e-mail and the primitive Web-browsing capabilities of today's clumsy devices, more closely replicating the ease, speed, and flexibility of personal computers. A greater variety of smartphones will be available, many at prices lower than the $399 to $499 price tag for an iPhone. LG Electronics' KF-700, due in the U.S. later this year, has a keyboard that slides out from behind its touch screen, for easier typing. Sony Ericsson's Xperia X1 will also offer a touch screen and slide-out keyboard.
Whizzy technology won't be enough to beat Apple, though. What's made the iPhone a hit is its smooth integration of hardware and software and its easy operation. The device weaves together a wide array of computer-like functions in a way that even technophobes can master in minutes. Rivals haven't been able to imitate the trick so far. Sprint's first effort to field an iPhone competitor, a gadget from Taiwan's High Tech Computer, has had disappointing sales since its November debut.
Sprint has higher hopes for the Instinct. The company last year put together what it called its "Tiger Team" to create a product code-named Nerva. The company commissioned Berlin's Iconmobile Group to develop software that would make the interplay between the phone's touch screen, buttons, and menus smooth and simple. Sprint then sent its engineers to work with Samsung and with mobile-applications providers to make sure that applications created for the device would interact seamlessly with the Iconmobile platform. Sprint also worked on embedding software from TeleNav so the phone could use GPS (Global Positioning System) satellite signals to deliver location-based services like driving directions and dinner recommendations. The Instinct is slated to hit the market in mid-June and is expected to cost $200 to $250.
Nokia, the world's largest cell-phone maker, is gunning for Apple, too. The Finnish company said last fall that it would begin selling a new touch-screen handset sometime after June but has been mum on the details. That has left wireless aficionados to troll through Nokia patent applications for clues. One of them describes a phone that can sense motion without actually being touched, so a user might, for example, tilt the device to scroll down a Web page. "We've been here for a long time, and we're really out in front in terms of functionality, features, and volume," says Daniel Shugrue, a Nokia marketing executive.
RIM has also signaled that it is preparing to do battle with Apple. The Canadian company says it plans to introduce at least four new handsets this year, though it won't provide details. Analyst Carmi Levy of AR Communications believes that at least one of the devices will have a touch screen.
Apple, of course, isn't standing still. On Mar. 6, the Cupertino (Calif.) company revealed plans to add corporate e-mail capabilities to the iPhone and officially opened the device to outside software developers, allowing them to create new applications. There's also speculation that a revamped iPhone expected to arrive soon will offer new features such as videoconferencing and GPS technology. Apple declined to comment.
It's unclear whether Sprint's Instinct or any of the other new devices will impress consumers the way the iPhone has. Still, competition is on the way. Apple is helping spark a burst of innovation, even if it isn't coming from Cupertino.
Before it's here, it's on the Bloomberg Terminal.
LEARN MORE