Adobe Wants to Be a Player
Its Flash software is the standard for online video. Now it's taking on YouTube and iTunes
By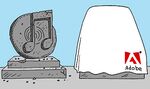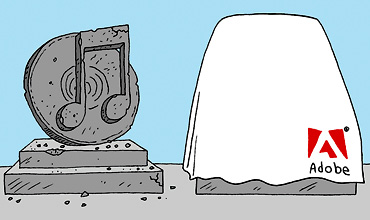 Chelsea Clinton was put off the other day when a student asked her about the Monica Lewinsky affair at a campaign rally. I know because I was surfing the Net and caught a video of it on The Washington Post's Web site. After that, I replayed a few American Idol moments on YouTube (GOOG), then logged on to Hulu.com to watch a movie.
What kind of software enables these Web sites to dish up all that video without a hitch? Hint: It isn't Microsoft's (MSFT) Windows Media Player. Nor is it some industrial-strength combination of Apple's (AAPL) iTunes and Quicktime. It's Adobe's (ADBE) Flash, an underappreciated program that delivers most of the streaming video on the Web.
Flash isn't itself a media player, but now Adobe wants to use it as the basis for one, which will be available for download in early April. The Adobe Media Player will pull together Hollywood content and selected videos from thousands of Web sites. The service is free, and you won't have to worry about getting sued by an irate movie studio—the Adobe player follows whatever rules the content owner sets for streaming and downloading. The catch? You can't strip out the ads embedded in the videos, which help pay for the "free" player. (Adobe also makes money selling Flash to Web sites that serve up the content. And of course, it's famous for Photoshop and the Adobe Reader.)
While some rivals are developing similar business plans, Adobe has a trump card, at least for now. Its player acts a lot like TiVo (TIVO). You can subscribe to favorite shows by clicking on a subscription button you'll see on many video sites, and then pasting the provided URL into the Adobe player. Then the shows or series will automatically begin queueing up on the player for viewing. You can watch these streams whenever you're online, and some content providers also let you download and store their videos on your hard drive.
How It Works
Getting set up is easy. (I promise you won't need to recruit your 13-year-old for help.) You just download two applications from Adobe's Web site: the media player and Adobe AIR, which operates in the background, gathering information for advertisers. Upon opening the player, you'll immediately have access to hundreds of titles, including popular TV shows such as CSI, Star Trek, and The Colbert Report. You can search for a specific program or browse through show icons or genre tags such as "comedy" or "politics." There are no movies now, but some should be available by yearend.
Choosing your own content takes a little practice. To add videos you cut and paste the address of the Web content you want the player to grab. For instance, you can subscribe to YouTube's most watched video feed by going to that site, locating the "subscribe to RSS" tab, and clicking it to find the address that must be pasted into the player. In future versions, Adobe again aims to mimic TiVo by suggesting video RSS feeds you might want to add, based on what you've watched.
It's too early to say whether video fans will flock to Adobe. In the few weeks I've been testing it, the feature I've liked best is one that allows me to download and view content offline with iTunes—like ease&mdashfor free. But the choices have been limited mainly to news and cooking shows. So far I haven't minded the ads, but in the age of TiVo, others may find them an unwelcome throwback. Adobe says it's negotiating with content owners so users can purchase shows ad-free, along with items such as soundtracks or clothes featured in shows. If those plans come to fruition, Adobe Media Player could become a new force in Internet video.
Before it's here, it's on the Bloomberg Terminal.
LEARN MORE