UBS: Is This the End of Writedowns?
The stock rallied with the resignation of Chairman Ospel, but this optimism could be premature. A lot of rot may remain on the bank's books
Mark Scott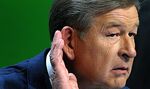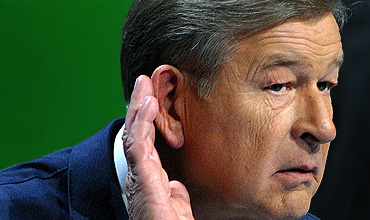 Investors could be forgiven if they thought the news of a further massive writedown at Swiss financial giant UBS (UBS) was a bad April Fool's joke. Yet on Apr. 1, Europe's second-largest bank reported $19 billion more in first-quarter writedowns related to soured U.S. real estate assets and other structured credit, on top of $18 billion already taken last year. The Zurich bank also disclosed plans to raise $14.9 billion in capital through a share-rights issue, which will dilute the equity of existing stockholders by around one-fifth.
The bad news was paired with the resignation of Chairman Marcel Ospel, who had survived two previous rounds of writedowns (BusinessWeek.com, 1/30/08) taken against 2007 results and endured vocal investor demands for his resignation (BusinessWeek.com, 2/28/08). This time around there was no place to hide: Shareholders lost confidence in Ospel's leadership after UBS became the European bank by far the most affected by the U.S. subprime crisis.
The markets reacted with surprising enthusiasm considering the volume of red ink. Although UBS says it will report a net loss of $12 billion for the first quarter, investors lifted its shares by 12.3% in Zurich on Apr. 1. (The stock was up 15% by midday in New York.) It was part of a broader European market rally (BusinessWeek.com, 4/1/08) led by financials, as investors hoped the worst of the credit crisis might be past. Germany's Deutsche Bank (DB) also took a relatively modest $3.9 billion first-quarter writedown for bad debt on Apr. 1.
Alarming Notes
The investor optimism may be premature. "For the market to react like this when [UBS] has come out with $19 billion in writedowns seems a slightly bizarre reaction" says Simon Adamson, a London-based senior analyst at independent credit research firm CreditSights. Adamson figures UBS shares, which were down 43.5% in the first quarter, could sag again as the market digests the bank's news.
The issue, of course, is how much rot still remains on the books of UBS and other banks. Noting the continued credit crunch and slowing global economy, experts are sounding alarming notes. According to German magazine Der Spiegel (a BusinessWeek content partner), an internal report prepared by German market regulator BaFin estimates that potential global writedowns for financial institutions from the subprime mess could hit $430 billion—and perhaps as much as $600 billion. Of that amount, only around $260 billion has been written down so far.
In Germany alone, says the newspaper Bild, citing banking insiders, writedowns could top $110 billion. Deutsche Bank, for instance, noted in its Apr. 1 statement that it still has $95 billion worth of risky assets, such as leveraged finance and commercial real estate, left on its books. The bank has written down just $7.6 billion to date.
UBS Chief Executive Officer Marcel Rohner, who is keeping his job for the time being, noted on Apr. 1 that the bank has slashed the amount of supbrime assets on its books from $27.6 billion at the end of 2007 to $15 billion at the end of the first quarter. But that still leaves a big chunk of unsavory paper on UBS's balance sheet, which the bank now hopes to siphon off into a separate entity and sell to a third party.
Some analysts are certain there's still bad news waiting in the wings. "There will be more to come from European banks over the coming months," says Mark Durling, divisional director at investment management firm Brewin Dolphin (BRW.L) in London. "The first quarter [of 2008] will be the peak for bad news concerning further [financial] writedowns."
Tricky to Estimate
The problem, of course, is that current market conditions make it impossible to estimate banks' true exposure to risky assets. After all, notes Alex Potter, banking analyst at London stockbroker Collins Stewart (CLST.L), "UBS didn't know what was going on in its balance sheet from month to month." Stewart figures it could take until August, when European banks issue their midyear interim reports, to get a full picture of the damage.
Britain's Barclays (BCS) and Royal Bank of Scotland (RBS.L) are two other banks certain to feel the pressure (BusinessWeek.com, 2/21/08). Both have substantial exposure to U.S. markets through commercial real estate loans and other leveraged assets. To date, Barclays has revealed a $3.16 billion writedown from its U.S. business. On Feb. 20 though, the bank said it expected difficult future market conditions as it announced a 1% decline in its 2007 net profits of $13.98 billion.
RBS, which exacerbated its U.S. exposure through its purchase of Dutch bank ABN Amro, also wrote down $4.94 billion of subprime assets during 2007. Despite its yearly net profits rising 17.8% to $14.9 billion, the ABN Amro deal added an additional $1.78 billion to RBS's existing writedowns of $3.16 billion. "Both Barclays and RBS could see further writedowns when they report their interim results in the summer," says CreditSights' Adamson.
To be sure, neither bank suffers the same level of exposure that has plagued UBS. Yet with market watchers continuing to speculate over which financial institution will be the next to report big losses, all eyes are on Europe's top banks as key suspects for problems traced to the U.S. subprime mess.
Before it's here, it's on the Bloomberg Terminal.
LEARN MORE