Stocks: A Roaring Start to Q2
Encouraging economic data and strength in financial shares fueled Tuesday's rally, with major indexes each up over 3%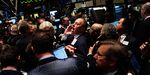 By BW Staff
What a difference a day makes. Major U.S. equity indexes wrapped up a miserable first quarter on Monday with big losses for the period: 7.55% for the Dow industrials, 9.9% for the S&P 500, and a whopping 14% for the Nasdaq composite.
On the first day of the second quarter, they made a good chunk of those losses back.
U.S. stock indexes roared to life Tuesday with a major rally that featured a nearly 400-point gain for the Dow. Equity investors appeared eager for a fresh start, drawing encouragement from better than expected readings on a manufacturing sentiment gauge and a report on construction spending in March. Some market players see Tuesday's rally as part of a bottoming process that still has a way to go, according to Standard & Poor's MarketScope.
Speculators were buying battered financial stocks on a bet the U.S. economy will revive in the second half. Financials also got a boost Tuesday after Lehman Brothers Holdings (LEH) said it would issue new shares to bolster its balance sheet. Consumer discretionary, health care, telecom, and biotech issues also advanced.
On Tuesday, the Dow Jones industrial average jumped 391.47 points, or 3.19%, to finish the session at 12.654.36. The broader S&P 500 index climbed 47.48 points, or 3.59%, to 1,370.18. The tech-heavy Nasdaq composite index added 83.65 points, or 3.67%, to 2,362.75.
Activity in the broader market was strongly positive, with 27 stocks rising in price for every 5 that declined on the New York Stock Exchange. The ratio was 22-7 positive on the Nasdaq.
Bonds skidded before Federal Reserve Chairman Ben Bernanke's Wednesday testimony to the Joint Economic Committee on the economy. The Fed chief is likely to be queried about Treasury Secretary Henry Paulson's plan to overhaul the financial regulatory system.
The dollar index surged and the euro fell as European banking giants UBS (UBS) and Deutsche Bank (DB) announced big writedowns. Gold and oil futures fell.
Miller Tabak strategist Tony Crescenzi says that one of the factors contributing to Tuesday's advance is "the turn of the quarter, which has reduced [money managers'] urge to window-dress" their portfolios with less-risky Treasury securities. "Demand for U.S. Treasurys had surged over the past few weeks, with firms inclined to shed riskier assets and reduce the risks of a speculative attack," notes Crescenzi.
UBS said it expects a first-quarter net loss of about 12 billion Swiss francs, after losses and writedowns of about $19 billion on U.S. real estate and related structured credit positions. The company also said its chairman, Marcel Ospel, will not seek re-election at its Apr. 23 annual meeting. The company's board will propose an ordinary capital increase with proceeds of about 15 billion Swiss francs, to be effected by issuing rights to UBS shareholders. S&P Ratings Services cut its long-term rating by one notch to AA-.
Deutsche Bank anticipates first-quarter markdowns of 2.5 billion euros, related to leveraged loans and loan commitments, commercial real estate, and residential mortgage-backed securities (principally Alt-A).
Financial markets appeared to be relieved by the multiple writedown announcements. A "buy the bad news" reaction signals a sentiment shift, according to Roger Volz, equity strategist for Swiss American Securities. Meanwhile, positive comments from Goldman Sachs on Dow industrials component JPMorgan Chase (JPM), saying the bank may post "virtually" no writedowns on collateralized debt obligations this quarter, may also have lifted sentiment.
Meanwhile, Lehman Brothers announced that it has priced a $4.0 billion offering convertible preferred stock. The proceeds from the offering will be used to bolster Lehman's capital and increase its financial flexibility.
In economic news Tuesday, the Institute for Supply Management's U.S. manufacturing index edged up to 48.6 in March after falling over two points to 48.3 in February. The components were mixed. Employment rose to 49.2 from 46.0. New orders slipped to 46.5 from 49.1. New export orders edged up to 56.5 from 56.0. Prices paid climbed to 83.5 vs. 75.5. The data are about as expected, but suggest manufacturing is steadying, according to Action Economics.
U.S. construction spending fell 0.3% in February, from a revised 1.0% decline in January (from -1.7% previously). On a year-over-year basis, spending is down 3.5% vs. -3.3% previously.
"The data are better than expected and supports our view that the housing market may be finding a bottom," says Action Economics.
The International Council of Shopping Centers (ICSC) and UBS Securities' Chain Store index fell 0.2% in the week ended Mar. 29 after falling 0.4% the week before. Sales slowed by 0.5% on a year-over-year basis—the weakest performance since April, 2003.
In NYMEX trading Tuesday, May WTI crude oil futures fell 60 cents to $100.98 per barrel and May heating oil futures fell 2.76 cents to 288.38 cents. But May reformulated gasoline rose 1.21 cents to 263.92 cents amid positioning before Wednesday's weekly inventories report from the Energy Dept.
Comex June gold futures, which just two weeks ago traded above $1,000 per ounce, fell $33.70 to $887.80 as the dollar index and U.S. stocks surged.
S&P chief technical strategist Mark Arbeter believes "commodities, such as gold and oil, are in a corrective phase that we think could last another month or two, but we believe the long-term trend is still very bullish."
Among Tuesday's other stocks in the news, KKR Financial Holdings (KFN) announced a proposed public offering of 20 million shares. Net proceeds from the offering will be used for general corporate purposes. Bear Stearns downgraded the shares to peer perform from outperform.
According to a Wall Street Journal report, Microsoft (MSFT) has no plans to raise its bid to acquire Yahoo (YHOO). Yahoo formally rejected Microsoft's unsolicited offer on Feb. 10, saying it "substantially undervalues" the Internet company.
Citigroup (MSFT) shares climbed after Bear Stearns reiterated its outperform rating on the stock.
Trading in shares of Thornburg Mortgage (TMA) was halted on the NYSE at $1.45 on Tuesday. The company announced that it has completed its previously announced offering to raise $1.35 billion from sale of senior subordinated secured notes and warrants to purchase stock and participation in certain mortgage-related assets. Thornburg received $1.15 billion of proceeds from offering; the remaining $200 million of offering proceeds is being held in escrow.
European stocks rallied Tuesday. In London, the FTSE 100 index gained 2.67% to 5,854.20. In Paris, the CAC 40 index added 3.28% to 4,861.25. Germany's DAX index rose 2.96% to 6,728.46.
Markets in Asia advanced overnight. Japan's Nikkei 225 index climbed 1.04% to 12,656.42. Hong Kong's Hang Seng index moved higher by 1.26% to 23,137.46.
Treasury Market
Treasury prices, which move in the opposite direction of yields, fell sharply on Tuesday, as UBS took a huge writedown and Lehman announced capital raising plans, which sparked a sharp rise in Wall Street as investors' fear over the credit crunch was quieted, at least for now. The 10-year note fell 37/32 to 99-17/32 for a yield of 3.56%, while the 30-year bond lost 57/32 to 99-16/32 for a yield of 4.407%.
Before it's here, it's on the Bloomberg Terminal.
LEARN MORE