Geox Takes on the Goliaths of Sport
The Italian maker of breathable-sole shoes is testing a running shoe. Should Nike and Adidas sweat it?
Jennifer L. Schenker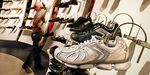 It's Saturday morning in Barcelona, and two well-dressed women in their 30s are in a Geox (GEO.MI) shoe store admiring rhinestone-studded sandals and open-toed black pumps. Across the aisle a gray-haired woman looks over moccasins in earth tones, while a father helps his two young sons try on sneakers. The only thing that the myriad styles in the store have in common is their soles, which are pierced by thousands of tiny holes that allow air in but keep water out.
Geox has built a loyal global following in recent years by tailoring its breathable shoes to appeal to such diverse customers. Now, the company aims to widen its customer base even more with a push into the $27.5 billion global market for sports footwear. On Apr. 2, Geox unveiled a new line of running shoes, which will make sweaty, smelly feet "a thing of the past," says Mario Moretti Polegato, the company's 55-year-old chairman and founder.
The Search for Continued Growth
In 1989, while hiking under a sweltering sun, Polegato poked holes in his shoes' soles when he got fed up with his own sweaty feet. This inspired him to design a breathable shoe. After trying unsuccessfully to peddle the idea to industry giants Nike (NKE) and Adidas (ADSG.DE), Polegato decided to go it alone. He founded Geox in 1995, starting first with children's shoes and then branching into adult footwear and clothing.
Polegato is now looking for the next act. The company sold 21 million pairs of shoes last year, boosting revenues 26%, to $1.2 billion, as profits also climbed 26%, to $193 million. But Geox's Milan-listed shares are down by 27% this year on concerns that it may not maintain the 30% average growth it has seen over the past five years. "Regardless of how Geox fares in selling sports shoes, they will have to continue to grow their street shoe and apparel business," says Peter Farren, an analyst at investment bank Bryan Garnier.
Athletic footwear, though, is very different from street shoes. Perspiration from the feet doubles during running, and that all gets trapped inside ordinary sports shoes. Geox's new system replaces traditional rubber treads with its waterproof breathable membrane (which covers the entire sole in the running shoes but just the balls of the feet in other Geox models). The sports shoe also features extra cushioning and a supporting mesh made out of synthetic fiber that makes the membrane more durable.
A Sporting Chance?
While the "sport that breathes" marketing tagline may grab some attention, stealing customers from the big brands won't be easy. Nike and Adidas together control nearly 60% of the global market, industry newsletter Sporting Goods Intelligence estimates. They both have rosters of big-name stars as endorsers, and their customers like the fit of their preferred shoes and believe they offer the cushioning and support necessary to avoid injury.
"Running is a highly competitive category, with brands that have tremendous loyalty," says John G. Horan, publisher of the newsletter. "If [Geox] gets into this market in a very significant way, they will have to address stability and air cushioning." And Adidas now offers sports shoes that breathe, which the company says keeps feet 20% drier while offering optimal athletic performance.
Polegato isn't sweating it. Geox will test-market the running shoes with existing customers, a strategy that worked with street shoes and apparel. If the new lineup takes off, he says he will adapt it for other sports. Until now, most innovations in athletic footwear have been aimed at improving performance. The new Geox technology stems from a different mindset, Polegato says, emphasizing comfort over competitive advantage. "Feet," he says, "have to breathe."
Before it's here, it's on the Bloomberg Terminal.
LEARN MORE