Japan: Back in the Civilian Jet Business
For the country's first commercial plane in more than 30 years, Mitsubishi Heavy Industries launches the Mitsubishi Regional Jet project
Kenji Hall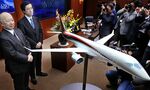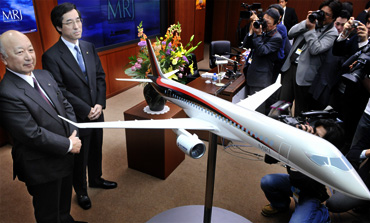 Can Japan's deep experience as a parts supplier to Boeing (BA) and Airbus help it become a major player in commercial aircraft? That's what Mitsubishi Heavy Industries is counting on, after launching a project to build the country's first passenger jet and its first commercial plane in more than three decades.
On Mar. 28, the company announced the Mitsubishi Regional Jet, or MRJ—a twin-engine, single-aisle aircraft seating 70 to 96 passengers—will target the fast-growing market for smaller regional aircraft now dominated by Canada's Bombardier Aerospace and Brazil's Embraer (ERJ). These jets have a range of just over 2,000 miles and are expected to be in high demand as airlines look to replace aging aircraft with small, fuel-efficient jets.
President Kazuo Tsukuda said he aims to sell 1,000 aircraft, which will be made with high-tech composite materials and newly designed engines from Pratt & Whitney, a division of United Technologies (UTX). Although he didn't say when Mitsubishi Heavy might reach that target, accomplishing that feat within the next 20 years could give the company one-fifth of the regional jet market. That won't be easy. China and Russia also plan to enter the market soon with their own jets.
Orders Just in Time
Mitsubishi Heavy's announcement came a day after All Nippon Airways placed the first order for 15 aircraft, slated for delivery in 2013, with an option for 10 more. Since it showed a mock-up of the MRJ at the Paris Air Show last summer, Mitsubishi Heavy has sought preorders from airlines. Both ANA and Japan Airlines had said they were considering it. ANA's order—which, at $604 million, comes to roughly $40 million per plane—appears to have given Mitsubishi Heavy's project the final lift it needed to get off the ground.
The ANA decision came in the nick of time: The Japanese government had given the company until the Mar. 31 end of the fiscal year to decide whether to proceed in order to be eligible for public funding. Mitsubishi Heavy will form a new company, Mitsubishi Aircraft, to oversee the jet's commercialization, and Mitsubishi Heavy intends to pony up two-thirds of the $1 billion in funding needed to get the first planes in the air. The remaining one-third could come from several other companies, including Toyota Motor (TM), Mitsubishi Corp., Mitsui, Sumitomo, and the Development Bank of Japan, the company said.
The MRJ is hardly just another ambitious corporate project. For decades, Japanese manufacturers have supplied parts and materials to Boeing and Airbus as well as to smaller jetmakers such as Bombardier. But the ultimate goal has always been to gain enough experience and knowhow for Japanese manufacturers to try their luck building a homegrown aircraft.
Help from Boeing
It's not the first time Japan will manufacture a passenger plane of its own. The turboprop YS-11 was the country's first post-World War II attempt to do so. The first YS-11 planes began flying in the early 1960s, but by 1974 the project was discontinued after orders dried up. The biggest problem with the YS-11, said Mitsubishi's Tsukuda, was that the consortium that built the plane had no clue how to market or support the planes in service. Japan also builds a military fighter jet, the F-2, in partnership with Lockheed Martin (LMT), the biggest U.S. defense contractor.
Mitsubishi Heavy realizes that being a supplier of jet parts isn't the same as assembling one on its own. "We know that sales and after-sales support will be our biggest challenge," said Tsukuda. To limit the MRJ's chances of sharing the fate of the YS-11, the company is enlisting Boeing's help. The two sides have reached a basic agreement, Tsukuda said, but he declined to offer specifics since a contract had yet to be signed. A deal would yield Mitsubishi Heavy significant savings and relieve it of having to build its own global sales and maintenance network. Boeing isn't likely to oppose the idea of a regional jet because it won't infringe on its own business in bigger jets.
Hall is BusinessWeek's technology correspondent in Tokyo.
Before it's here, it's on the Bloomberg Terminal.
LEARN MORE