GM's Broken Axle
What started out as a nuisance strike at parts supplier American Axle & Manufacturing is becoming a problem for the automaker
David Welch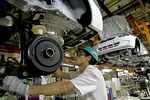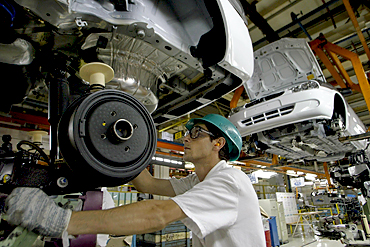 For weeks, a strike by a United Auto Workers union at Detroit-based American Axle & Manufacturing was little trouble for the axle maker's biggest customer, General Motors (GM). It accomplished something GM needed anyway—thinning the company's bloated stock of gas-guzzling trucks. But as the work stoppage drags on, with a host of major issues still to be resolved, it is taking a deeper bite out of GM's finances.
Production Halt Spreads
GM relies heavily on parts from American Axle, buying about $2.6 billion of them, including axles and key components in most of its trucks and some passenger cars. Currently, 28 GM plants are either idled completely or have cut production thanks to the strike, which started on Feb. 26. At least one more—a factory building the Cadillac DTS and Buick Lucerne sedans, just outside Detroit's city limits—will go down next week.
As of last week, GM lost 80,000 vehicles' worth of production as a result of the strike, says one company insider. Because carmakers book revenue as soon as a vehicle leaves the assembly line and heads to a dealership, the strike is hitting GM's top line. At least one analyst has dropped his first-quarter profit expectations as a result. Deutsche Bank (DB) analyst Rod Lache issued a report earlier this week boosting his forecast for GM's quarterly loss from about $600 million to almost $1.4 billion.
"Richard Dauch [American Axle's chairman and CEO] isn't just locking out the UAW," says Sean McAlinden, chief economist at the Center for Automotive Research in Ann Arbor, Mich. "He's locking out GM."
Lache says the strike is costing GM about $890 million a month. The only mitigating factor is that the truck production being lost probably would have been cut anyway, because sales are falling. So Lache didn't cut his earnings expectations for the year. But a two-month strike will start to have more permanent effects, he says.
Parts Maker Seeks Wage Cuts
And the strike appears to have legs. On Mar. 27, American Axle sent a full team of 18 people to the bargaining table, including its chief financial officer, vice-chairman, and chief operating officer, says a company source. The union sent a smaller contingent. UAW President Ron Gettelfinger wasn't there. With talks dragging, there has been no resolution on any of the major issues, which includes wages, benefits, unemployment pay, and buyouts for workers. The company has also said it is willing to offer cash for workers who take a pay cut.
American Axle was a part of GM until Dauch bought five plants from the automaker in 1994. Today it is one of the few big parts makers left that still carries a compensation package similar to that given to U.S. car-assembly workers. That means $28 an hour and first-rate health-care benefits, plus paid layoff guarantees of 85% of worker's pay. At the same time, other parts makers are reorganizing with lower cost structures. Rival Dana Corp. (DAN), for instance, recently emerged from bankruptcy paying its workers between $14.50 and $16 an hour; their health-care benefits will be managed by a union-led trust fund. American Axle CEO Dauch wants to drop wages to $14.50 an hour for his core assembly work and $11.50 an hour for some noncore work.
While Dauch clearly needs wage cuts to be competitive, he has inflamed workers by threatening to send factories offshore. His own 9% pay raise on last year's $1.5 million salary—which contributed to a $10 million pay package—did not make union workers happy either.
GM's Role
There's a slim chance that GM could end up playing a role in any settlement. GM has no contractual obligation to these workers the way it did with bankrupt Delphi, the parts giant spun off by the automaker in 1998. Sources close to GM say Dauch wouldn't mind seeing GM take back some of his 3,600 striking workers so he could hire new ones at a lower wage. Another possibility is that GM could offer existing workers cash for taking a pay cut, as GM did recently with Delphi.
GM says it has no intention of getting involved in the strike talks. American Axle spokesperson Renee Rogers says such an alternative is not on the table. "We're going into a recession that's really deep," says Deutsche Bank's Lache. "The last thing GM needs is to take back workers. I don't see it as a high probability."
But two sources close to GM management say that before the strike the automaker and its axle supplier discussed the possibility that GM would take as many as 2,000 workers back. The talks broke down because Dauch didn't want to cut prices.
While the union and Dauch's team bicker at the table, GM is looking to find more new suppliers for the parts made by American Axle. Already, sources say, GM has been talking to Dana. But that will only help GM in the long run. In the coming weeks, GM can only sit and wait for the two sides to come to a deal.
Before it's here, it's on the Bloomberg Terminal.
LEARN MORE