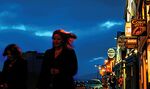 Once the envy of Europe, Ireland's economy is set to grow at a crawl this year. Joblessness is spiking to 6%. Exporters, one of the country's biggest growth engines, are getting clobbered. The rising cost of doing business is leading some multinationals to rethink their commitment to Ireland. House prices, which rose to record levels on the back of extraordinary economic growth, are plummeting. "Ireland's competitiveness has markedly deteriorated," says Jim Power, chief economist at the Dublin investment advisory firm Friends First.
This sorry tale is the flip side of the Irish miracle. Starting more than three decades ago, policymakers slashed corporate taxes, pumped money into higher education, deregulated aggressively, and courted multinationals desperate to escape the slow-growth, red-tape environment of Continental Europe. The strategy worked brilliantly: Ireland's economy expanded an average of 6% annually for a decade or more.
Now, exports are slowing as the euro surges against the dollar and sterling, the currencies of Ireland's two biggest trading partners. Wages, once among the lowest in Western Europe, have increased by substantially more than the euro zone averages, Microsoft (MSFT) Ireland managing director Paul Rellis told the American Chamber of Commerce Ireland in a February speech. Even strong productivity gains can't offset the loss of competitiveness caused by the powerful euro. According to the Bureau of Labor Statistics, average hourly pay for manufacturing workers in 2006 was $23.82 in the U.S., $25.96 in Ireland, and just $4.99 in Poland. "We're seeing increased competition from lower-cost destinations," said Rellis in his speech.
Major multinationals have been cutting jobs, closing plants, or postponing investment. In May, 2007, Motorola (MOT) shut its plant in Cork city, laying off 330 workers. In October, the world's biggest biotech company, Amgen (AMGN), shelved plans to build a $1 billion manufacturing plant in County Cork. Both outfits say they acted based on the global business environment and not on the business climate in Ireland. But economist Power believes Ireland's foreign investment model is under threat as developing countries replicate Ireland's success and the European Commission plans to harmonize tax rates across Europe.
The situation has burst a housing bubble that was in percentage terms bigger than that of the U.S. According to the International Monetary Fund, Ireland enjoyed the greatest property boom worldwide on record, says Alan Ahearne, an economist at the National University of Ireland at Galway and a former senior economist at the U.S. Federal Reserve. The average house price topped $490,000 at the beginning of last year, an increase of more than 300% in just over a decade, compared with 130% in the U.S. Two years ago residential building accounted for more than 12% of the Irish economy, with over 90,000 new homes constructed. According to the Economic & Social Research Institute, that was double what the country needed.
Home prices fell by 7% in 2007 and should drop further this year. "There are a lot of people who bought at the top in 2006 who are now in negative equity and don't even realize it," says Karl Deeter, co-founder of Irish Mortgage Brokers in Dublin. Davy, a Dublin brokerage, predicts a net loss of 20,000 construction jobs this year.
One problem for Ireland: Its currency is the euro, and its interest rates are set by the European Central Bank. So it can't unilaterally weaken its currency or lower rates to get out of recession. That leaves the painful solution of reining in both public and private spending. Says Ahearne: "The way we'll regain our competitiveness is to ensure we don't pay ourselves too much."
Before it's here, it's on the Bloomberg Terminal.
LEARN MORE