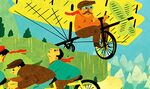 Scroll down the list of top-performing equity mutual funds and a lot of familiar names pop out—Kenneth Heebner, Chuck Royce, John Calamos, and more. All have had success going against the market's conventional wisdom. But with most of these legendary investors up there in years—Royce was managing money before the Beatles came to America, and Heebner started his first job as U.S. combat troops entered Vietnam—who are the maverick fund managers of the future?
No simple screening criteria will neatly reveal the next Ken Heebner. "It's a matter of truly understanding a manager's strategy to see who's doing something genuinely different," says Russel Kinnel, Morningstar (MORN)'s director of fund research. To identify the next wave of out-of-the-box thinkers, we informally polled fund industry experts and managers, pored over registration filings for new funds, and tracked managers' records across different employers.
What follows is a highly subjective list of managers who go their own way to outdo their rivals. We avoided those who are already widely recognized, won industry awards, or whom we've written about recently, such as John Schneider of Touchstone Large Cap Value Fund (TOCAX) and Jerry Jordan of the Jordan Opportunity Fund (JORDX). And, as all the ads say, past performance is no guarantee of future results—and some promising managers may exit the game. One candidate suggested by several analysts, Fidelity Investments manager Darren Maupin, quit the firm (and the fund business) in December. It goes without saying that fans of the efficient market theory should stick with low-cost index funds.
ZACHARY LIGGETT
As co-manager of the Utopia Growth Fund , Zach Liggett has spent the past five years working from the small Michigan resort town of Traverse City. The 33-year-old is the equities expert among the three managers at Financial & Investment Management Group, which started out catering to wealthy families and didn't open a mutual fund until 2005. So you can't find Utopia by searching for top-performing growth funds over the past 5 or 10 years. Too bad, because it has a stellar record using the same style for private clients. Over five years, Liggett's growth investments gained an average 17% a year after fees, beating the Standard & Poor's 500-stock index by over four percentage points a year.
After identifying big global themes, like the growing need for clean water, Liggett narrows his focus to a few stocks that best embody the trend. Utopia funds can short stocks, and after a hot string of worldwide initial public offerings of solar stocks, Liggett is searching for the frothiest solar play to bet against. "It's gotten completely irrational," he says. He also looks for obscure equity and debt securities issued in small amounts that bigger funds may overlook.
Liggett loves to wade into industries that everyone else seems to hate. That helps explain his current interest in newspaper stocks. New York Times Co., Gannett, and Washington Post have all been crushed yet appear to have substantial cash flow and good ideas about how to expand online, Liggett says: "We're not afraid...to hold our nose when things look ugliest."
Being so far from the money capitals of the world hasn't hurt Liggett's research efforts. He's got his BlackBerry and Bloomberg terminal, after all. When he wants to kick back, he's a lot closer to trout streams, snowshoe trails, and his favorite kayaking spot than his cohorts are in New York and Boston. "With that fresh air to breathe, it's no problem recharging my batteries," Liggett says.
CORYDON GILCHRIST
As manager of the Marsico 21st Century Fund, Cory Gilchrist views the mortgage market collapse through the eyes of someone who saw the chaos of the savings and loan crisis up close. Of course, Gilchrist was in eighth grade at the time. His father, a former bank president, worked for the Resolution Trust Corp. assessing foreclosed properties. "How many other kids were doing due diligence on family vacations?" the 37-year-old jokes. Gilchrist's father also got him started picking stocks, giving him $10,000 in high school and telling him to invest it toward a down payment on a house.
In the mid-'90s, after graduate school, Gilchrist took a job working on the international equity team at Principal Financial Group (PFG). As the junior analyst, he traveled the most—two weeks in Asia, a country a day, say, or a European swing followed by stops in Egypt and Israel. In January, 1999, he found himself in Rio de Janeiro on the exact day that the Brazilian central bank devalued its currency, sparking a major market crisis. To help the fund determine how deep the trouble could be, Gilchrist hit the streets and the shops to see how the local economy reacted. When he started managing his own fund at Denver-based Marsico Capital Management, in the beginning of 2003, the perspective he gained from the Brazil experience helped him win big.
Not long before Gilchrist joined Marsico, Brazil elected left-leaning Luiz Inácio Lula da Silva as President, and most investors dumped Brazilian stocks. But Gilchrist saw Lula as a figure who could help the nation's economy keep growing. That insight wound up leading him to agricultural, energy, and construction equipment makers around the world. Over the past five years his fund gained an average of 19% annually, better than 99% of other large-cap growth funds, according to Morningstar. Recently he's been nosing around financial stocks. After a round of phone calls with top CEOs on Wall Street, he is confident the Federal Reserve has made the right moves.
KENT CROFT
Kent Croft also got into the fund business with the help of his dad, L. Gordon Croft, a top manager at T. Rowe Price for more than two decades. Father and son started their own money management shop in Baltimore in 1989 and the duo launched the Croft Value Fund in 1995. A second son, 34-year-old Russell, joined the firm in 1998. But until recently it was almost impossible for investors to find the fund, which wasn't listed with any brokerage firms. Too bad: It gained 17% a year over the past five, beating the S&P by over six percentage points annually. Now it's in all the popular fund supermarkets run by Fidelity, Charles Schwab, and others.
Croft, 45, got his start working at Salomon Brothers after graduating from Dartmouth College in 1985. A colleague of author Michael Lewis, Croft witnessed the crazy '80s on Wall Street just as Lewis described it in his book Liar's Poker. Croft spent part of his four years at Salomon working under legendary trader Stanley B. Shopkorn. When the market crashed in 1987, "I watched grown men cry," he recalls.
The Crofts focus on deeply undervalued stocks and are willing to wait three to five years for an investment to pay off. They aren't easily pigeonholed as classic value investors, since they're willing to buy any kind of company, even tech outfits with seemingly high price-to-earnings ratios, when they see a bargain.
One potential bargain bin they're eyeing is the financial sector. But while the carnage is intriguing, the sector is hard to analyze, Croft says. It's a more complicated situation than in 1990, when the Crofts bought shares of Citibank (C) for their private clients despite fears of a collapse. "If the government was bailing out Chrysler, they sure weren't going to let Citi fail," Croft says. Back then there were no collateralized debt obligations or structured investment vehicles, though. "There are so many moving parts these days that the analysis is tougher," Croft says. "Jamie Dimon may have gotten a bargain with Bear Stearns (BSC), but we haven't jumped in yet."
DANIEL PICKETT AND MARK FEDENIA
Daniel Pickett and his co-manager, Mark Fedenia, buck the conventional wisdom not just by buying unloved stocks but also by shorting overhyped ones. The fund aims to provide a positive return under any market condition, and its combination of strategies has Pickett's Nakoma Absolute Return Fund sporting less than half the volatility of the stock market overall. Over the past year the fund is up over 8%, while the S&P 500 has lost 4% (that's including dividends).
The two met when Pickett signed up for Fedenia's investing class at the University of Wisconsin. Fedenia ran the school's highly praised applied securities analysis program, which serves as a training ground for future fund managers by letting students oversee a multimillion-dollar portfolio. After working for other funds and a hedge fund, Pickett joined his former teacher at Nakoma in 2002.
Pickett frequently uses short positions not only to bet against a stock or industry but also to hedge against risks elsewhere in the fund. He says he's always looking at the ways different fund investments might interact as part of his effort to reduce risk. The fund has been shorting energy for several years, a move that has hurt performance as the price of oil hit new records. But high energy prices helped Nakoma's bets against retailing and consumer-dependent stocks pay off.
The fund also profited by going against the herd when investors dumped semiconductor stocks in the summer of 2006. The worry was that industry growth had peaked. Pickett saw the data but noticed that one equipment producer, Varian Semiconductor (VSEA), had a new design perfectly suited for the next generation of processors. He bought shares while shorting a group of its rivals. By October, 2007, Varian had more than doubled. The fund lost a small amount on the stocks sold short, but the hedge allowed Nakoma to buy more shares of Varian without worrying about excess volatility.
The fund also benefited last year from a huge short position it took in financial and housing stocks. Pickett says they've reduced that bet considerably now. "What we thought would happen has pretty much happened," he says. "We were pretty early, but we try to identify extremes and take a contrarian view."
Before it's here, it's on the Bloomberg Terminal.
LEARN MORE