Big Italian Wines at Bargain Prices
Big Italian Wines at Bargain Prices
Robert Parker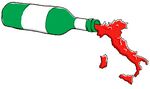 Southern Italy offers price-conscious wine lovers an astonishing array of superb bargains for $25 or less, often made from indigenous grapes that were largely unknown to consumers several years ago. My colleague Antonio Galloni reports that southern Italy offers a wide assortment of wines, with a veritable kaleidoscope of grape varieties and styles. Despite the weak dollar, this region is still a treasure trove for great deals.
90 POINTS
Botromagno 2005 Primitivo (Apulia) This wine reveals a plump, super-ripe personality loaded with smoke, dark cherries, earthiness, and leather. It offers notable complexity as well as a full-bodied, ripe style. Primitivo is believed to be a relative of zinfandel. Anticipated maturity: 2008-2009. $17
90 POINTS
Castello Monaci 2006 Primitivo Piluna (Apulia). A wine of uncommon beauty, this vibrant, pure red graces the palate with layers of dark cherries, sweet herbs, licorice, and tobacco. It offers outstanding length and terrific balance. Anticipated maturity: 2008-2011. $13
90 POINTS
Colosi 2006 Nero d'Avola (Sicily). Offering complexity along with well-articulated notes of mint, violets, and chocolate that complement its gorgeous sweet, dark fruit, this winner from Colosi should not be missed. Anticipated maturity: 2008-2012. $12
90 POINTS
Tormaresco 2004 Primitivo Torcicoda (Apulia). A big, jammy offering with lovely nuances of herbs, tobacco, leather, licorice, and oak that play off the wine's ripe, dark fruit. It offers outstanding length and terrific balance, with a final note of sweetness that lingers on the finish. Anticipated maturity: 2009-2016. $21
91 POINTS
Agricole Vallone 2003 Salice Salentino Vereto (Apulia). The 2003 Salice Salentino Vereto (90% negroamaro, 10% malvasia nera) is absolutely beautiful. It is made in a weightless, refined style but has an additional level of density and expansiveness that is irresistible. Anticipated maturity: 2008-2013. $13
Wines rated from 96-100 are extraordinary; 90-95, excellent; 80-89, above average to very good.
Before it's here, it's on the Bloomberg Terminal.
LEARN MORE