A Sweeter Bear Bid May Sour the Fed
JPMorgan raises its offer in hopes of winning over shareholders. Is the Federal Reserve too cozy with Wall Street?
By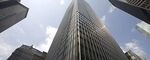 The Federal Reserve has been put in an awkward position by JPMorgan Chase's (JPM) decision to raise its bid for Bear Stearns (BSC) to $10 a share from $2. The sweetened bid, announced on Mar. 24, is high enough that Bear's shareholders are getting some real value for the company—while the Federal Reserve is subsidizing the deal via a low-interest loan secured by iffy assets.