World Watches India's Response to Tibet
Reliant on Communist Party support and surrounded by countries with deep ties to China, India's government faces a frightening choice
Manjeet Kripalani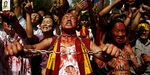 Spring has already arrived in Dharamsala, the bucolic hillside community in India's northern state of Himachal Pradesh. The air is cool, but the hills are lush with flowers. The Dalai Lama, spiritual leader of 6 million Tibetans who lives in exile here in India, is in residence in the monastery that sits atop one of the highest points overlooking the Kangra Valley. In the stillness, the gentle chanting of the Tibetan monks can be heard from a distance.
But this year, the tranquility of Dharamsala has been broken harshly. On Mar. 7, a demonstration in Tibet against the Chinese government turned into full-fledged protests, then rioting, spreading from the capital city of Lhasa to the adjoining provinces of Gansu, Sichuan, and Qinghai. Beijing sent out its military to quell the rebellion with some force, and blamed the Dalai Lama for masterminding the protests. On Mar. 19, Zhang Qingli, the Communist Party chief of Tibet, called the monk "a jackal in Buddhist monk's robes, an evil spirit with a human face and the heart of a beast" whom China would fight "in a fierce battle of blood and fire." In response, Dharamsala has been overrun with Tibetan exiles flocking around their religious leader, holding demonstrations demanding Tibet's freedom from China as well as candlelight evening marches, and begging India to intervene with China to stop the violence.
India's government has remained almost completely silent. It's not surprising: The ruling Congress party is reliant on the support of the Communist parties, which in turn support Beijing. So save for two statements, one by Prime Minister Manmohan Singh and another by Foreign Minister Pranab Mukherjee, there has been nothing forthcoming from New Delhi. Prime Minister Singh's statement, made Mar. 20, that the Dalai Lama was "the personification of nonviolence" was forced by a visit from Nancy Pelosi (D-Calif.), the U.S. Speaker of the House who stopped over in New Delhi en route to seeing the Dalai Lama in Dharamsala.
"India Is Afraid of China"
And on Mar. 17, Foreign Minister Mukherjee said New Delhi was "distressed" and "watching the situation," hoping that the violence would end soon. On Mar. 14, New Delhi arrested 14 demonstrators who were part of a peaceful march toward Tibet, a move Chinese Premier Wen Jiabao said Mar. 17 he "appreciated."
The disappointment among many in India, and particularly within the Tibetan community in exile in India, has been severe. Woeser Rimpoche, a high-ranking lama in Dharamsala who escaped from Tibet after imprisonment in 1990, says, "India is afraid of China."
Many in India agree with him. In the Feb. 20 issue of the Indian Defence Review, former Indian Foreign Secretary Kanwal Sibal acknowledges India's fear, and traces it back to a 1962 border war that China won against India. "The 1962 border conflict scarred us politically, militarily, and psychologically…shattering our self-confidence vis-à-vis China," he writes. While India has neglected its borders militarily and economically, China, which claims parts of the northeastern state of Arunachal Pradesh as well as parts of Kashmir, has developed a formidable infrastructure of roadways along the border area, making troop movement easy.
China's Influence in Surrounding Countries
More recently, in the last decade China has spooked India by enhancing its sphere of influence to countries around India. In Burma, China is the main economic partner and political patron. In Pakistan, it has provided nuclear technology including reactors, enriched uranium, bomb designs, and missiles, and is building a port in the southern town of Gwadar. In Nepal, taking advantage of the vacuum created since the monarchy fell in 2005, China has become the main provider of goods and services. Bangladesh is another country in a power vacuum that China has penetrated with cheap goods and some political influence. "China's actions have made India geopolitically vulnerable," says Uday Bhaskar, a securities analyst in New Delhi.
India's support for the Dalai Lama has long been a thorn in relations with Beijing. About 100,000 Tibetans live there in exile. Tibet's government-in-exile is in McLeodganj, a tiny town adjoining Dharamsala. It functions as a government, complete with a prime minister, finance minister, and education and health-care departments. Its offices look like any other typical government office in India—polished wood panels, red painted cement floors, worn carpeting. It has a budget: $216.7 million for 2008-09.
About 27.5% of the funds are allocated for the welfare of refugees, and 23% to support political activities. New Delhi supports all the educational and cultural institutions of the Tibetans, says Finance Secretary Sonam Khorlatsang, helping to preserve their heritage and religion. The Tibetans have integrated into the country. They have intermarried and speak English with an Indian accent, and fluent Hindi as well.
"Overcautious" India Policy
The U.S. is the second largest donor, according to Khorlatsang, providing an estimated $2 million in humanitarian aid a year. The rest of the money comes from the global donations received by the Dalai Lama, and from a 2% tithe that the Tibetan community in India gives to Dharamsala.
So India's virtual silence in response to the Chinese crackdown in Tibet appears deeply discouraging. The Dalai Lama says India's policy toward Tibet and China is "overcautious" and the government in exile would like India to persuade Beijing to resume talks with the Dalai Lama. "We are all feeling desperate," says Tenzin Takhla, the spokesman for the Dalai Lama.
Some Indian politicians are rallying to the Tibetan cause. On Mar. 17, Kiren Rijiju, a 36-year-old member of India's Parliament who hails from Arunachal Pradesh—the state over which China has claims—brought up the issue of Tibet in Parliament. It caused an uproar, with the opposition Bharatiya Janata Party accusing the ruling Congress Party of abandoning Tibet to "ethnic cleansing." Rijiju says the Indian government "must impress upon Beijing that it should immediately initiate dialogue with the Dalai Lama to find a solution to Tibet, and it must urge the international community to put pressure on China to start those negotiations."
The outcome of India's intervention has serious geopolitical implications. Bharat Varma, a former army captain who served on the northern borders of India and is now editor of the Indian Defence Review, says "There cannot be any peace in Asia until Tibet is resolved. That resolution involves three countries—India, China, and Tibet."
Before it's here, it's on the Bloomberg Terminal.
LEARN MORE