Open Questions for Verizon's Open Access
Developers and device makers get their first taste of what Verizon Wireless means when it promises to open its mobile network to "any device, any app"
Spencer E. Ante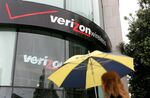 In the wireless industry, "open access" has been the buzzword of the past year. Problem is, it can mean almost anything to anyone.
What it means to Verizon Wireless is a little bit clearer now, although many factors remain a mystery. On Mar. 19 the second-biggest U.S. carrier revealed for the first time details of its plan to allow more outside devices and services on its mobile network, a surprise strategy shift announced late last year.
In a packed room at a New York hotel, a slew of Verizon executives unveiled some technical specifications and policies that explained how device makers would go about developing new handhelds and getting them tested and certified to connect with Verizon's network. "Today is the opening of the door—and it's a huge door," Verizon Wireless CEO Lowell McAdam said afterward in an interview. "We've kept the door closed. It served us well for 20 years. Now we're saying to the smartest innovators, come work with us." McAdam says he is hopeful the first open-access devices will arrive later this summer.
As Many Questions as Answers
Many of the attendees at the Open Development Device Conference said the event marked a good first step toward defining an open-access model. But they noted that many questions remain.
Among the biggest concerns: Verizon did not divulge any details of the pricing plans customers would be offered to use such devices. Nor did it publish any specifications to help software developers create applications for the network. In fact, the company distributed materials to attendees online, stressing that the company "will not approve, test, or service third-party applications that customers load onto their Open Development Devices."
And despite numerous claims by Verizon executives that testing and certification for new devices could take as little as four weeks, many attendees are skeptical the process will be that easy. "I was most impressed with how they thought through the process," says Bill Alberth, Motorola's (MOT) chief technology officer for mobile devices based on CDMA, which is the wireless technology used on Verizon's network. "But I want to see more details on testing."
Mobile carriers such as Verizon have always tightly controlled which devices and applications ran on their networks, supporting only phones sold through their own retail stores or distribution partners. The carriers have insisted this approach assured customers better service and fewer glitches. But critics have long argued that those restrictions steered revenues to the carriers while imposing costs on partners, thereby stifling the incentive for innovation. "[Wireless operators] could be doing so much more if they weren't so darn frustrating to work with," says Adam Grosser, a general partner with the venture capital firm Foundation Capital, who has worked with many telecom carriers over the years. "The qualification to get a product in their network is averaging 20 months. It's just brutal."
Potential New Revenue Stream
Last November, Verizon Wireless, a joint venture between Verizon Communications (VZ) and Vodafone (VOD), decided a radical shift was needed to generate new sources of revenue as the U.S. wireless market reaches saturation. About 80% of the U.S. population, or more than 250 million people, now use a cell phone. With the supply of first-time customers dwindling, Verizon chose a course it hopes will generate novel new phones and applications that can lure users from rivals or inspire existing subscribers to spend more money each month.
Verizon's U-turn came after months of mounting pressure from government regulators and Internet companies such as Google (GOOG) to open the nation's wireless networks. As a result of that push, one of the blocks of spectrum that was just sold in a federal auction carries certain open-access requirements for the owner. The Federal Communications Commission has not disclosed the identities of the winning bidders yet.
At Verizon's conference, the company said it will let handset makers buy airtime at wholesale rates and resell the minutes to consumers under their own brands. Customers would be able to activate their devices by calling Verizon or going online, and they would not be required to sign service contracts with Verizon. "It's the beginning of a big revenue stream for us," says McAdam. An industry veteran well-versed in Europe's and Asia's more open wireless systems, McAdam sees the company's growth being spurred by a wide range of new options, such as a wireless device that can monitor a person's health and vital signs.
Getting Partners on Board
The challenge now is to convince retailers, hardware makers, and application developers to embrace Verizon's new system. Many of these potential partners say the event piqued their interest. But no major company has yet agreed to submit a handset for the certification process. To download the specifications for building an open-access handset, they'll need to register on a new Web site that Verizon launched in tandem with the conference. "We are ready to get this done," said Anthony Lewis, a vice-president appointed to lead the initiative. "We have done our homework. And we are ready to work with you."
Bob Kilinski, a senior vice-president for marketing and wireless at Radio Shack (RSH), says the retailer is interested in selling open-access devices intended for Verizon's network. Radio Shack has exclusive deals to sell wireless service from AT&T (T) and Sprint Nextel (S), but says there are no restrictions against selling devices offered by nonrivals. "We can sell whatever we want as long as it's not tied to a network," he says. "We feel these devices will really drive the stage of growth." If devices are certified quickly, Kilinksi says, the chain could start selling them later this summer.
Executives for Hewlett-Packard (HPQ), which makes high-end smartphones for business users, say they're thinking of making a variety of open-access devices for the corporate market. "This model is best suited for enterprise services," says Chris Daniel, chief technologist for HP's communications, media, and entertainment business. And while Verizon did a "good job" explaining the process for certifying and testing a device, Daniel says he wants to hear more financial details. "They didn't provide the details behind the billing model," he says.
After the morning program ended, though, McAdam said the company was open to supporting a number of pricing models. "If you want our standard retail pricing you can get it, " he says. "We would consider custom pricing plans as well.&quot
But some software developers, a key constituency that Verizon needs to attract, say they felt they were given short shrift at the event, which focused mostly on devices. "I was hoping to hear more [about applications] but I didn't," says Andrew Goldstein, a product manager for AG Interactive, a division of American Greetings (AM) that makes electronic greeting cards and other products. But Goldstein found a silver lining before he left the event: He was told by a Verizon executive that the company plans another conference in the near future that will focus on application makers.
For the open-access movement, Verizon's conference was an important first step in defining the future of the wireless world. Now the real work begins.
Before it's here, it's on the Bloomberg Terminal.
LEARN MORE