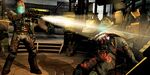 Standing behind a two-way mirror, Glen Schofield anxiously peers out at a handful of gamers. The outcome of an ambitious effort to remake video game giant Electronic Arts (ERTS) could come down to how the players on the other side of the glass react to the next few moments of the yet-to-be-released game Dead Space. Suddenly they finger their controllers frantically, their smiling faces illuminated by the flicker of PC screens as a new weapon they're testing mows down hordes of attacking beasts. Schofield, executive producer for the EA science fiction game, relaxes. "The response was off the charts," he says. "At the end of the day, it's all about taking the player on a roller-coaster ride and creating a great game."
Dead Space promises to be a stomach-churning adventure for EA, too. The old industry formula for success was simple: License a popular movie or sports title and then crank out slightly updated versions of Madden NFL or James Bond year after year. But that approach, developed in large part by EA, isn't working now. Sales are flagging, and gamers are losing interest. "We're boring people to death," says John Riccitiello, EA's chief executive.
NO MORE SNOOZY SEQUELS
With Dead Space, EA aims to break with the old ways of developing and marketing games. It's encouraging employees to be more creative by thinking beyond the joystick from the very start of a project. The idea is to create the next Batman or X-Men franchise in reverse, with a hit game leading to popular comics, TV shows, books, and even movies. Dead Space, a game in which an engineer named Isaac Clarke struggles to stay alive on a ship overrun with dangerous creatures, will be the basis for TV shows, Web videos, and comic books that EA is developing with outside partners. The first Dead Space comic book hit newsstands on Mar. 3. "The strategy is very innovative, clever, and something that should have been done a long time ago," says David Cole, an analyst at research firm DFC Intelligence.
The idea came from Riccitiello, who took over the Redwood City (Calif.) company in April. He calls it "IP-cubed" for its three-pronged strategy to use books, film, and games to promote the company's intellectual property. While Dead Space is the first such effort, EA plans to apply the tack to all titles in the future. "I am just stomping down on the boring sequel idea, trying to make [games] really fresh," he says.
All this change comes with new risks. Wall Street over the years has adored EA, in part because of its predictability. With the costs of game development topping $20 million, it was reassuring that EA could crank out products for a reliable customer base. It used the tried-and-true formula to become the largest independent game software company in the U.S. While Riccitiello's fresh approach could lead to bigger hits, it could also lead to bigger flops. "Cross-promotion is great when it works out. But if it doesn't, the project could fail across the board," says Wedbush Morgan Securities analyst Michael Pachter.
Now's the time to take chances, says Riccitiello. Gamers reacted poorly to many EA products released last year, including titles meant to showcase new game consoles such as the Nintendo (NTDOY) Wii and Sony's (SNE) PlayStation 3. Sales have been flat for three years, at $3 billion. Meanwhile, rival Activision (ATVI) is bulking up by merging with World of Warcraft owner Vivendi Games. On Mar. 13, Riccitiello underscored he's willing to break with the past by launching a hostile $2 billion bid for competitor Take-Two Interactive Software (TTWO), creator of the hit Grand Theft Auto games.
The CEO is changing how the 7,760-employee EA operates, too. He's organized programmers and artists into creative studios that give them more independence and ownership over projects.
Meanwhile, he's greenlighting movies, books, and collectibles to help build buzz for Dead Space and 15 other new games in the months ahead. One of the most closely watched projects is Spore, a new title from Will Wright, creator of the megapopular Sims world-building franchise. Wright's game, due out later this year, will let players guide evolution in their own worlds, moving from amoeba-like beings to sophisticated creatures that go on to colonize other planets.
The idea is to repeat the success of companies such as Marvel Entertainment (MVL) and Hasbro (HAS), which used their base of fans to transform from marginal companies into Hollywood players. After licensing Spider-Man to Sony Pictures for a string of hit movies, Marvel has created its own studio, with Iron Man and other films set for release this summer. The Hasbro-backed Transformers movie grossed more than $400 million in 2007 global box-office sales, which in turn boosted company sales of movie-related toys and games.
The Dead Space team, led by Schofield, is pioneering the IP-cubed strategy. The group spends much of its time these days in a 20-by-10-foot room, filled with Dead Space posters and game consoles, on the fourth floor of a building on EA's Redwood City campus. One recent March day, the team is attempting to polish things up for the game's Halloween launch, but technology glitches keep interfering. Producers Rich Briggs and Chuck Beaver try to cue up a scene to show off an "awesome monster" only to see the game crash time and again.
UNFOLDING LIKE A FILM
As the two kneel over the console, Schofield talks about how EA's early collaboration with comic book writers and artists and movie creators helped improve the game's story. "The brainstorming sessions have given everyone great ideas and made us think about things we wouldn't have even considered, like 'what does that [boulder] weigh?'" he says.
He stops as the screen comes to life. Turns out Briggs had tried to boot up an older version of the game. In short order, the hero, Clarkson, is creeping along the ship's bridge, his shadow falling on the gleaming deck. Without warning, an army of monsters attacks. After a nail-biting few minutes of battle, the new megamonster shows up before the screen fades to black.
Dead Space is clearly not for the faint of heart. There's gore and violence. One weapon, called the Ripper, is used like a flying chainsaw to cut off the limbs of attacking beasts. Yet the game does lend itself to other media. The story unfolds much like a movie, and it eliminates the common industry practice of interspersing video explanations and tips at the end of each level. Instead, users must try to figure out what happened on the ship by uncovering clues and piecing together bits of information.
Comic books and videos will help fill in the necessary background. The six-issue comic book series will be a "prequel" that tells readers about the six weeks that precede the video game's beginning. EA commissioned a couple of rising stars in the world of independent comics to create the series—writer Antony Johnston and artist Ben Templesmith. This summer EA will begin offering free Dead Space videos, or "Webisodes," that can be uploaded to YouTube and other Web pages. And shortly before the game launches, Starz Media subsidiary Film Roman will premiere an 85-minute animated horror feature on cable and direct-to-DVD markets. "We're being empowered to build a business instead of just building a game," Schofield says.
Film Roman President Scott Greenberg says developing the movie hand-in-hand with EA elevates both the game and the film. "The game is evolving as our movie is evolving," says Greenberg. "To me, this is the future."
Clearly, Riccitiello hopes to be in the vanguard. One sign of his ambition is the lobby of EA's headquarters. There, a giant screen hangs from the ceiling, showing clips of the company's hit games. It's not hard to imagine that, one day soon, the screen will feature trailers for the movie version of Dead Space starring, say, Will Smith or Vin Diesel. "We're pretty excited about the opportunity," says Riccitiello, "but it's early days."
Join a debate about video games.
Before it's here, it's on the Bloomberg Terminal.
LEARN MORE