HBO: From Hitmen to Hitless?
Inside the cable network's post-Sopranos plan to reclaim its reputation for edgy TV.
Tom Lowry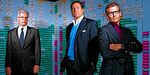 Has HBO (TWX) lost the magic? That question has bedeviled Time Warner's premium cable channel ever since The Sopranos ended its seven-season run in June and ascended to rerun heaven. Time and again, HBO has failed to deliver a follow-up hit. Its greatest hope, John from Cincinnati, so perplexed viewers with its attempts to meld the zen of surfing with gnostic Christian themes that HBO pulled the plug. And it's telling that HBO, supercautious about putting programs online for free, did exactly that to create buzz for In Treatment, which follows the travails of a psychologist and has been on air only since late January.
Something had to give.
And on Mar. 16, it did. HBO announced that Carolyn Strauss, the entertainment president who helped shepherd popular shows into being, including Six Feet Under, would be stepping down from her post after working at the network for 22 of her 44 years. Strauss declined to comment on the shakeup, but insiders say she was pushed by a new regime that had lost patience with her and HBO's dearth of big hits. Strauss' ouster follows by 10 months the wrenching departure of Chris Albrecht, the programming czar who left after being charged with assaulting his girlfriend.
The turmoil at HBO lacks the bloody mayhem of the network's most famous show. But there is enough dramatic tension to keep HBO's 29 million subscribers glued to their screens. For years the network had cornered the market on quality television. Now HBO is beset with pesky challengers: Showtime, FX, TNT, AMC—all are putting on the kind of provocative programming that once defined HBO. That competition comes at a time when HBO has been attracting a meager 2% more subscribers a year.
HBO is an insular place where people stick around. In the space of one year these loyalists have lost two of their guiding lights. Now, the new management plans to break with tradition by looking outside for Strauss' replacement. The two executives in charge of programming, Richard Plepler, a former public relations guy, and Michael Lombardo, an entertainment lawyer by trade, hope to make their decision before Apr. 16, when HBO will show off its slate of new programming. Keen to find someone who can help HBO get the magic back, they are even contemplating bringing in a movie person. "There was a sense out there that we thought of ourselves as a little too precious," says Plepler. "We want to open the door and let the air in."
Once upon a time, the slogan "It's Not TV. It's HBO," however self-aggrandizing, rang true. Between 1998 and 2007, HBO owned Sunday night, which previously had been a viewing dead zone, and set a new standard for TV drama. HBO addicts didn't get much done on Monday mornings because everyone was deconstructing the previous night's Sex and the City, Six Feet Under, or The Sopranos. Plus, HBO was known for pushing the envelope harder than anyone. Who doesn't remember when Sex and the City's Charlotte used the C word? Or the first time they saw one of the gruesome deaths that began each Six Feet Under episode? Or, for that matter, the time Tony Soprano snuffed his nephew?
TRUSTING THE WRITERS
No one had more to do with bringing those indelible moments to the small screen than Chris Albrecht. A former stand-up comedian and talent agent, he joined HBO in 1985, at a time when the network was still mostly known for showing Hollywood movies and for airing live boxing matches. Albrecht seemed to have an innate sense of what an HBO show should be: good storytelling with a strong point of view. In his mind, The Sopranos was not about mobsters but a riff on the American family—a theme, he believed, that had broad appeal. And HBO has hewed closely to that philosophy ever since.
Albrecht developed a close and collegial relationship with his writers and producers. He understood they had egos and was careful not to big-foot them. He made a point of listening to their ideas, complaints, and personal problems.
When The Sopranos creator David Chase had Tony Soprano kill a rival while visiting colleges with his daughter, Meadow, Albrecht told Chase it was a mistake to make the daddy-mobster so ruthless. Chase argued that was exactly who Tony was. Albrecht let the scene stand, and it became one of the series' most memorable moments. Albrecht also wanted to call the show Family Man; he worried the title, The Sopranos, would make viewers think the show was about opera. Chase prevailed. "Chris would change his mind," says Gavin Polone, executive producer of HBO's Curb Your Enthusiasm and Tell Me You Love Me. "I don't know many executives who have that kind of confidence."
In 2002, Albrecht was named HBO's CEO, adding financial and strategic duties to his portfolio. In retrospect, says one senior Time Warner (TWX) executive, the promotion may have not been the right decision because Albrecht had less time for programming.
In the summer of 2006, Albrecht suffered a rare misfire when he put on the air a half-hour show called Lucky Louie starring stand-up comedian and writer Louis C.K. Filmed before a live audience, the show looked very much like any ordinary sitcom on a broadcast network. It didn't feel HBO-ish, and the critics skewered it. The show was canceled three months later. Meanwhile, inside HBO, it was widely known that Albrecht, who later admitted to attending AA meetings for years, was drinking again. Some executives say they first discovered this when Albrecht began having wine on the corporate jet. His colleagues worried it was just a matter of time before Albrecht did something to jeopardize his job.
Then on May 6, 2007, came word he had been arrested. Albrecht and his girlfriend, Karla Jensen, had gotten into a fight outside the MGM Grand Hotel in Las Vegas. (Albrecht pleaded no contest to battery; he and Jensen and are now engaged.) "I was at a shopping mall in Palm Springs that Sunday morning when I got the call," recalls an HBO executive. "I just knew this was not good, not good at all."
Albrecht's intensely loyal staff hoped the whole thing would blow over. And their boss seemed to hope so, too. In a statement on May 8, Albrecht acknowledged his relapse and apologized to his colleagues: "I won't let you down again," he wrote in an e-mail. But the next day, the Los Angeles Times reported that in 1991 HBO had settled with another girlfriend who accused Albrecht of choking her.
The revelation came at a particularly awkward moment. Jeffrey L. Bewkes, who served as HBO's CEO from 1995 to 2002, had recently been named the next CEO of Time Warner. He wasn't due to take charge officially until January of 2008, but Bewkes was only days away from his first annual meeting as CEO-in-waiting. Time Warner's shareholders were already apoplectic over a stagnant stock price. The last thing Bewkes needed was a public-relations incident on the eve of his coming out. He persuaded Albrecht, his friend of 20 years, to step down.
Albrecht so personified HBO's modus operandi that it was hard for his colleagues to accept that he would no longer be reading scripts and developing programs. "People had been at HBO for decades, so it was like they had just found out one of their relatives was in a car accident and had died," says Jim Moloshok, who was Albrecht's top executive for digital initiatives and is now executive chairman of children's online ad company GoFish Network (GOFH). Staff wept in their Santa Monica offices; some asked to go home early. An era had ended.
OUTSIDER OR INSIDER?
Bewkes had a choice to make. He could promote someone. Or he could bring in an outsider who'd shake up HBO. Plenty of people in Hollywood thought he should seize the opportunity to inject fresh blood into HBO's cozy culture. After all, HBO's creative team had been in place since the mid-1980s. They hadn't had a really big hit since Six Feet Under debuted in 2001, and The Sopranos finale was only a month away.
Plus HBO's rivals were starting to steal its playbook. Showtime, in particular, was carving out its own edgy reputation with the pot-selling mom in Weeds and with Dexter, the crime scene investigator who happens to be a serial killer. But Bewkes, the HBO insider, promoted from within. "Simply put," he says, "our people inside were better at programming than the people outside."
Two days after The Sopranos went off the air, Bewkes named Bill Nelson CEO. A Vietnam veteran who had carved out a reputation as a tough negotiator during his 24 years at HBO, Nelson had worked on distribution deals with cable operators and helped acquire the rights to show Hollywood movies, still a huge part of HBO's business. He is, in other words, a suit—everything that Albrecht wasn't.
Bewkes put two people in charge of programming: Lombardo, a lawyer and executive in the Los Angeles office who had lots of experience negotiating with talent; and Plepler, who for years was HBO's top PR guy and had deep relationships with writers and producers. (Chase named Tony Soprano's trauma surgeon Dr. Plepler.) Strauss would report to Plepler and Lombardo, as would HBO veterans Sheila Nevins, the head of documentaries; Colin Callender, chief of original films and miniseries; and Ross Greenburg, who runs sports.
Some industry insiders judged it strange that Bewkes would put a PR man and lawyer in charge of programming. But Bewkes says: "Their ability to move HBO to the next level is better than somebody coming in from some ad-supported programming experience who couldn't understand the advantages and voices of HBO."
A SOPRANOS REPLACEMENT
With The Sopranos over, everyone—fans, moguls, critics—wondered what HBO would do for its next act. Rare is the show that becomes a pop culture classic. And it's probably unfair to expect HBO to top Tony, Carmela, and the gang. "It's a fool's errand to try to shoehorn the zeitgeist," says Plepler. "Anyone telling you that back in 1999 we knew The Sopranos would be a cultural phenomenon is full of sh—. No one knew." And it's true that HBO has aired several well-regarded programs since the Sopranos debuted in 1999. Entourage, the Hollywood goof on stardom and celebrity, is a cult hit. Curb Your Enthusiasm has become a comedy classic. And Deadwood, a dark, violent Western set in 1870s South Dakota, bowled over the critics. But every time HBO rolls out a new hourlong drama, people inevitably compare it with That Show.
HBO tried hard to come up with a replacement for The Sopranos. Maybe too hard. About a year before The Sopranos finale was to air, Albrecht and Strauss approached David Milch, who wrote and produced Deadwood. Milch, who taught English literature at Yale University in the 1970s and later created the cop drama NYPD Blue, was hoping to do a fourth season of Deadwood. But he says HBO pressured him to take his original script entitled "John From Elsewhere and his Friend Tex" about a junkie and a street hustler in New York City and overlay it with a surfing theme for a new series. "They wanted to put something on as soon as the screen went black at the end of The Sopranos," says Milch. Looking back, Lombardo says HBO put Milch in a "very difficult situation."
Despite his misgivings, Milch agreed to take on the project, which became John from Cincinnati. He had less than a year to conceive the show and get it shot to air on June 10, the Sunday after the last Sopranos episode. So compressed was the schedule that HBO decided not to shoot a pilot—when producers often tweak the storyline and hire new cast members.
As it happens, AMC, the classic movie channel owned by Cablevision, was about to air a new show of its own on July 19. Created by former Sopranos producer and writer Matthew Weiner, Mad Men was about the hard-drinking denizens of a 1960s advertising agency on Madison Avenue. HBO executives had earlier passed on Mad Men, saying that while they were impressed with the show's style, they felt it lacked HBO's signature big theme.
Mad Men took off. John from Cincinnati didn't.
John wowed some critics, but viewers were mystified by the dysfunctional surfing family at the heart of the show. Ratings slid with each new week. Inside HBO, support began waning, especially when costs soared to $4 million an episode, about a third more than it cost to shoot other hourlong shows. HBO executives say they were frustrated, too, because Milch was delivering scripts late and often rewriting them on-set. In August, HBO canceled the show after 10 episodes. No one appears to hold a grudge. Milch hopes to do a Deadwood movie for HBO and is developing a cop drama set in '70s New York. "Writing is a blessing," he says. "For that, I am grateful to HBO."
In November, Hollywood writers went on strike, shutting down production at HBO and every other network and studio. The timing was inauspicious, but Plepler and Lombardo had an opportunity to consolidate their power. The two programming chiefs began assessing which Albrecht-era projects were HBO-worthy. Linda Bloodworth-Thomason (of Designing Women fame) was producing a comedy about Texas royalty called 12 Miles of Bad Road starring Lily Tomlin. Five episodes had been shot but Bloodworth-Thomason hadn't shown them to HBO. When Plepler and Lombardo finally got to see 12 Miles of Bad Road, they decided it had strayed from the original concept and told Bloodworth-Thomason she could shop it elsewhere.
They also took a pass on a project brought to them by their old boss, Albrecht, who now runs a new entertainment unit at talent agency IMG Worldwide. IMG co-owns a British show called Secret Diary of a Call Girl. Albrecht thought it could find an American audience. Plepler and Lombardo say it was too heavy on soft porn and too light on Big Themes and decided to pass. (Showtime CEO Matthew C. Blank grabbed the show to build a relationship with Albrecht.)
"NERVOUS ABOUT A NEW BOSS"
All the while Plepler and Lombardo had been pressuring Strauss to hire a senior programmer to add more firepower. She balked, say insiders, and tension between Strauss and her new bosses intensified. Finally, she was out—leaving her former colleagues feeling uneasy, even though she was offered a production deal with HBO. David Simon, who created HBO's critically acclaimed The Wire and is developing an HBO show about New Orleans, says he was "absolutely shocked" when Strauss told him she was leaving. "She's the reason I'm still in television," says Simon, who acknowledges feeling "nervous about getting a new boss."
Now, with Strauss and Albrecht gone, it is the Plepler-Lombardo show. Among a slate of upcoming shows, one they're pinning their hopes on is True Blood, a one-hour drama about vampires in Louisiana (which they greenlighted after seeing a pilot that was approved by Albrecht shortly before his departure).
True Blood, set to air in September, has one thing going for it. Its creator is Alan Ball, the man behind Six Feet Under. Ball got the idea for the show after discovering novelist Charlaine Harris' Southern Vampire Mysteries series in an airport bookstore. True Blood, now shooting in Los Angeles and Shreveport, La., centers on modern-day vampires who live openly in society because they can feed off new synthetic blood. Anna Paquin, who played the daughter in the film The Piano, stars as Sookie Stackhouse, a waitress mind reader smitten with a vampire.
Plepler and Lombardo were ecstatic to work with Ball again. And they're careful to keep Albrecht's light touch. "Alan certainly doesn't need a lot of handling," says Lombardo. "It's his pen, not ours, thank God." While HBO asked Ball to recast one actor, it has requested minimal script changes. "They allow you to focus on the work," he says.
True Blood is undeniably a risk. A show about vampires could have a limited audience, however brilliantly realized. But Plepler echoes the Albrecht mantra: True Blood, he says, haslarger themes that will resonate with a mass audience. "We see the vampires as a window into the disenfranchised in America," says Plepler. With Six Feet Under, he adds, Ball examined how death is treated in the U.S.—and he'll deliver Big Themes with True Blood, too. If the show is a hit, maybe HBO will bury The Sopranos, once and for all.
Before it's here, it's on the Bloomberg Terminal.
LEARN MORE